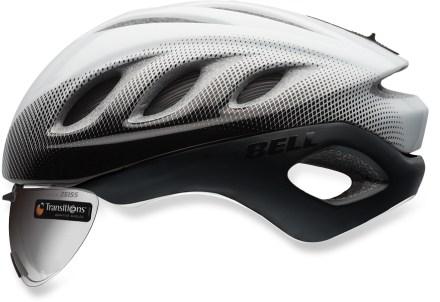 Bell Star Pro Bike Helmet with Transitions Shield
We recently covered some of the best helmets for 2015, but the industry of bicycling technology is always evolving, and the latest innovation in cycling helmets is here. The newest helmet to wow us with its impressive features is the Bell Star Pro Bike Helmet with a Transitions Shield.
This helmet is an excellent road helmet in its own right, but what makes it really special is Bell's partnership with Transitions Optical – an industry leader in photochromic technology – in the making of this product.
The Transitions Optical eye shield is attached to this helmet via magnets, and can be removed and reattached just above the brow while you're on the bike. The photochromic lens provides full UV-protection from harmful rays, and shades well against brightness.
The name "Transitions" is very relevant as well, as these lenses feature adaptive technology that allows the usually-clear cycling shield to darken in bright sunlight, providing increased contrast and improved distance and depth perception. These smart lenses make a huge difference as you ride through different conditions during the day. The lenses will tint dark during intense sunlight, lighten up when overcast, and return to perfect transparency at nighttime.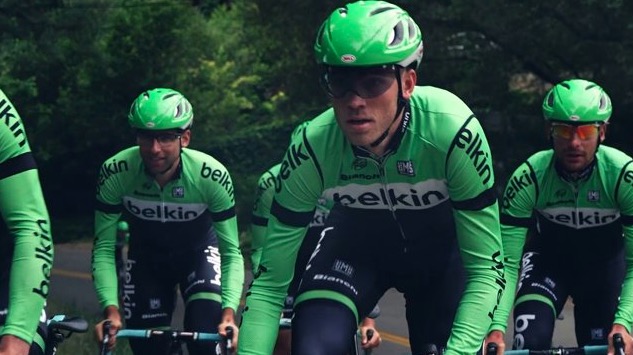 Aside from the Transitions lenses, the Bell Star Pro is a mighty fine helmet in its own right. This helmet allows you to switch from a vented mode to an aero (vents covered mode) with a simple press of a button, making it easy to do with one hand while you're riding. The ventilation system features excellent above-brow technology, drawing in air and dispersing it over your entire head for a cooling effect.
Furthermore, Bell's internal X-Static padding makes the helmet durable and offers excellent protection to your head, while their signature FloatFit technology allows you to adjust the helmet to perfectly fit your head. These features combine to give the Bell Star Pro excellent safety features, should you ever have an unpleasant smack in the noggin during a fall.
This brand new helmet is truly top-of-the-line, and is already in use by several professional cycling squads, so you know it's a quality piece of equipment. While the cost of the Bell Star Pro is certainly not low, the features this helmet provides are unmatched by any competitor around today. If you want the best helmet money can buy, check out the Bell Star Pro Bike Helmet with Transitions Shield here!
Where to Buy
Help support Bicycle Touring Guide by purchasing the Bell Star Pro through one of our partners: