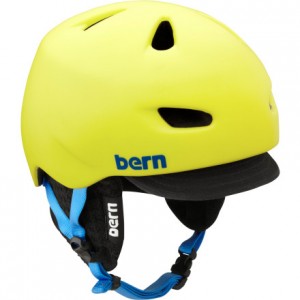 Oh, how I love winter biking. Tires slipping on the ice, bike lanes obliterated by the snowplows and darker evenings on the road.
These are all obviously all things I hate about biking in the cold months, but my inability to stay warm is my least favorite part. No matter how many layers I wear, I am never fully protected from the chill.
This year, I have a secret weapon. I purchased the Bern Brentwood Multisport Helmet based on a friend's recommendation, and I can already tell it will be the ideal winter helmet for urban biking. Already, it has proven itself worthy in the summer.
How can it be perfect for both seasons, you ask? The Bern Brentwood is truly a year-round accessory.
The Bern Bike Helmet that Offers Winter and Summer Comfort 
This is not a helmet you'd wear in a serious bike race. It doesn't have the aerodynamic shape of a competitive helmet—it is shaped more like a skater's helmet.
However, it is a perfect helmet for a commuting biker that faces a wide variety of daily and seasonal weather changes.
Removable Lining Makes the Brentwood Helmet Extremely Versatile 
The Brentwood's removable lining makes the helmet the picture of versatility. Bikers can choose their lining based on the weather.
This summer I was using the lining with the visor for better visibility in the sun. With the visor, sunglasses were unnecessary and I was able to see the road without glare. The lining was also light and prevented too much sweat.
Bern also offers a summer lining without a visor. The best thing about this minimal lining is that it is washable. All helmets I've used in the past were not washable, and a quick anti-bacterial spray can only do so much on a sweaty and humid day.
I have also acquired the winter liner for the Brentwood, which features ear flaps.
Have you ever tried stuffing your winter cap or your jacket's hood under your helmet on a snowy night? I certainly have, and it results in a face full of sweat that only makes you colder in the end.
The winter liner allows breathability while also covering the ears, which always get cold the fastest. Again, the liner is also washable so your helmet will always feel fresh.
Of course, you can also wear the Bern Brentwood helmet without any liner at all, but in my opinion that defeats the purpose of having the liner option.
Unique Features Don't Sacrifice Style or Safety 
The removable lining certainly makes the Brentwood Zip Mold helmet a great option for those who deal with extreme weather changes, but is it safe?
Every Bern helmet is CPSC certified for head protection. The brand is well known for its lightweight technology that provides serious protection without sacrificing comfort.
For a helmet to be safe it must be the right size, which is why I would recommend you purchase your helmet a size larger than usual if you're unable to try it on first.
CHECK OUT THE BEST PRICE ON AMAZON.COM
While it might fit with no lining, the removable padding will make the space inside smaller and you should plan for that. If you think the helmet might be too small, exchange it before you wear it on the road. Helmets that are too small won't provide the proper protection in the event of an accident.
I find that this helmet actually feels more secure than any other helmet I've owned. Even though my other helmets have always been the right size, this one feels like it would never slip around on my head. I think the shape makes it extra secure on the skull.
The helmet is also stylish. I'm always hesitant to wear skater-style rounded helmets on a tour, but when it comes to my daily commute all bets are off. I don't care how I look on my ride to work as long as I am completely comfortable.
If you're okay with wearing a round helmet, the Bern Brentwood is as stylish as it gets. There is a variety of colors and the shape is rounded without being completely round.

I chose the bright green color to increase my visibility in the dark, which is something I worry more about in the winter. Like I said, this helmet is going to be my secret weapon in the frigid Boston weather.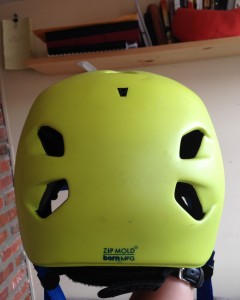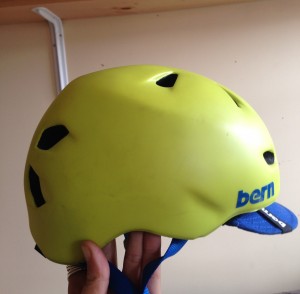 The Pros and Cons 
Before you decide that the Bern Brentwood Zip Mold helmet is for you, let's boil it down to the pros and cons.
The Pros:
Washable liner keeps helmet fresh
Liner options make it comfortable for every season
Outer shell offers good head protection
Bright colors make you easy to see on the road
Shape is good for a wide range of activities besides biking (skating, snowboarding, horseback riding, etc.)
Lining with visor eliminates dangerous sun glare
Winter lining is breathable yet warm
Color options fit everyone's style
Fit is more secure than most helmets
The Cons:
Round shape is less aerodynamic than a traditional bike helmet
Not as breathable as a traditional helmet
Sizes run small
Interior Velcro feels prickly without liner
More expensive than many other helmets (liners also cost extra)
Admittedly, the Bern Brentwood Zip Mold helmet is not for everyone. It lacks the speed and general breathability of a traditional bike helmet. However, it is the perfect helmet for those who commute in varying weather conditions, and I highly recommend it.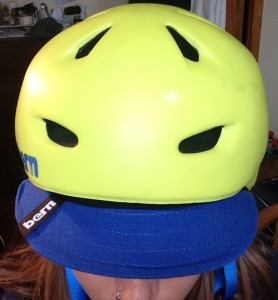 Few helmets will give riders the comfort they need in any season, and even fewer can be washed from the inside to remain as good as new for an entire year and beyond.
So, if you're a commuter who is tired of frostbitten ears in the winter and a stinky sweat trap on your head in the summer, the Bern Brentwood Zip Mold helmet with removable liners is the ideal helmet for you.
What do you think of the Bern Brentwood? Let me know in the comments below! Happy riding.
Where to Buy
Has Bicycle Touring Guide helped you? Then help us! If you use one of these links before buying, we get a small commission. It helps us help you and feeds our touring habit 🙂