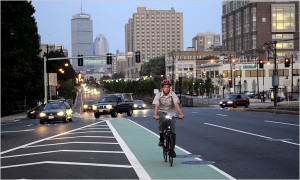 Not every city is bicycle friendly. The trend of commuting by bike has not yet caught on in many cities, and while commuters might still bike in these cities, the conditions are not always safe.
Luckily for Bostonians, Beantown is privy to some of the best neighborhoods a city can offer for cyclists.
The following conditions make Boston especially fun, safe and convenient for bikers when compared to other cities.
There are bike lanes in many areas.
Drivers are aware of bikers because of their large presence.
There are few very hilly areas.
Bike repair stations and shops exist all around the city if you need a tune up.
Cyclists share a sense of community, and even get discounts at some shops.
Many scenic areas make biking fun and exciting.
The Top Three Boston Neighborhoods for Biking
If you live in Boston and are hoping to start biking to work, or even if you'll just be biking through as part of a bigger tour, it's important to know which neighborhoods are best for cyclists.
You should be careful no matter which area you're in, but here is a list of three bike-friendly neighborhoods around Boston.
Biking in Cambridge
Much of Cambridge has bike lanes, and it is arguably one of the safest neighborhoods for biking in the Boston area. There are very few treacherous streets because most of the roads are in excellent condition, and many routes are downright scenic.
The drivers are more aware of bikes than in other areas, simply because so many people bike to work every day. Biking through Cambridge at 8:00am on a weekday feels like competing in a leisurely Tour de France.
Biking in Somerville
Right next door to Cambridge, Somerville is also a very bike-friendly area. Bike lanes are common, however some of the road conditions are not great for bikes. Potholes and rough spots are numerous, and many hills are nearly impossible for single-speeds or fixed gears.
While the physical conditions might be less than perfect, Somerville is certainly bike-friendly in other ways, so your success there will mostly be dependent on your skill level and tire style.
Biking in Back Bay
Not all of Boston proper is good for bikers. Many areas don't have bike lanes, and heavy commuter traffic can be unforgiving. However, the Back Bay area might be one of the best biking areas in Boston's city limits.
Even when there are no bike lanes on a particular street, traffic is often quiet and cars have enough room to go around you for the most part. Touring this historic area by bike is beautiful, so if you can bear the occasional lack of bike lanes, it's well worth it.
As far as terrain goes, there are hills, but the streets are well kept, tidy, and smooth. There are few things better than biking through picturesque Back Bay on a crisp autumn morning.
Biking in East Boston & Brighton
While popular for biking commuters, neighborhoods such as Allston, East Boston and Brighton are not necessarily safe for novices.
Many of Boston's streets were created before the modern car was even invented, so sharp turns, narrow streets and unusual layouts are common in these areas and pose a major threat to cyclists.
Many college students with cars also live in these areas, so they might be new to Boston and unaware of the prevalence of bikers when they swing open their car doors.
Especially if you're biking around Boston for the first time, you might want to try sticking to the safer neighborhoods at first to learn your way around before trying to bike in an area that could be less bicycle friendly.
As long as you become comfortable with the traffic and remain aware of your surroundings, you can enjoy Boston by bike in any neighborhood you choose, as it is one of the most bicycle friendly cities in America.