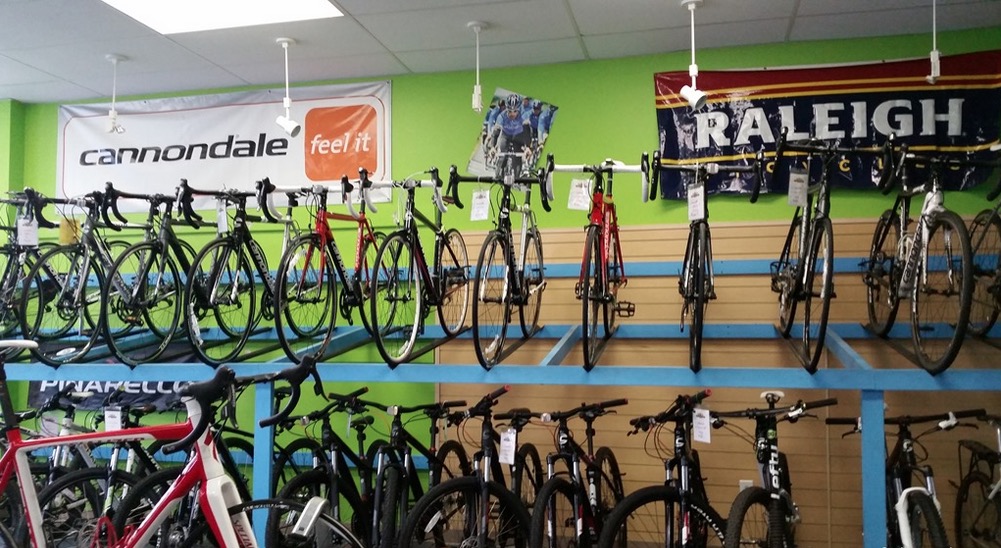 The Best Affordable Road Bikes
When shopping for a new bike, you can quickly become overwhelmed by just how much some of the best bicycles cost these days. Odds are, unless you're an incredibly serious cyclist, you're not looking to spend a small fortune on a top-of-the-line road bike. However, when you find yourself in bike shops, you can quickly fall in love with unnecessary features for your skill level, and allow the employees to up-sell you on a bicycle that you do not need.
The truth is that for the majority of casual cyclists, $1,000 can go a long way towards getting an excellent bicycle that will last you for years. Unless you're racing or otherwise competing on your bicycle, you don't need the ultralight frames and aerodynamics to meet professional standards.
Most road bikes these days are very customizable if you wish to use them for touring purposes, with plenty of room to add racks to mount panniers and other necessary touring features. All of the bicycles mentioned below can be adjusted to fit the needs you may have on a bike tour.
All of the bikes we will detail below are constructed with the utmost quality, giving you excellent value for their low prices. They all will get the job done on any terrain on which you choose to text them, providing you with plenty of gears, lightweight frames, and high-end components.
Here are five bicycles that will keep riders of all abilities happy on the road, all for the low price of under $1,000!
GHOST Speedline 1 – $849.00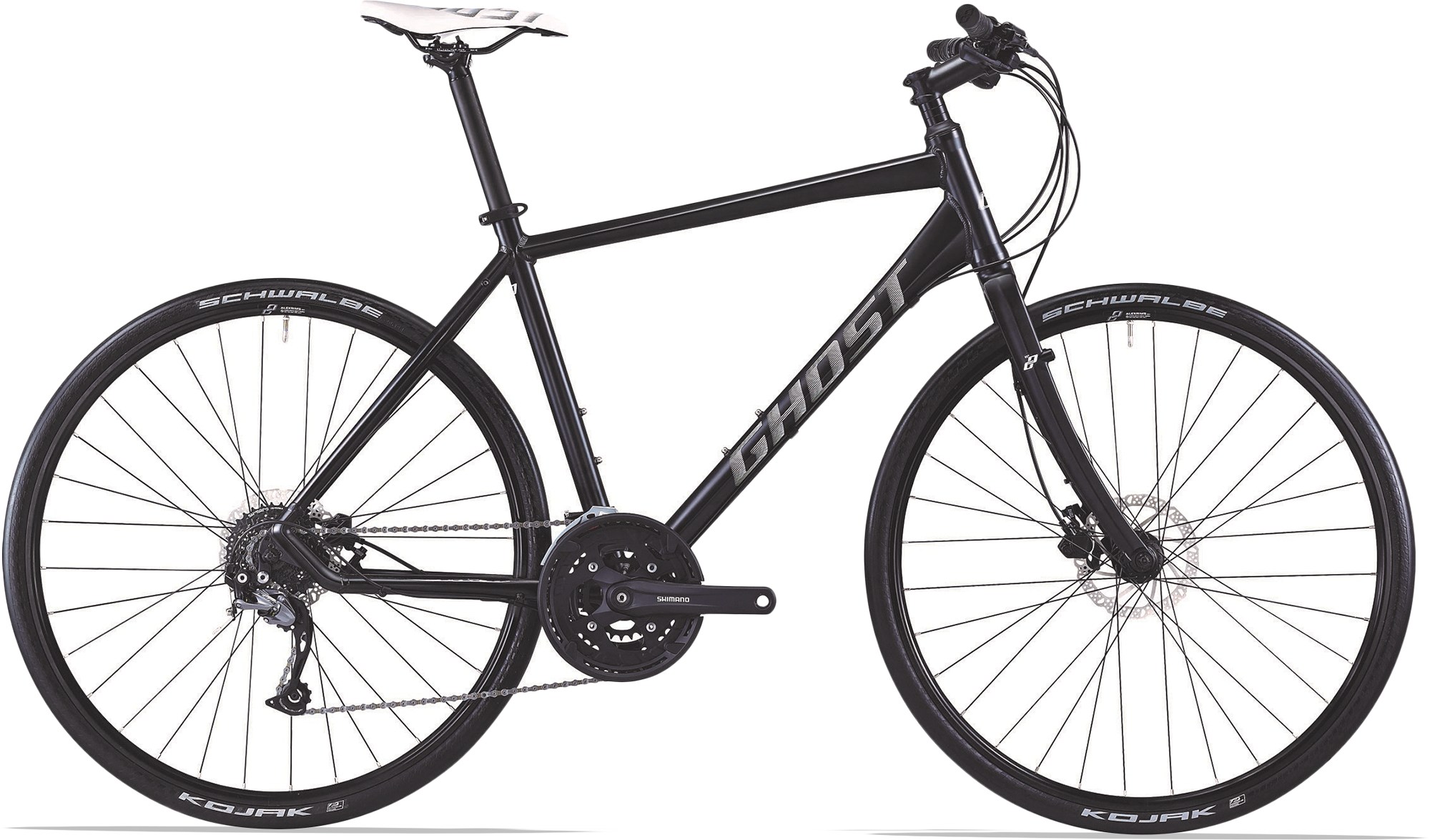 The GHOST Speedline 1 is a great bicycle that will suit your needs if you're a weekend rider or if you use your bike to get from point A to point B. We already took a look at GHOST Bikes last week, and we just wanted to give this excellent German bicycle company a little more praise here.
The GHOST Speedline 1 is one of GHOST's entry-level road bikes, but that doesn't mean that it is anything short of a great road bike for all occasions. With a lightweight aluminum frame, the Speedline 1 gives you excellent maneuverability and control, and allows you to surge up hills unburdened.
This bike also comes with a triple crankset and a 9-speed 11-32t cassette that allows you a range of 27 gears that can tackle any hill. Shimano Acera shifters work with Shimano Acera and Alivio derailleurs to give the bike a smooth shift, and hydraulic disc brakes allow you to feel confident about stopping in any conditions.
The GHOST Speedline 1 has plenty of room for customization, allowing you to turn it into the perfect touring bike. After all, this is a bike that the company has designed to suit the needs of leisurely travelers in addition to serious road bicyclists.
If you want a great road bike for cheap, check out the GHOST Speedline one, exclusively available through REI.
Diamondback Century Disc – $849.99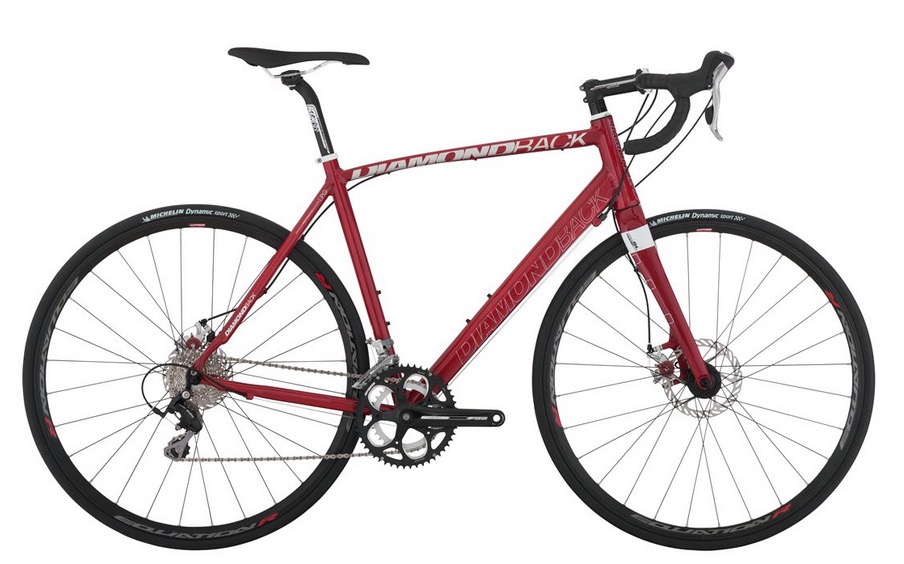 Diamondback is one of the premier road bike companies when it comes to combining performance and affordability, and the Diamondback Century Disc is a great choice for a bicyclist looking to spend under $1000.
The Diamondback Century Disc comes with a  6061-T6 aluminum alloy frame, giving you a durable, lightweight bicycle that will last for years. The bike includes Avid BB5R Disc brakes, providing you dynamic control and braking power, while the Shimano/FSA 10-speed drivetrain offers great performance, combined with a 12-30 t Shimano CS-4600 cassette. These components all combine to make the Century Disc one fast bicycle, with the ability to corner and stop on a dime.
With a versatile frame, the Century Disc can suit all your needs as a touring bike. Its sturdy construction will allow you to take it on any tour you wish.
With a MSRP of $1,300, the Century Disc is usually too expensive for this list, but we have some good news – this complete bike is available at Backcountry.com for just $849.99 for a limited time!
Specialized Allez E5 Sport – $970.00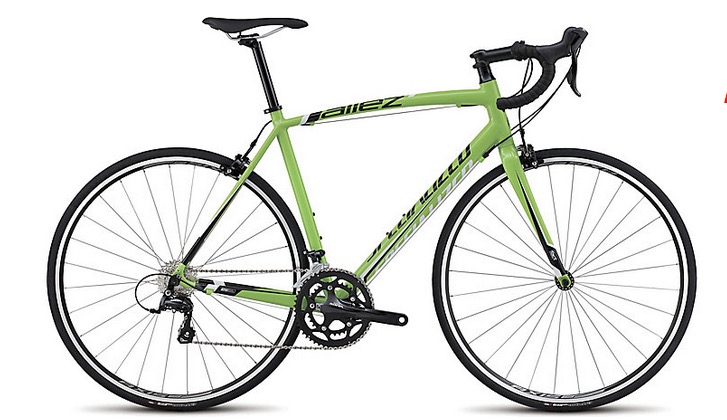 The Specialized Allez E5 Sport is another quality bicycle that can be yours for just a hair under $1000 with an MSRP of $970.00. This bike comes with the guarantee of Specialized's well-known reliability and quality, and gives you a whole lot of value for your money.
Inspired by racing, the Allez E5 Sport is designed for speed and aerodynamics, all at an affordable price. The bike features a lightweight design with an aluminum frame, built with a stiff design, providing excellent control and reliability on fast descents and sharp turns. These features will allow you to use this bike for all touring purposes, as it can handle a heavy load without losing any of its maneuverability.
This bike uses a Shimano Sora crankset and a 9-speed Shimano Sora derailleur, providing you with smooth shifting and a range of 27 gears to take on all sorts of terrain. The Allez E5 Sport comes standard with Specialized's durable, trusted Espoir Sport tires, giving you even greater control on roads in any condition.
You can check out the Allez E5 Sport on Specialized's website here.
Cannondale Quick Speed 1 – $999.00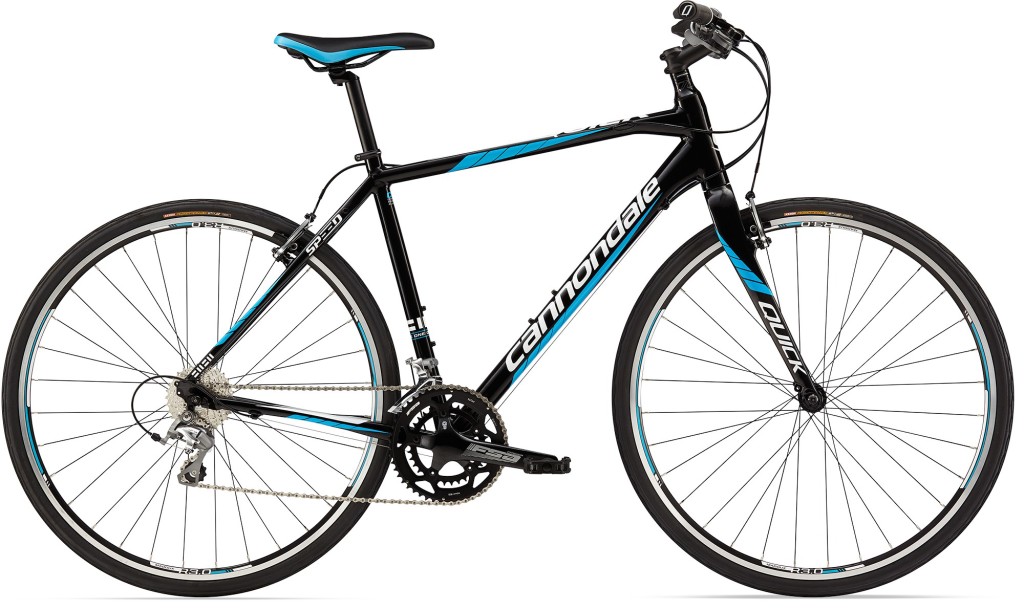 The Cannondale Quick Speed 1 Bike comes from another one of the most trusted bicycle manufacturers in the world, so you can rest assured you'll be getting a quality product if you buy this bicycle for just under $1000.
The Quick Speed 1 uses a 6061 aluminum frame, making it lightweight yet durable, while the bike's fork uses carbon blades, allowing it to reduce road vibration and be as light as possible. Accordingly, this is a great bike to bring on a tour, as it can allow a little more weight without feeling clunky.
Using a Shimano crankset and derailleur, the Quick Speed 1 can move effortlessly through its 20 gears, to get you up and over any hill you might face. In addition to that, this bicycle comes standard with platform pedals, saving you money by allowing you to use the bike with any shoes you want – no need to go out and buy new ones.
You can learn more about the Cannondale Quick Speed 1 here! It is one of the best options around if you're looking to get a quality bicycle for under $1000.
Diamondback Century 2 – $999.00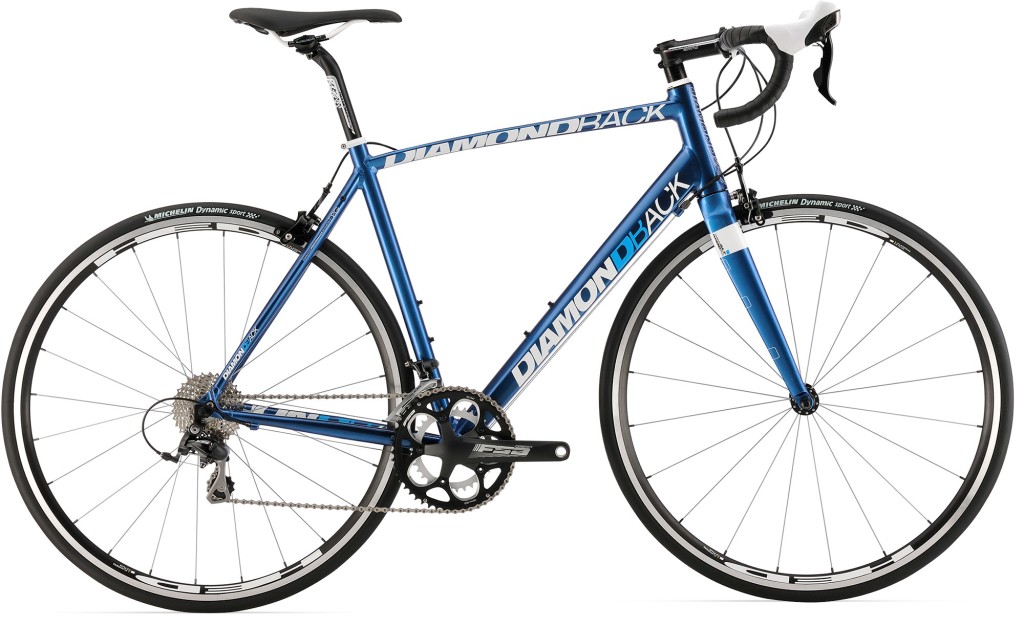 The Diamondback Century 2 is the second bicycle from Diamondback to make an appearance on this list, and with good reason – Diamondback gives you a great bang for your buck, producing quality, versatile road bikes that you can get without having to empty your wallet.
The Century 2 bike is another great option from Diamondback, combining a 20-speed Shimano 105 drivetrain and a smooth carbon fork with a FSA Omega Compact crankset with 50/34 chainrings and a 12-30 cassette, giving you plenty of gears and power to make it through any terrain you'd like.
This bike is a solid option for anyone looking to do road touring, as its frame can accommodate changes designed to improve weight-bearing and customization.
For just under $1,000, the Diamondback Century 2 is one of the best bicycles you can get in this price range. Head over to REI and check this great bike out now!