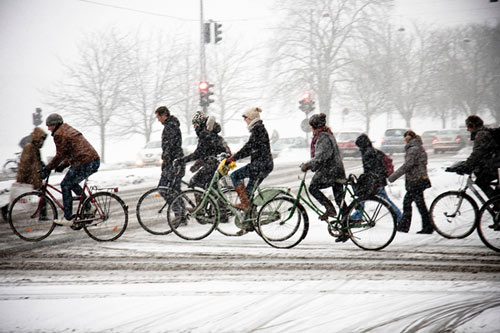 Getting ready to ride your way through winter?
Choosing the right cycling apparel is the key to a successful, enjoyable winter riding experience.
From baselayers to lobster gloves, here are the best clothing and accessories for winter cycling.
Winter Cycling Baselayer
The most important factor in choosing a baselayer for winter riding is making sure that it is moisture resistant and sweat wicking. A traditional cotton t-shirt, you will quickly discover, will absorb sweat — leaving you wet and freezing cold.
A good baselayer should be tight fitting to trap in heat. The thickness of the layer depends on how much you sweat. If you sweat a lot then focus on a thinner layer with moisture-resistant fabric. If you are more of a casual commuter, then a thicker warmer insulating layer should work fine.
The length of the sleeves and neck of the baselayer also depend on your riding style.
A good option for casual — less sweaty — commuting, or very cold temperatures is the Pearl Izumi Thermal Long Sleeved Baselayer.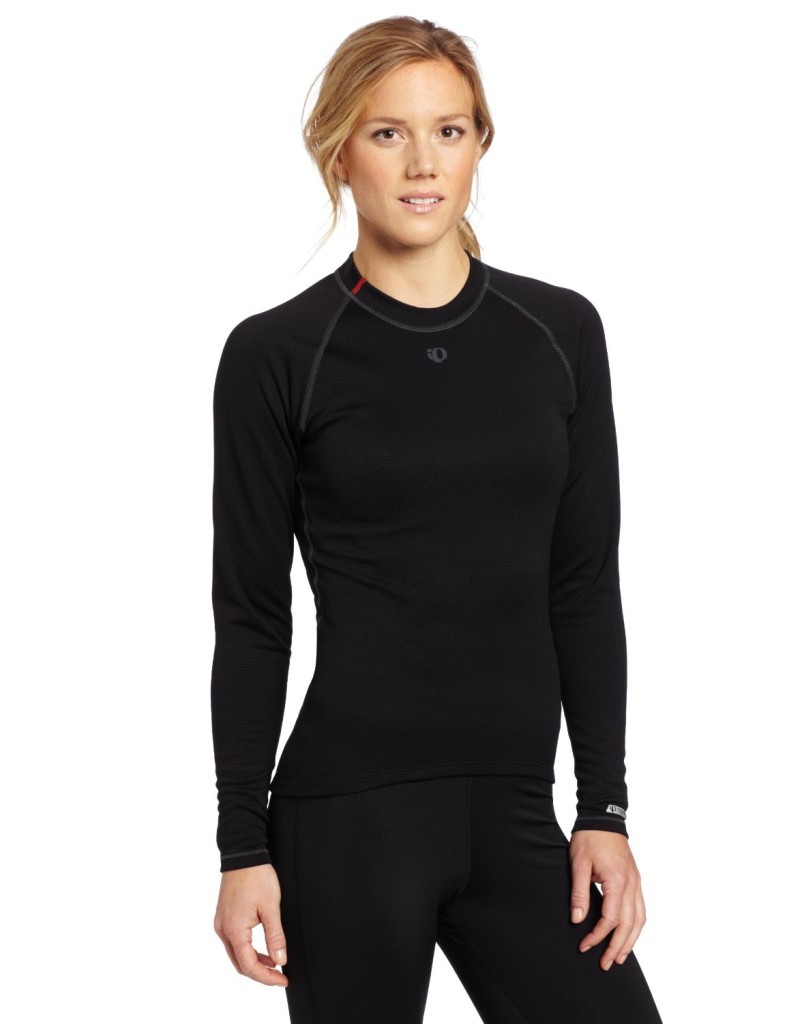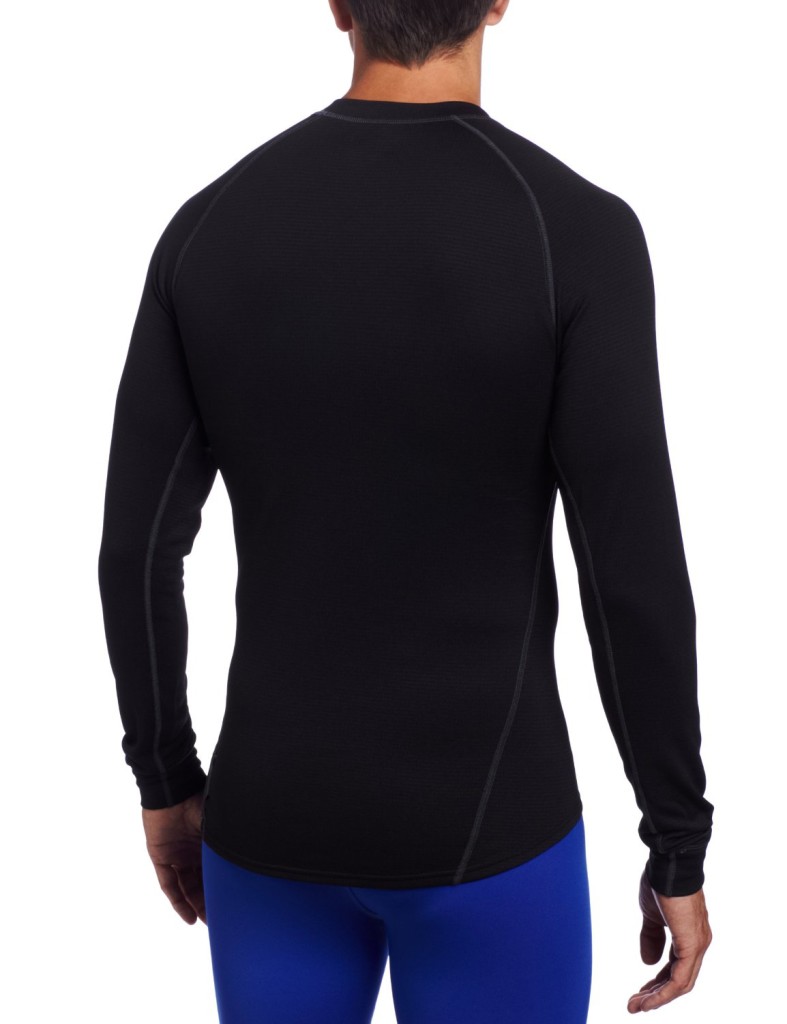 Product Highlights:
Lined with thermal fleece, sweat wicking fabric provides insulation, moisture and odor resistance.
UPF 30+ Sun Protection
100 percent Polyester
Dropped rear hem
Get the Pearl Izumi Women's Thermal Baselayer and Pearl Izumi Men's Thermal Baselayer on Amazon for between $25 and $75.
If you are looking for a less insulated baselayer, consider a merino wool short sleeved top, like a Hincapie Sportswear PowerCore Merino Baselayer.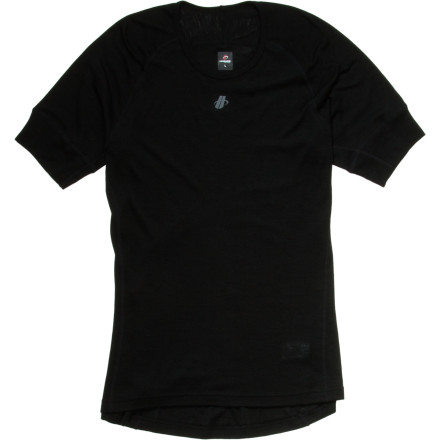 Although wool will soak up some moisture, it will not lose any thermal properties so you may stay damp but you will keep warm. Merino wool is able to absorb as much as 30 percent of its weight before feeling wet.
Product Highlights:
Naturally antimicrobial
Merino wool, polypropylene nylon blend
Form fitting cut
Get the Hincapie Sportswear PowerCore Merino Baselayer on Backcountry.com for $69.95.
Winter Cycling Bib Tights
Similarly to the baselayer, your winter bib tights should be form fitting and moisture resistant. Mountain bikers ofter wear an outer layer of baggier, waterproof shorts. Road cyclists often wear bike shorts underneath their tights for added warmth.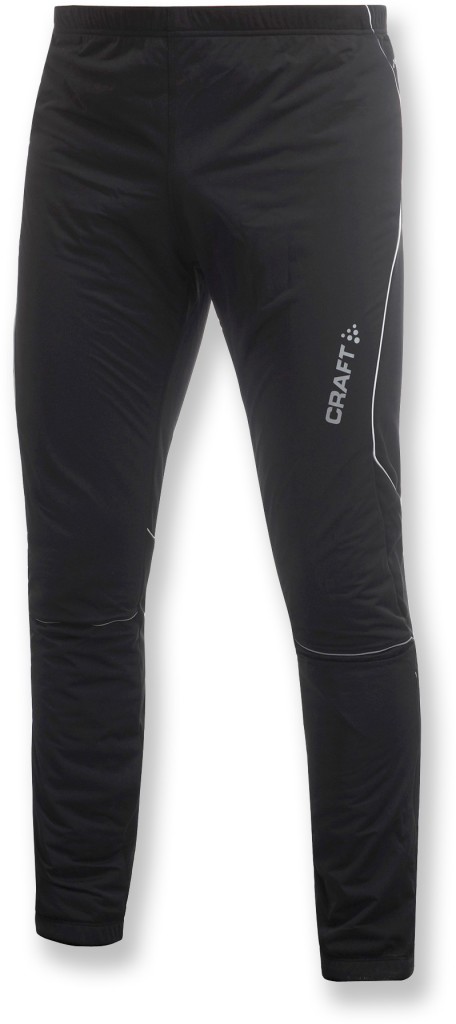 For lower temperature riding, try the Craft PXC Storm Tights. Originally designed for cross country skiing, the pants offer protection from the cold thanks to wind-resistant tightly woven polyester, and moisture-wicking insulating fleece.
Product Highlights:
Reflective detailing to increase visibility at night
Openings under the knees maximize mobility
Stretch Fleece Polyester
These are high-performance tights, meaning they will cost you a little more than average cycling pants.
Get the Craft PXC Storm Men's Tights at REI for $125. The Craft Women's Storm Tights are available on Amazon for around $90.
If you are not planning to ride sub-zero temperatures and plan to ride in temps between 28 and 50°F, try the Novara Thermal Tech Bike Tights.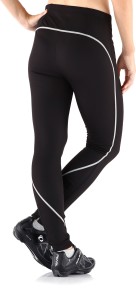 Product Highlights:
 Cozy inner fleece provides warmth
4-way stretch fabric
Moisture wicking
Fast drying
Rear ankle zippers
Reflective trim along entire length of side seams
Get the Novara Women's Thermal Tech Bike Tights and Novara Men's Thermal Tech Bike Tights at REI for $79.50
Winter Cycling Jacket
When choosing an outer shell or jacket for winter cycling first consider the conditions you expect to be riding in.
If you live in the Pacific Northwest or other rainy areas, focus on how waterproof the jacket is. If you are in a colder area and anticipate below zero temperatures for the majority of your cycling, then a more insulated softshell might be in order.
The jacket should have a long back, long sleeves and a skinny cut. Make sure the jacket has ample ventilation, since no matter how cold this winter is, there will be days where you are sweating excessively.
If you plan to invest in a waterproof jacket, try to find one as thin and compact as possible. This way, you can easily stuff it into you bag or even pocket during drier weather.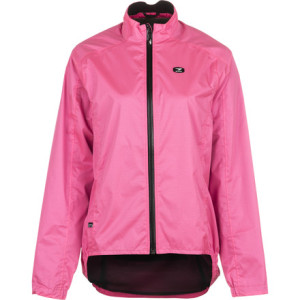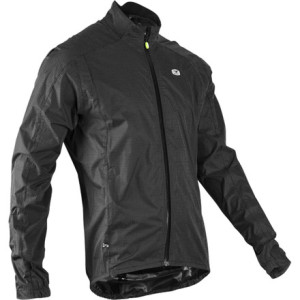 A good option is the Sugoi Zap Bike Jacket — a waterproof cycling jacket with the added bonus of highly reflective fabric.
Product Highlights:
Pixel Zap Woven (60% polyester, 25% micro-glass beads, 15% polyurethane)
Micro-glass beads provide superior reflective protection
Exaggerated sleeves and rear hem provide waterproof protection from rear tire splashing
Taped seams ensure no leaks
Rear back pocket zips shut to protect personal effects
Get the Men's Sugoi Zap Bike Jacket and Women's Sugio Zap Bike Jacket at Backcountry.com for $149.95.
For colder temperatures, try out a well-ventilated, insulated soft shell like the Arc'teryx A2B Commuter Jacket.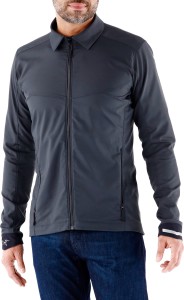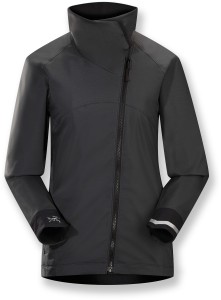 Product Highlights:
Wind and rain resistant
Cuffs fold down to reveal reflective bands
Zippered hand pockets, zippered back pocket
Polyester blend
Get the Women's Arc'teryx A2B Commuter Jacket and Men's Arc'teryn A2B Commuter Jacket at REI for $225.
Cycling Socks and Overshoes For Cold Weather
The right footwear is important for any cold-weather sport — winter cycling included.
Your toes are especially vulnerable during winter cycling. Your feet aren't working as hard as the rest of the body so blood is focused in other areas that need it more.
The first layer for your feet is the right pair of socks. They should be thin enough that they don't bunch up in your shoes but warm enough that they don't freeze your toes off. Merino wool and other fabrics provide good insulation in a thin layer.
Castelli makes some great winter cycling socks. The Castelli Mezza Wool 9 Socks (available on Amazon for around $20) are a good merino wool option.
The Castelli Thermolite 9 Socks (available on Backcountry.com for $16.95), are good non-wool option. The socks are made of Thermolite polyester — a medium-density, hollow-core polyester material that is insulating and breathable. The socks are thermally insulated but are also thin enough that they don't overheat your feet.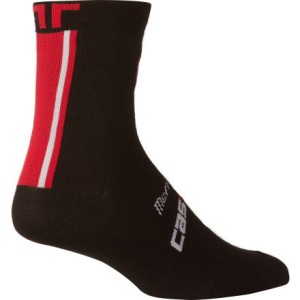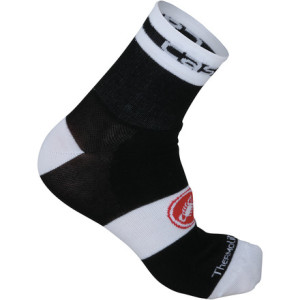 Cycling Overshoes For Winter
Another important foot accessory for winter cycling is a solid pair of bike overshoes.
Depending on your climate, you might need an extra waterproof or windproof pair. The most important thing is that they fit your foot appropriately. If the overshoe is too big, it will let in cold air — defeating the purpose of the product.
For waterproof protection, try Craft Rain Booties (available on Backcountry.com for $59.95). The blend of nylon and neoprene provides some insulation from the cold and shields your foot from wind and rain.
A more heavy-duty, insulating option is the Castelli Narcisista Shoe Cover (also available on Backcountry.com for $59.95). The thick fleece shoe cover is designed to provide superior insulation for your foot.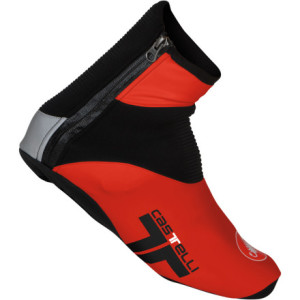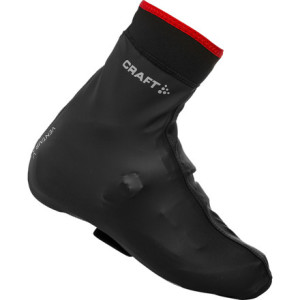 Cycling Winter Hats And Neck Warmers
An important accessory for winter cycling is a high performance cycling hat or face and neck warmer.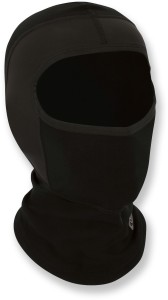 If you are riding in below zero temperatures you will want a full coverage head warmer, like the Pearl Izumi Barrier Balaclava
Product Highlights:
Pro Barrier lightweight fabric panels provide wind and water protection
Thermal Dry Fabric wicks moisture
Layers easily under helmet
Reflective additions for night visibility
Get the Pearl Izumi Barrier Balaclava at REI for $35.00.
If you are looking for a less insulating layer for your head, consider a cycling cap that fits snugly below your helmet, like the Gore Bike Wear Windstopper Helmet Cap.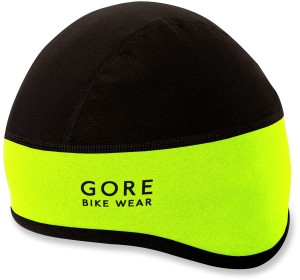 Product Highlights:
Fabric eliminated windchill
Breathable
Quickly wicks moisture
Extends down to cover ears
Get the Gore Bike Wear Windstopper Helmet Cap at REI for $32.95.
Cycling Gloves For Winter Cycling
The final — and perhaps most important — accessory you will need to complete your winter cycling wardrobe is a good pair of thick cycling gloves.
If you like the Lobster Claw style glove, try the Pearl Izumi P.R.O Soft-Shell Lobster Bike Gloves (available on REI for $75.00).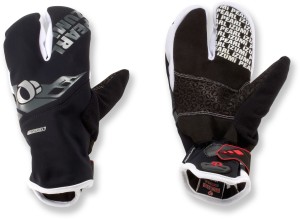 For less expensive pair with a few more fingers, try the Novara Tratos Tech-Compatible Gloves (available at REI for $54.50), which keep your paws toasty and let you use a touchscreen.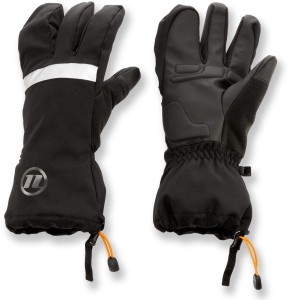 What do you think? You ready to rock this winter on two wheels? Any favorite gear item you think should be included on this list? Let us know!