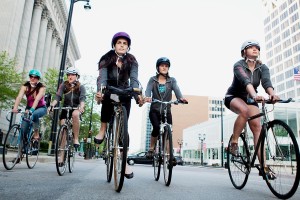 (Editor's note: An update to this list for 2015 can be seen here).
Alright, ladies! It's your turn. Here are the top three bikes made for the feminine shape. No, these bike don't have flower decals and pink ribbons, but you can certainly add them if you want.
When you walk into the bike shop as a woman, you're surrounded by bike frames made for men. While you could surely hop on and bike away with any of these options, a woman's frame might fit you better, and it's worth giving these a look.
Women and men's bike frames are designed differently to accommodate for differences in the body. Women tend to have longer legs, so the seat might be higher but the handlebars are closer. The opposite is true for men's frames.
So, if you're a woman of average size and you're looking for a road bike, give the women's frames a spin. Though, you'll probably still have trouble narrowing your options down.
For that reason, we've compiled a list of the top three bikes for women to help guide you as you begin your bike-buying journey.
The Top Three Women's Road Bikes
If you're looking for a new road bike with the best reviews, best hardware, and best all-around ride, start with these three killer options
Especially if you're used to an upright commuter bike, the Novara Carema will be a welcome change of pace. You might need some time to get used to the more aggressive position, but the increased speed will be worth it.
You'll also be impressed by how light this bike is. It's perfect for slinging over your shoulder to take on a flight of stairs after your commute, or simply for hitting record speeds.
This bike has 27-gears, so it's built for any type of road you might come upon. The fenders are sold separately, but they will give you excellent weather protection if installed.
Learn more about this bike at REI.com.

The Scattante CFw is for the true competitor. It will get you far, and it will get you there fast.
The gear and hardware on this bike is top-of-the-line, and it really doesn't get much better. Your shifting will be precise and reliable with every ride.
The C-4 carbon frame is lightweight and features measurements specific to the female body. The style boasts dimensions that simultaneously improve comfort while also increasing pedaling efficiency.
The tires are textured with shapes specifically designed to maintain traction in every type of weather, so you'll be solid and steady on slick, wet roads, or dry sandy ones.
Essentially, this bike is any riders dream. Whether or not its worth the price is dependent on your need for speed. If you're looking for a bike strictly for short rides down the city street, this bike might not be worth it.

In addition to being attractive to look at, the GT Tachyon 3.0 is an awesome ride. With "comfort" right in the name, you can bet that this bike is good for long tours.
No matter what you might need this bike for, the upright position and ability to add gear-toting accessories makes it ideal for many different situations. It also has 24-speeds for various road conditions.
The seat post, stem and handlebar are all made of alloy so they're sturdy but lightweight, which is essentially the theme of this bike.
Basically, this is a get-up-and-go bike. It's a smooth, easy ride that will feel carefree and fun compared to clunky road bikes of your past.
So, if you're a female in the market for a brand new ride, these are the best of the best right now. Even if you don't choose one of these three it might be good to give them a try so that you know where your priorities lie.
Start your search with these top three, and here's what you can expect to pay:
Unless you've completely fallen head over heels for one of these options, don't buy a bike without trying it first. Women's bikes have come a long way, and these bad boys can out perform any men's bikes of similar quality, so get ready to leave everyone else in your dust.
So, ladies, what are your thoughts? Did I miss a killer bike here? Share your thoughts in the comments below!