What Do You Need For Touring?
One of the most important criteria for touring bicycle accessories is reliability. Nothing can ruin a tour quicker than a broken rear rack or wet clothes that were kept in your panniers. Even if you use a 'sag wagon', you are going to want high quality bike accessories that you can count on day after day. The following suggestions for your touring accessories come from years of bicycling and touring in all types of conditions.
Bicycle Racks
On any bicycle that you use for touring, I recommend that you add a rear rack as the minimum for a bicycle accessory. Even if you are using a œsag wagon' and will be carry limited gear, a rear rack gives you the ability to remove items from yourself and add to the rear rack.
A lot of cyclists use the handlebar pack and not a rear rack, but excess weight on the handlebars can cause handling problems. Stability of the bicycle will not be affected with the addition of a minimum amount of weight to the rear rack. If you need additional cargo space, the addition of a front rack should be the next alternative (unless you are contemplating pulling a trailer).
Tubus Rear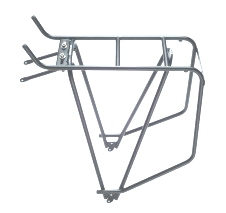 Tubus Front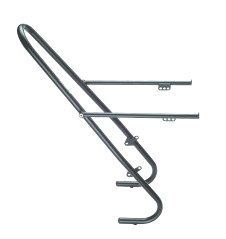 When choosing a rack system, you should consider physical requirements and reliability. Rear racks usually have a weight capacity from 25 to 90 lbs; front racks, 15 to 30 lbs. Always buy a rack with at least a 25 percent more weight capacity than you are planning on carrying.
For a more in depth discussion, please read my page on racks and handling issues.
Bicycle Panniers
Ortlieb Pannier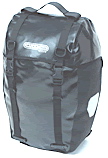 Ortlieb Handlebar bag

Almost all of the available bicycling panniers seem to be adequate for light touring loads. Some brands offer more capacity than others and have a better reputation for longer tours. But the key features that I look for in any brand are a tough abrasion resistant fabric, heavy-duty seams and zippers, and sufficient coating for different weather conditions.
One of the things that I have learned is that gear seems to grow on trips. Wet and dirty clothes take up more space than when they were dry and new on the start of the tour. So you need to pack with additional space available as your tour progresses. For a more in depth discussion of bicycling panniers selection and loading, please check out this page.
And don't forget that when choosing panniers, one of the most critical criteria seems to be the mating rack and attachment system. So before you select your panniers, please read more about mating your panniers and racks..
Bicycle Saddles
It seems that if you talk to ten different riders about bicycle saddles, you will get ten different opinions for the best saddle. Yes, almost all the bicycles that you see in a bike store will have either a narrow hard plastic saddle or similar saddles padded with 'gel' or foam rubber. Just because the saddle is padded or that it is a 'touring' saddle doesn't mean that the saddle will be comfortable for you over days of pedaling.
Plastic saddles with padding and/or gel are fairly inexpensive, fairly lightweight, weatherproof, and don't require a break-in period. However, if the saddle is uncomfortable when you first seat on it, your behind will not magically become more comfortable over the miles. In fact, the saddle will probably just cause you more discomfort with time. But are these saddles your only alternatives.
I have tried numerous brands, types, and shapes of saddles over the past 30 years. Currently, I use one type of saddle on all of my bicycles: high-quality leather. After using my leather saddles for the past seven or so years, I will never use anything else. I can ride for 80 miles and my behind doesn't hurt after the first miles to the last.
A leather saddle breaks into the shape of your behind. Whatever part of your behind presses hard against the leather at first, that part will soften and stretch to relieve the pressure. With time and over the miles, the saddle will conform perfectly to your behind to press equally over the entire surface area. So instead of the seat pushing up on a small area of your behind, the entire seat supports your behind. From my experience, it takes about 300 to 400 miles for the saddle to break-in completely.
For a detailed discussion of bicycle saddles, please read how to choose a bicycle saddle that is right for you.
Touring Handlebars
A lot of beginning bicycle tourist wonder about which type of handlebar they should be using. Like the saddle, the choice for your touring handlebar is a personal decision. However, since your are going to be on the bicycle for long hours and various weather and terrain conditions, you should choose a style that will provide a variety of hand positions. Some of the most popular touring handlebars are:
Straight or mountain bike bar: Very limited hand positions and upright positure.
Drop bar, or road bar: Very popular for various road and weather conditions and numerous hand positions.
Treking or 'butterfly' bar: Very popular in Europe and numerous hand positions. Difficult to find though, but Wallingford Bicycle Parts usually carry these bars.
Moustache bar: Similar to the Treking bar but less hand positions.
Cow horn bar: Similar to straight bar with barends, but better suited for road riding.
For a detailed discussion of touring handlebars, please read more about touring handlebars. 
Fenders
Yes, I know that fenders are not in style on any bicycle. However, if you ever have ridden in the rain for hours, being in style goes out the window and it will be a bicycle accessory that you will wish you had. If you are always going to be a 'fair weather' cyclist, then you won't need fenders. But any serious bicycle tourist knows that the weather changes and that you still have to go the miles.
Fenders won't keep you dry in a rainstorm. However, fenders will keep mud, road gravel, sand, and some of the water from damaging your bottom bracket and hubs. And in light drizzling rain and water roads, the fenders will keep the majority of water off of you and your equipment.
You can choose a variety of fenders for your touring bicycle. The clip on front and rear fenders you see on urban and mountain bicycles offer the minimum protection. But these fenders are better than nothing. They can be installed and taken off quickly and easily. For full protection, you will need full length front and rear fenders that cover more of the wheel. And for maximum protection, you can attach flexible mudflaps to the ends to extend the length. Full length fenders come in various width to fit different tire sizes.
Up to 35mm width for narrow tires to about 28mm tires
Up to 45mm or 50 mm width for medium tires to about 38mm tires
Up to 60mm width for 45mm or wider tires (mountain bike and expedition tires)
Kickstands
If you have ever tried to lean a fully loaded bicycle against a wall, you will appreciate a sturdy kickstand. So I believe another needed bicycle accessory for touring is a quality kickstand. A few of the recommended kickstands include:
Pletscher: A two-legged kickstand that both legs fold up to one side.
Greenfield: This classic single leg stand is made from aluminum and is lightweight and non-corrosive.
Click Stand: Portable, foldable stand that supports your bicycle above its center of gravity, which makes it stronger and more stable than a traditional kickstand.
Trailers
A trailer is really not listed under bicycle accessories, but it is a viable means to carry your gear on long trips. So do you choose panniers or a bicycle trailer? I believe that it depends on your touring situation. If you are touring on a mountain bike with a suspension fork, a lot of bicyclists prefer pulling a trailer. There are only a few front racks that work properly with front suspension forks, so a popular solution is a trailer. Also, people who carry a large load on a tandem bicycle might consider a trailer over panniers. And on a single bicycle, pulling a trailer over adding panniers has advantages and disadvantages. For a detailed discussion of bicycle trailers, please read my pros and cons on trailers.