Unless their stocking is the size of a bicycle, you'll probably be racking your brain trying to think of stocking stuffers for the avid cyclist in your family.
Even if you are familiar with the world of cycling it can be difficult to brainstorm small accessories that are both affordable and fun. As an avid cyclist yourself, you might also be trying to come up with stocking stuffer ideas to send to Santa.
I've compiled a list of my favorite small accessories. The best part about these items is that even if the recipient already has one, it can't hurt to have a backup. Each item on this list will be a hit with any biker at any level.
The Best Stocking Stuffers Any Cyclist Will Love
Whether you're buying for someone who has pedaled around the entire country or someone who has just purchased their first bicycle, the gifts on this list are sure to bring a smile to their face.
Better yet, each item will make for easier bike maintenance and a safer ride.
Reflective Leg Bands
If you've ever biked to work in your business casual trousers you know that it won't be long before they become your business casual flood pants.
Loose pants can easily get caught in the bike chain and become torn to shreds. It's also dangerous because they could catch the chain and halt the rider.
Reflective leg bands serve a double purpose. First, they keep the rider's pants cinched in at the ankle so that they are protected from the chain. Second, they create a moving reflection from the headlights of traffic so that the rider becomes more visible.
I wear my reflective leg band when I bike in the city no matter what type of pants or shorts I'm wearing. I find that the added visibility on the sides of the bike make for a safer commute.
I wear the Jogalite Reflective Cyclist's Leg Band. It is highly visible and I find the size perfect. However, many different brands and colors are available, so choose one that you feel would best suit the person you're buying for. They usually go for $15 and under.
Tire Levers 
Many of us have sweated, sworn and struggled over a flat tube in our bike tires. Once you get the hang of it, changing bike tire tubes is easy, but for the first few times it's difficult to access the fickle rubber inside.
I have stood outside in the snow many nights with a spoon in hand trying to get the rubber tire away from the metal in order to access the tube. A spoon works just fine, but tire levers work much better. They also prevent you from looking like a crazy person on the side of the road with your kitchen spoon in hand.
Especially if your recipient has yet to change a bike tire, a tire lever is sure to save them the frustration. I don't own a pair myself, but my roommate swears by Pedro's Tire Levers. They are thick, durable, and come in a wide range of bright colors.
They are also small and portable, so a flat tire on the road won't be an issue.
Since my multiple spoon incidents I started taking my bike to the shop for tube repairs, but grabbing a set of these would save me time and trouble. At five bucks a pair, you can't go wrong.
Gloves 
Assuming you're not one of the people reading this in the sunshine on the beaches of southern California during the holiday season that I am endlessly jealous of, chances are it's getting chilly outside.
Given the nature of the holiday season, warm gloves make an excellent stocking stuffer for cyclists. Even if you are in a warmer climate, gloves that protect a cyclist's hands from blistering on the handlebars also make a great small gift.
REI offers a lot of options, from split finger thermal gloves to fingerless suede gloves. Depending on the needs of the cyclist and your price range, you can choose which option would make the most sense this season.
Handlebar Bell 
Have you ever been shouted at by a cyclist barreling down a path behind you? No matter how politely they yell "on your left," it sounds abrasive and intimidating.
To help your family members avoid this socially awkward situation, give them a bell for their handlebars.
The sound of the bell is often loud enough even for motorists to hear. In that situation, a cyclist can use it to prevent getting hit by a door or a careless right hand turn.
Depending on the needs of the cyclist and the budget of the buyer, different bells can also serve different functions. For example, the Nashbar Bell features a compass, which can come in handy for touring cyclists. Certain bells also come with lights for more visibility.
Many retailers also make adorable designs like those pictured in the image to the right. When fun meets function, you've found the perfect holiday gift.
Bike Lights 
If you're buying for someone you care about, you probably want them to be as safe as possible on the road.
Bike lights aren't just for cyclists who make their way home from work in the dark. They are also good for touring cyclists who want to be as visible as possible even in broad daylight on roads not usually frequented by bikers.
Bike tours often go through small towns without bike lanes, and bike lights can help alert drivers from a distance.
I use the Voyager 3.3 and Mars 3.0 combo of lights by Blackburn for the front and back of my bike. In fact, my mom gave me the set a few years ago in my own stocking!
Cheaper options are available, but I've had my set for four years now and both lights are working as good as new.
If you know your cycling friend already has front and back lights, consider giving them spoke lights. They are often overlooked in bike safety considerations but they make cyclists more visible from the side.
Depending on the quality, bike lights can range anywhere from $15 to $80.
Bar Tape or Bar Grips 
This gift idea can be risky if you're not sure what type of tape your recipient likes. Some people prefer thick, padded bar tape for comfort while others prefer thin, no frills tape.
If you know which kind to get, bar tape makes a perfect stocking stuffer. No matter what, cyclists need to replace their tape eventually so having some saved up will certainly come in handy.
Cinelli makes almost every type of bar tape there is in a range of colors. If you're requesting bar tape for your own stocking, make sure you specify exactly what kind you're looking for.
You could also consider purchasing bar grips if you know that's what your recipient uses. They are small and come in hundreds of fun colors and designs.
Grease Monkey Wipes 
Whether you've been performing maintenance on your bike all day or you just got back from a muddy ride in the rain, you'll need to clean the grime off your bike one way or another.
The all-purpose cleaning wipes from Grease Monkey have a citrus formula perfect for removing oil, lubricants, grease, mud, and adhesives from a bicycle. They also come in individually wrapped packages.
Not only will they fit perfectly into a stocking, but they'll also be easy to carry to take care of unexpected grime on the road. Any cyclist will appreciate these.
Tools 
This gift idea is probably better suited for the more experienced cyclist. For the first few years of riding I didn't trust myself to make any repairs on my bike, so I never needed tools.
However, for cyclists who do a lot of long distance touring, tools are invaluable for the road. You never know when you're going to come across a repair shop.
The list of tools you could get for a cyclist is virtually endless, but I'd recommend a few of the basics first.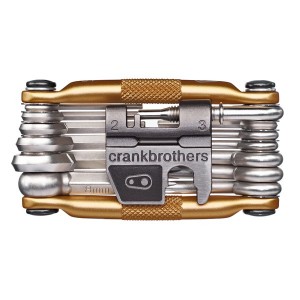 Some small, stocking-sized tools any cyclist will need include:
Portable minipump
Cable cutters
Allen wrenches
Spoke wrenches
Hex tools
Combination wrench set
Pedal wrench
If you want to really impress them, you could purchase a multi-tool like the Multi 19 by Crank Brothers. This tool can perform 19 different functions so that a cyclist doesn't have to have 19 different tools handy for a variety of repairs. The multi tool will be closer to $40 while a single tool could go for as little as $3.
Tire Tube
This is another one of those gifts that will only be appreciated if the giver knows exactly what the recipient wants. Tire tubes come in many different sizes.
Different riders prefer different tubes based on the size of their tires and on personal preference. If you're confident you know what to get, tubes make cheap and handy stocking stuffers.
Again, REI offers a range of options that you can buy both in store and online. Your local bike shop is also sure to have options, and they might even be able to help you figure out what your recipient uses based on the specs of the bike.
Chain Lube 

Sure it's not the most glamorous thing to see on a cozy Christmas morning, but every cyclist needs chain lube so why not throw a few bottles into a stocking?
Chain lube will prevent the accumulation of dirt and grime on the chain, which will make the chain last longer. Good lubes contain Teflon, and you should avoid any lubes not specifically designed for bicycle chains.
I use Finish Line Dry Teflon lube. The 2oz. squeeze bottle is only $4.99 and is a good size for the traveling cyclist.
As the holidays approach, it's easy to get overwhelmed with what to buy your loved ones—in fact, it's just as overwhelming to tell them what kinds of gifts you want.
Hopefully my list has made the stocking portion of the holiday shopping a little easier for the cyclists in the family. These gifts are affordable, small, and you can never have enough!
What kinds of stocking stuffers are you hoping for this year?