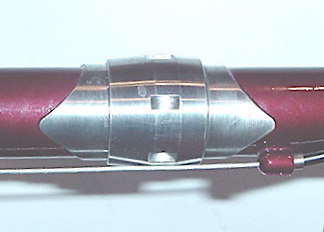 Bicycle shipping is always a concern for any bicycle tourist who travels to distant locales. Yes, bicycles, especially tandem and recumbents, can be bulky and most agents stare when you bring them to the ticket counter. And luggage handlers can be most unkind with the unruly boxes. So what do you do?
You can rent or buy a bike at the start of your tour. That choice has never satisfied me. Most of the bicycles are low quality or don't fit you properly.
If you ship a poorly packaged bicycle, nothing sours a dream adventure more than a damaged bicycle. So for starters, I recommend you read my page about travel cases for bicycle shipping. Afterwards, please review the numerous shipping options presented below.
Frame Retrofits
So which type of frames can be retrofitted with the bicycle torque coupling (S & S coupler)?
Steel, alloy steel, stainless steel frames usually have tubes made from chrome-moly, Columbus, Reynolds, Tange, and True Temper tubes. These frame materials comprise a significant number of the serious touring bicycles and custom bicycles made by framebuilders. S and S Machine offers a stainless BTC that can retrofitted to these frames. The coupling halves fit over the outside of the frame tubes and are silver brazed in place.
Titanium frames use a titanium BTC made by S and S Machine. The titanium couplings fit inside the frame tube and are TIG welded in place. The welds are covered by titanium rings.
Some carbon frames can be fitted with modified titanium couplings. You will need to check with your framebuilder to verify compatibility.
Aluminium frames can not be retrofitted at this time. However, a few framebuilders manufacture aluminium frames that have the BTC installed during the production process.
On a retrofitted frame, the welding process will heat damage a portion of the paint on your bicycle. The framebuilder will need to touch up your paint or repaint your entire frame. When I had my Surly LHT retrofitted, the framebuilder matched the touch-up paint perfectly. The S & S coupler looked like it had been installed during the production process of the frame. How seamless the frame looked shocked me.
Sample Retrofit Prices
Single frame with stainless steel BTC around $460
Single frame with titanium BTC around $800
Recumbent with two BTC around $525
Recumbent with three BTC around $575
Tandem with stainless steel BTC around $1,250
Touch up paint around couplers around $200
Full frame paint job starting around $400
S and S Machine has a great web site on the bicycle torque coupling (S & S coupler) that list framebuilders, details, test results, owner testimonies, travelogues, and anything you want to know about the BTC.
Bicycle Packing
So how do you transport your bicycle after it has been retrofitted? You have several options depending on how you are going to ship or travel with your bicycle. As was discussed in the section on shipping with airlines and some trains as checked baggage has certain restrictions. Mainly, the case dimensions are limited to 26″ x 26″ x 10″ to be consider checked baggage without oversize restrictions. The following cases meet the 26″ x 26″ x 10″ limit.
Bilenky Bicycles has a great step-by-step
procedure on packing your bicycle retrofitted with bicycle torque coupling. There are loads of pictures.