Bicycle Trailer Reviews:
Which are Right for Touring?
So you might buy a bicycle trailer. Then the following bicycle trailer reviews are for you. Some of the bicycle trailers are single wheeled and others double wheeled. Which type is better for your needs? And what about the load carrying capacities? If you are riding a tandem, you are going to need one that carries enough gear for two people.
My guide for bicycle trailer reviews covers the most popular brands currently available. There may be a few other bicycle trailers that are available but not mentioned here. That doesn't mean that these other trailers are not suitable for touring. It just means that I don't have any experience with them.
The purchase of a bicycle trailer is a major commitment in your touring style. I would suggest that after reading my bicycle trailer reviews, please go to the manufacturers' web sites.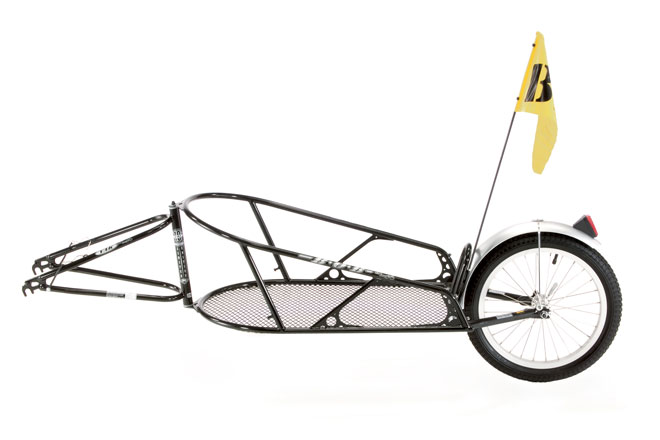 BOB Trailers
makes two excellent models of single-wheeled trailers: Yak ($300 – $340) and Ibex ($340 – $410). The Ibex incorporates an adjustable suspension system for extreme off-road conditions.
Both models have a load capacity of 70 lbs and use 16″ x 1.75″ tires. The trailers attach quickly and easily to your bike's rear wheel using the BOB patented QR attachment system. The frame is constructed from 4130 chromoly steel tubing that is strong and weighs about 13.5 lbs. Both bicycle trailers can be use with virtually all rear bicycle rear wheel sizes, including tandem wheels. They also offer the Yak 28 model for bicycles with 28″, 29er, and 700c wheels with full wrap fenders.
The main reason to buy a single wheel trailer is the tracking. The trailer wheel will follow the same track as your bicycle wheel. A great advantage for mountain bike touring on single track trails. Also, the center of gravity on the BOB single wheeled trailers is very low for stability.
Burley
Nomad Trailer
The two-wheeled design enables the trailer to carry about 100 lbs. of gear. It has a ten-percent tongue load on your bicycle. The Burley designs have excellent stability on and off the bicycle, allowing the disconnected trailer to be loaded and unloaded without tipping over. The typical Burley trailers unloaded weighs about 14.5 lbs, uses 16″ x 1.75″ wheels, and has a cargo area of 32.5″ x 25″ x 23″. If you need additional storage capacity, Burley offers the optional cargo rack. The trailer disassembles in about one minute and folds to 32″ x 19″ x 9″.
The Flatbed is a versatile cargo trailer with removable side panels and tie downs. This trailer allows you to tow just about anything. It folds to 34″ x 32″ x 6″. Weighs about 13 lbs.
The Nomad sells for around $350 at REI.com, plus options. The rack is about $70 at Amazon
, while the Flatbed sells for around $300
, plus options.
Aosom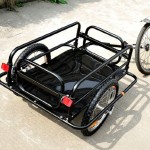 This two-wheeled design enables the trailer to carry about 180 lbs. of gear on its lightweight steel frame ( 57″ long x 27.6″ wide x 19.2″ high). The Aosom trailers (around $100 on Amazon) feature a specially strengthened steel bar beside the wheels that provides excellent balance and stability. The unloaded trailer weighs about 30 lbs and uses 16″ wheels. The trailer disassembles easily and folds down for storage.
Carry Freedom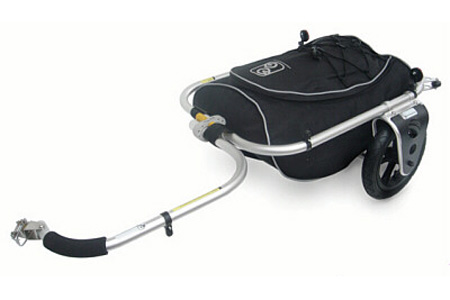 The Carry Freedom City trailer ($550) is another excellent two-wheeled bicycle trailer. This two-wheeled design enables the trailer to carry about 110 lbs. of gear on its medium platform bed (24″ x 16″).
The City trailer was designed for the traveling bicyclist. It can be used as an off bike trailer too. It folds up in about 10 seconds to about 28.5″ x 20″ x 4.5″. The included 70 liter cargo bag comes off easily and can be used as luggage. The unloaded trailer weighs about 11 lbs and uses 12″ composite wheels.
Extra Wheel
Voyager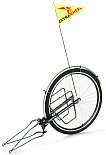 Voyager with pannier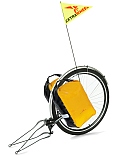 The ExtraWheel Voyager single-wheeled trailer (about $260 plus panniers) is a unique design. It comes in a 26″ and 700c wheel sizes. The diameter of the trailer wheel can be the same diameter as your bicycle wheel. This eliminates the requirement to carry a special tire and tube for your trailer.
The trailer hitch attaches quickly to a special quick release for your rear hub. Voyager may be attached to all types of bicycles – including recumbent bicycles, racing bicycles and bicycles with full shock absorption. This trailer is an excellent solution for bicycles with disc brakes and/or without a luggage carrier. The trailer utilizes two panniers for its load carrying, for a total weight capacity of 75 lbs.