The landscape for bicycling in Britain (England, Scotland, and Wales) can be divided roughly into two kinds of terrain – highland and lowland.
The highland area comprises the mountainous regions of Scotland, Northern England and North Wales.
The lowland area is broken up by sandstone and limestone hills, long valleys and basins such as the Wash on the east coast.
The English Lake District in the northwest contains lakes and fells (mountains). In the southeast, the North and South Downs comprise the White Cliffs of Dover. Fjord-like inlets can be found in the northwest of Scotland. And spectacular cliffs and sandy beaches comprise the east coast. Going south, you will find beaches of rock, shale, sand, and large areas of fenland in East Anglia.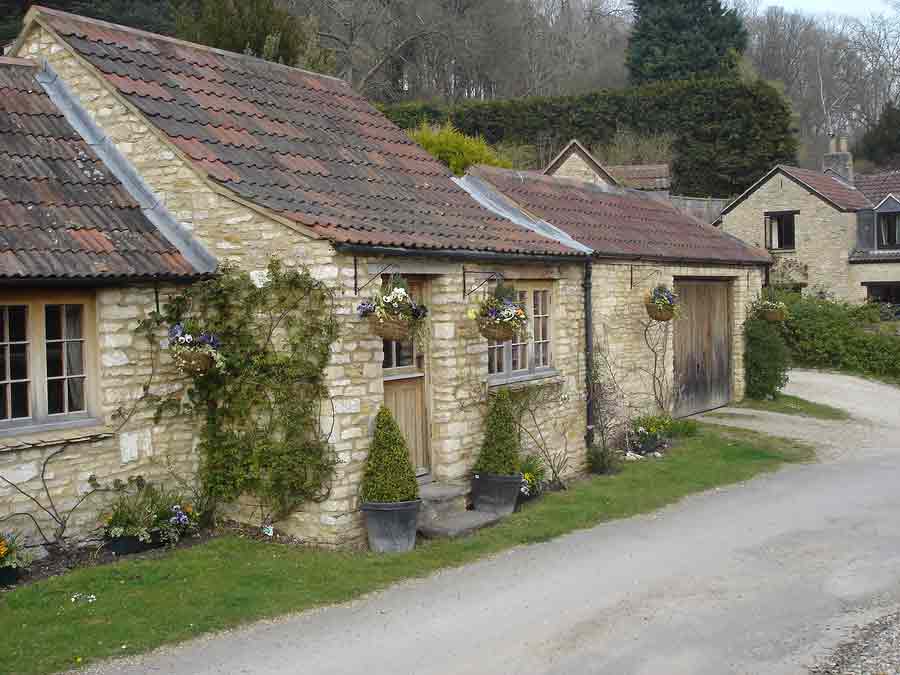 For bicycling in Britain, there are about 4500 miles of signposted bicycle routes. The National Byway networks are being developed to cross England or to run the length of Wales and Scotland, half of which will be on traffic-free routes.
You can cycle to your heart's content through large capital cities, architecturally interesting towns, World Heritage sites, National Parks, wildlife sites and verdant countryside. Some of the routes are shared with walkers and horses, which will have the right of way. Bicyclist must stay clear of motorways-only and footpaths-only trails.
The National Byway meanders around Britain along some of the most attractive and peaceful rural lanes. Currently, there are about 50 circular loop rides. It provides an ideal destination for the thousands of international cycle-tourists who visit Britain every year.
The National Byway is divided into ten regions. At least six of these are now operational with maps published; the others are in various stages of development. The six completed regions are:
The National Byway is divided into ten regions. Six of these are now operational with maps published; the others are in various stages of development. The six completed regions are: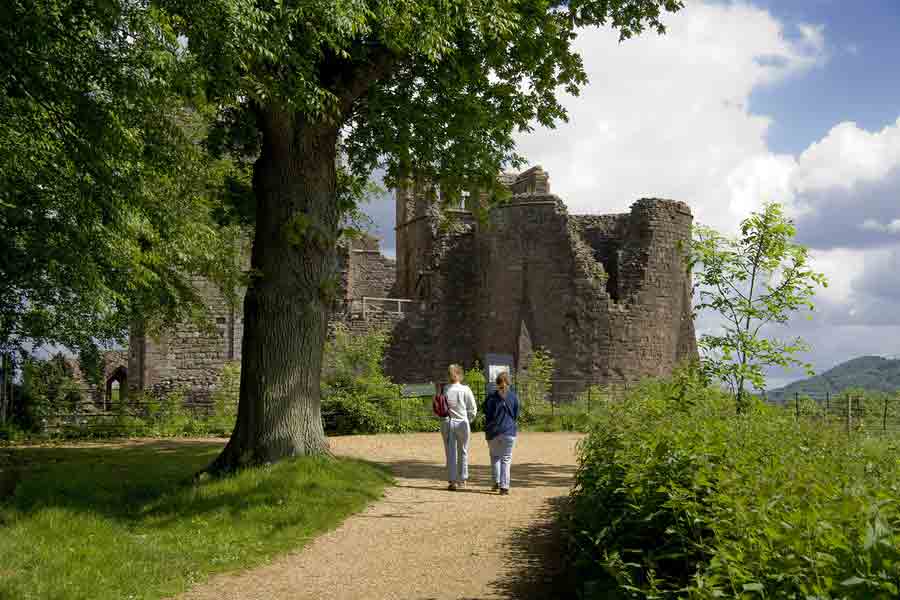 South-West Scotland
North-East England
Yorkshire
West Midlands
South-West England (part)
The following regions are in development or just being completed:
South-West England (balance)
East of England
South-east and south-central England
Mid-Wales (with West Midlands)
North-West England
Ayrshire, Argyll and Bute
Click here to go to The National Byway, Britain's Heritage Cycling Route web site for the most up-to-date information.
When to Go
Britain is subject to very changeable weather. You need to be prepared for wet weather throughout the year. The climate is not very hot during the summer but you can enjoy the beaches. The best months to travel to England are the months of April, May, September and October, because the flights are cheapest, most places are less crowded at this time, and there are less tourist. The best time to cycle depends on the region that you plan to visit. In general, the summer months from June through September will have the best weather, but tourist and traffic can be heavy near the larger cities and popular regions.
The weather for bicycling in Britain during Spring and Summer months very unpredictable throughout the region. Generally, you can expect:
England: Weather varies from day to day. The west coast and mountainous areas receive the most rain; the east coast is colder and windier, especially in the north. The southwest has the mildest climate, and the southeast has the most sunny days with less rain than the rest of England.
Wales: The country to the west tends to be wetter than England, with slightly less sunshine. The coastal areas, however, can be very warm in summer. Weather in the upland areas can be unpredictable at all times.
Scotland: Scotland is generally colder than the other parts of Britain. The west tends to be wetter but warmer than the cooler and drier east. In upland areas, fog and mist may occur at any time of year.
How to Get There and Beyond
Getting to Britain can be from several different routes:
Airlines: The airlines are the major transportation route that most tourist arrive in England. International travelers usually arrive in London either through Heathrow or Gatwick airports, depending on their departure country. And from there, you can spread out to all parts of Britain by trains, cars, and/or buses. The rail network radiates out from London.
Eurostar: Eurostar is a foot passenger only, direct high-speed train linking Paris, Lille, and Brussels with London and Ashford – with connecting trains to over 100 destinations in Europe.
Eurotunnel: Eurotunnel operates a fleet of 25 shuttle trains to transport cars, coaches and trucks and their drivers and passengers between Calais and Folkestone. Trains run 24 hours a day, seven days a week.
Ferries: A ferry is a great way to travel to Britain. You can travel direct to Britain by ferry from Ireland, Spain, Belgium, France, Holland, Demark and Norway.
Coach: There are coach routes to Britain from numerous European destinations. Although it may take much longer, coach is a great cheap alternative to flying. One of the largest operators to the Britain is Eurolines, which offer routes to Britain from over 500 destinations.
Once you have arrived in London, you will probably need to get to a distance starting location either in England, Wales, or Scotland. The most efficient way to get around Britain is by train. London Underground allows bikes onto trains free of charge from 'open stations' (those above ground level). Bicycles can't be taken into central London as all the stations are below ground level. If you need to get to more distance locations, the National Rail network offers service throughout Britain.
Most train companies allow bikes but only a limited number can be carried. On some services bikes are carried on a first-come first-served basis. On others, spaces must be reserved in advance. Check with your rail operator to find out if you can take a bike on board, or ask when booking your ticket. Many train companies allow bikes to travel for free, others, mainly over long distances, may charge you. If your journey involves using more than one train operator, you'll only be charged once.
On trains, bicycles are usually stored in a carriage at the back of the train. Fully folded bicycles are usually carried free of charge on all trains. Tandems, trailers, and tricycles are not usually carried.
The National Rail network has a great web page that discusses carrying bicycles on trains in Britain. It has detailed information about all the routes and railways, charges for bicycles, and contact information.
Some bus companies allow folded compact bicycles on board, but only if there is enough room. London buses will take folded bicycles at the discretion of the driver.
Lodging and Food
When it comes to finding a place to rest your head at night in Britain, you have a vast variety of choices. The most popular include:
Hotels: In the cities, hotels are abundant, but they can get very expensive. In the smaller towns and villages, a few small hotels can be found. You, however, may won't to look at other alternatives.
Bed and Breakfast: Advertised by the famous 'B&B vacancies' signs, these establishments are mainly in private homes, farm houses, and working farms and usually are the least expensive form for just a room. Prices will vary between those in the most popular areas and those offering just a stop over to more popular places. You might want to try Bed and Breakfast in Britain for more information.
Hostels: They are plentiful across most of Britain. The amenities, however, vary drastically among them. You may stay in rooms for people between two and six, mixed families, male and/or female, and shared baths. They usually provide substantial breakfasts and dinners at low prices and have communal kitchen facilities if you prefer to cater for yourself. You don't have to be a youth to stay, but you need to be a member of the Youth Hostel Association (YHA).
Camping A camping park does not tie you down; it can be a stopover, a base for exploration, or a place of leisure. Areas for camping include elaborate campgrounds that include complete washing and store facilities to a field out in someone's backyard. And the prices are reflected accordingly. I would suggest that you stay away from the leisure and holiday parks since they are geared more for families who are caravanning (which is very popular), staying longer times, and can be expensive. A good resource for camping facilities is Information Britain.
Good English cooking is superb. Regional specialties include roast beef, game or vension pies, pastry tarts, cheeses, and tea. Every region, however, will have its own specialty. In general, the north of the country tends to offer more substantial and traditional food, at more reasonable prices than the south. And I have to mention beer and more beer. The British pub is nothing short of a national institution and even the smallest village in the remotest corner of the country will usually have at least one. Every region, however, will have its own specialty. The north of the country tends to offer more substantial and traditional food, at more reasonable prices than the south.
Your Bicycle
The type of bike that you will need depends on your planned route. In general, the roads can vary from well paved, packed dirt and gravel, to meandering dirt paths. In rural Britain, you will find quite a few dirt and gravel roads. So it is best to check with your tour operator or check tour guides to make sure of your ride. If you use a tour company, most of them will rent or supply bicycles with their tours. Common types of bicycles available include hydbrid, touring road, and mountain bicycles.
For general touring in the cities and among the countryside, a hydbrid or touring bicycle with wide tires (say around 28 to 36mm) will handle most roads. Mountain bikes will work for road touring (and trails too) if you switch out the very wide tires to something closer to 36 to 40mm wide. I would strongly recommend that you stick with a touring triple or mountain triple for the steep hills in the countryside. Some of the hills can be quite steep for a double crankset, but most road have a reasonable grade. And if you're going to bicycle in Wales and the Highland areas, the mountain triple crankset would be a better choice.
Hiring (as they say in Britain) or renting a bike is pretty easy all around the region. Some suggestions include:
England
England's heritage is its appeal. You can see the prehistoric Stonehenge, massive castles, sleepy villages, and experience the bizarreness and unique humor of its people. Due to the many invaders and immigrants throughout the ages, you can witness the varied culture. The country, however, has been united as a single nation for over 1000 years as its origins date back to the dawn of modern civilization.
For bicycling in Britain, you can't go wrong in England. This countryside is the perfect place for bicycle touring, from its country roads, varying hills, mountains, and lowlands. The culture is varied and as such never boring or predictable. Not like in some country, bicycles are seen everywhere and are used as a method of everyday transportation. What better place can you want for touring than in England.
Much of the countryside is relatively flat, consisting of fertile plains and gentle hills. In the north and west, you will find mountains, moors and steep hills. The Pennines (called the backbone of England) divides the Lake District (Cumbria) and the northwest from the Yorkshire Dales and the northeast. East Anglia and the eastern part are low lying. The coastline includes long stretches of sandy beaches, steep cliffs, and isolated rocky coves.
Scotland
The majority of Scotland's population lives in the central lowland region that includes Glasgow, Stirling, and Edinburgh. But to the north and west, you will find Britain's highest mountains and offshore islands. In this region, the beautiful coastline is indented with lochs. Due to the varied terrain and rugged mountain peaks, Scotland is a mecca for outdoor enthusiasts. To the south, the rolling hills of the Borders, lush lowland pastures and extensive woodlands present a softer beauty. So for bicycling in Britain, the mountain biker and road biker can find it all in Scotland.
Just like England and Wales, Scotland has the extensive National Byway network of signposted road cycling routes and off-road trails for mountain biking. On small country roads there is often little traffic. Scotland has dedicated mountain biking centers, an array of mountain/forest trails, and tons of mountain biking events. No matter where or how you choose to cycle in Scotland, you will find wide open spaces, dramatic scenery, and beautiful countryside.
Wales
Wales is a captivating region for bicycling in Britain that is not to be missed. It is rich in history and culture, steeped in myth and legend, as much an experience as it is a place. You will see and experience hundreds of castles and wonderful scenery. The past will be all around you from the Roman amphitheater and ruins to the wilds of the countryside to the mountain landscape.
South Wales is mainly known for its industrial heritage. The western part of the coast resembles pastoral England. Mid-Wales is rich in farming valleys and rolling hills. A popular tourist area, with coastal resorts, is north Wales. Inland, the region of Snowdonia has long been popular with walkers and climbers. Mountainous terrain can be found in the central inland areas. If you are looking for road and/or mountain bike as your bicycling in Britain, you can't find a better location than Wales.