Bicycling is a popular sport in Spain, both with the local people as well as foreign tourist, many of whom come to Spain specifically for the cycling. Whatever your age or fitness level, Spain has suitable cycling options for you. There are easy and gentle rides in the vineyard valleys like La Rioja. And for more excitement, you can try the strenuous steep trails of the Spanish Pyrenees and The Sierra Nevada in Andalucia.
When to Go
During the summer, Andalusia and the rest of southern Spain is very hot. The weather during spring and autumn, however,is good for cycling in southern Spain . The best place to go cycling in Spain during the summer is northern Spain. Here is a breakdown that you can anticipate:
June through August: Way too hot except in the high mountains. Central Spain will be deserted of tourist due to the heat. Most people head towards the coast during this time for the cooler ocean.
September through November: Still very hot during September, but cools off during the later months. The coastal areas are still nice. The temperatures are bearable in central Spain and better in the north.
December through February: Cold in northern Spain and central areas. Can be quite wet in the northwest, but southern Spain is very nice this time of year.
March through May: Probably the best time to visit most of Spain. Soutern Spain isn't too hot yet, but you can get cold spells.
How to Get There and Beyond
If you are leaving from North America, it is usually best to fly to England or Ireland and then take one of the many budget flights to Spain. You can find a budget flight to most of the major and minor cities in Spain. From Europe, the budget airlines are numerous going to Spain, or you can take one of the trains. Another alternative from England is the ferries to Spain. Price wise a ferry is similar to the budget airlines, but the travel time may be greater. If you plan on going to the interior part of Spain, then you will have to change to another form of transportation.
There are a number of train services in Spain. Unfortunately, the trains are not as reliable and common as you will see in the rest of Europe. The AVE is the high-speed train service in Spain. AVE trains are luxurious and are an efficient way to get around the country. All AVE services radiate from Madrid. The AVE service is slowly extending across the country. For cities served by the AVE, check out the Rail Europe official site. The AVE doesn't take bicycles unless they can be considered carry-on baggage. Consequently, your bicycle will need to be shipped by alternate methods or plan on renting a bicycle from a local company or tour company.
You are not likely to find English-speaking ticket agents in the smaller train stations. So, if you don't speak Spanish it is a good idea to write down the name of your destination or have a train schedule handy on which you can point out your city destination.
In Madrid, bicycles are allowed on the subway on weekends and it connects with the Madrid airport. In Malaga on the southern coast of Spain, the national rail system (RENFE) allows bicycles onboard. Unfortunately, the RENFE does not go everywhere in Spain. But it connects most of the major and minor cities. For cities served by the RENFE, check out the RENFE official site.
Another alternative may be the comprehensive bus service in Spain, which normally allows bicycles in the lower luggage hold. You may need to remove the front wheel to make the bicycle fit in the hold. For bus service in Spain, check out the Movelia site.
If you are looking for a complete guide for traveling in Spain, then check out this web site.
Lodging and Food
When it comes to traveling in Spain, please keep in mind that the entire country shuts down each afternoon for about 2 to 4 hours for a siesta. Most stores and services will be closed during this time and on Sunday. So you need to plan your day and days around this schedule.
If you are credit card touring, you will have plenty of choices for accommodations. The type of establishments include:
Hoteles: These mid-priced hotels are common throughout Spain. They will have private bathrooms and most have air conditioning, a must for the hot weather. Most will have an English speaking person available.
Pensiones: These rooms will probably not have air conditioning and private bath. The rooms will be small, may have a sink but no towels. They can be well used rooms and very basic. The front desk usually won't have an English speaking person and won't take credit cards.
Hostales: Hostales will have nicer rooms than the pensiones and may have a private bath and air conditioning. At least one person on the staff will probably speak English. There are two main types of youth hostel in Spain – official Hostelling International Spanish Youth Hostels and independent backpackers hostels.
Casas Rurales: These establishments are country or rural houses that can range from a room in a modest house in the middle of nowhere to a stately manor. They are usually out in the Spanish countryside and most tourist don't know about them. Usually a breakfast will be included with the stay and sometimes they will offer dinner as an option. If you are looking for regional food and accommodations, then casas rurales may be a good choice. Top Rural offers a listing of over 8,000 rural accommodations. It is an excellent data for finding casas rurales.
Your Bicycle
The type of bike that you need for bicycling will depend on your planned route. In general, the roads can vary from well paved, packed dirt and gravel, to meandering dirt paths. In the mountains, you will find quite a few dirt and gravel roads and trails. And if you are cycling the mountain roads on a road touring bicycle, then make sure your gearing can handle the steep roads. So it is best to check with your tour operator or check tour guides to make sure of your ride. If you use a tour company, most of them will rent or supply bicycles with their tours. Common types of bicycles available include hydbrid, touring road, and mountain bicycles.
For general touring in the cities and among the countryside, a hydbrid or touring bicycle with wide tires (say around 28 to 36mm) will handle most roads. Mountain bikes will work for road touring (and trails too) if you switch out the very wide tires to something closer to 36 to 40mm wide. I would strongly recommend that you stick with a touring triple or mountain triple for the steep hills in the countryside. Some of the hills can be quite steep for a double crankset, but most road have a reasonable grade, except in the extreme mountains.
Renting a bike is pretty difficult unless you are starting from a major city or plan on using a touring company bicycle. Some suggestions include:
Bike Rental Barcelona: Quality bikes and they delivery to your hotel.
BikeiIberia: Quality touring, hybrid, and mountain bikes and they deliver anywhere in Spain and Portugal.
Andalucia
The Sierra Nevada was designated a national park in 1998. Some of the most dramatic and rugged area of Spain exists here in this mountain range. There are wild rivers, sheer-sided gorges and canyons, glacial lakes, and rocky slopes. The sunshine warms you almost everyday during the cycling season.
Thanks to the efforts of mountain goats, sheep, and forest management, the Sierra Nevada has a variety of stunning trails. The type of terrain and difficulty depends on the altitude you will be riding. From farmlands in the foot hills to barren rocky peaks, hikers and mountain bikers are few and far between on the rugged trails. The area offers tough climbs and long descents, miles of technical singletrack, and more gentle trails. The area has pine forests, alpine pastures, snow-capped peaks, orange and lemon groves, olive trees, and abundance of wildlife. The variety of scenery makes this area the perfect spot for mountain biking.
Las Alpujarras is southernmost range of mountains in the Sierra Nevada National Park. The mountain range has been compared to the Himalayas, and offers some of the most stunning landscapes in Spain and Europe. Las Alpujarras is one of the biosphere reserves.
You can stay in beautiful mountain villages or towns like Orgiva or Bubion. There are mountain hamlets like Puentezuela or the market town of Castril. If you are looking for the perfect area that represents the rugged mountains of Spain, then the region of Andalucia will be the perfect place for bicycling in Spain.

Catalonia
The high peaks of the Pyrenees to the north and the wonderful Mediterranean beaches to the east contain the Catalonia region of Spain. This region has some of the most historic and cultural villages that have not been saturated by tourist. You will see olive groves, vineyards, lush green valleys, pine forest, and beautiful turquoise seas.
Numerous charming medieval villages with their stone houses and cafes built directly into the rock of the mountainsides are nestled in the Pyrenees mountains just north of Barcelona. These villages have been amazingly well preserved and offer great hiking, mountain biking and bicycling opportunities. You can ride on cobblestone streets and see buildings older than 500 or more years.
Just outside of Barcelona, the climate and landscape of the Penedés wine country offers a variety of fantastic cycling routes through the lush vineyards and rolling coastal hills year round. Rolling hills and winding lanes cross the vast vineyards, perfect for bicycling and hiking. And the region's small villages are wonderful for exploring.
North of Barcelona, the coastline changes rapidly into an amazing picturesque landscape. From the cliff-tops down to the Mediterranean waters, there are age-old trail routes that wind from village to village. Here you will be rewarded with views of the Spanish and French Mediterranean and quiet coves in which you can swim, snorkel and enjoy the sun.
La Rioja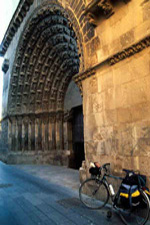 This small region located in the northeastern part of the country is the most outstanding wine-growing area in Spain. The local wines are without doubt some of the country's finest. The region's rivers, lakes, nature reserves and mountains beckon sports enthusiasts and lovers of the great outdoors. Spectacular mountain scenery makes this region perfect for day and multi-day cycling. You can also go white-water rafting, mountain biking, and hiking.
Bicycling through this region, you will experience rolling vineyards, sleepy villages, ancient monasteries, and few tourists. The broad valley is bisected by the lazy Rio Ebro, which meanders gently past weeping willows, deep green vines, and golden cornfields. In fact, this region reminds people of Tuscany. High above on occasional hilltops, castles crumble and sandstone villages lie quietly. You may go to this region to experience the excellent wines and cuisine, but the ancient countryside will never leave your memories.
The Sierra De Gredos
The Sierra de Gredos mountains contain central Spain&39;s highest peaks. In the central part of Spain and just west of Madrid, the Sierra de Gredos is a secret heartland; a vibrantly contrasting montage of mountainous peaks, thundering waterfalls, verdant plains, fragrant fruit orchards and glacial lagoons. Although flanked by the world-famous cities of Madrid, Toledo and Salamanca, the Sierra de Gredos is little known, meaning you really do explore an undiscovered side of Spain.
This is a special place that few visitors outside of Spain ever have the privilege of knowing. It has a magnificent environment. Sights of goat herders and their flocks wandering the mountainsides and farmers harvesting by hand and carrying their produce in panniers on donkeys' backs all point to a culture still rooted in an age long past. It offers a glorious mix of Alpine and Mediterranean scenery: olive groves, jagged mountains and fragrant lemon trees, all complemented by some of the most abundant bird life to be found anywhere.
The region is a true paradise for mountain bikers, hikers, walkers, rock climbers, bird watchers and nature lovers. It offers hundreds of miles of superb terrain for mountain biking of all levels. For road cyclists who like climbing, the Sierra de Gredos is full of challenges. The Tour of Spain passes through the Gredos most years. The roads are normally very quiet, of good quality, and motorists treat cyclists with respect.
Spanish Pyrenees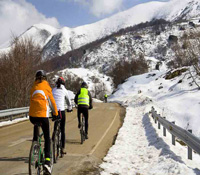 The Spanish Pyrenees could not be more different from their northern French counterparts. The French Pyrenees are wet, green and thickly forested; the Spanish side is dry, arid and generally more Mediterranean. It offers a magnificent array of rugged mountains, deep gorges, beech and pine forests, cultivated terraces, ancient stone bridges, unspoilt towns and villages with many historic buildings.
Linking these town and villages is a network of waymarked routes. These routes include short climbs on tarmac to scenic fire roads and more exciting and narrower trails. All of these routes are perfect for hiking, horseback riding, and mountain biking.