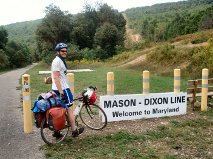 Growing up in Pittsburgh, I dreamt of seeing everywhere except southwestern Pennsylvania.
But somewhere in my late twenties, I came across Marcel Proust's quote, "The real voyage of discovery consists not in seeking new landscapes, but in having new eyes."
Why hadn't I thought of touring my own backyard? I had seen plenty of the lush, hilly landscape from a saddle, but only while commuting or on weekend trips; never from a fully loaded bike. So it was settled; that August I was going to ride the Great Allegheny Passage.
Riding the Great Allegheny Passage
The Great Allegheny Passage (GAP) is a 150 mile, crushed limestone trail born from southwestern Pennsylvania's history of railroads and coal. Made almost entirely of reclaimed railroad beds, the GAP snakes through the ancient valleys of the Allegheny Mountains and connects the dots through towns that were once bustling train stops.
And if that hasn't sold you, these two points will: since the trail follows railroad beds, the grade never exceeds 1.75%, which means even when you're climbing, it doesn't feel like it, and, there is no traffic! The GAP is a bike, equestrian and pedestrian trail only.
Gear and Camping
I felt right at home on the trail with my Novara Randonee
, a drop bar, Reynolds steel, touring specific bike. I was light on cash, so I budgeted for mostly camping and camp food with few amenities. This is a surprisingly simple proposition: there is ample camping spread along the trail, with many sites featuring picnic tables, outhouses and even grills!
Click here to learn more about the best touring bikes that we recommend.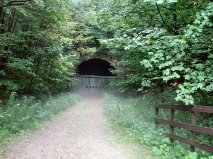 I packed a modest repair kit and actually needed the chain breaker. If you do breakdown without the proper tools, however, almost every town has a bike shop and, of course, Good Samaritan cyclists are abound. And if you're not into the loaded touring approach, it's not the only way to go!
I saw plenty of hybrid bikes on the trail and credit card touring is actually quite popular. There are numerous B&B's along the route and every dollar you spend pumps appreciated revenue into old coal and rail towns that are reinventing themselves.
The Trip
The GAP is made possible with the hard work and donations of people who see just how special this resource is. The Allegheny Trail Alliance works hard to complete essential segments and keep the trail open to the public. When I started, the Pittsburgh link was incomplete, so the town of McKeesport, 17 miles southwest of Pittsburgh, was the best place to begin.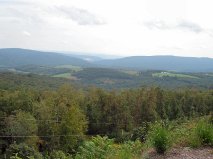 It wasn't right out the backdoor, but it was only a 30 minute drive for my dad to get me to the trailhead along the Yough. McKeesport is a rough little coal town that is close to Pittsburgh and urban in every aspect. It's funny to start what is mostly a quaint, rural trail in a concrete jungle, but the juxtaposition actually adds to the trip; it gave me that sense of escape I was looking forward to. I hugged my dad good-bye and started riding in the muggy, August air.
I was surprised at how quickly urban gave way to suburban. The city eased and the trail began passing through greenways: forested strips interspersed with backyards and parks. I made quick work of the limestone trail and reached West Newton with the day still ahead of me.
West Newton: The First Trail Town on the GAP
West Newton is essentially the first "trail town" on the GAP when you're heading from Pittsburgh. Like so many trail towns, it is experiencing renovations and you can simultaneously see where it's been and where it's going; a manufacturing town that is now searching for its identity. It was here where the tour really started!
Something I've always loved about touring is the honest interactions you have with people. They see you ride up on your bike and you're completely exposed: everything you need for now (and forever, really) is right there in front of them. You're not hiding anything. And this expression of honesty cracks even the hardest shells, starting conversations and creating memories. I found that with the locals in the West Newton Dairyland, and I knew the town was going to turn out just fine.
The Beauty of the Great Allegheny Passage
I continued winding with the Yough out of West Newton when the rain started. I had all of my touring gear, so I stayed relatively comfortable. When it rains in the Allegheny Mountains, the clouds choke the tight valleys, letting only the highest peaks poke through; it looked like a Japanese block print. I was soaked, but I had to remember my mantra, "Have new eyes."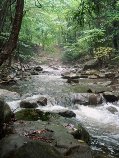 During this stretch, the GAP really starts to come into its own. Two hundred fifty year old cemeteries line the trail, and the spaces in between towns are filled with old coke ovens, rusting rail equipment, and ruins of an industrial age that once was. All of it is surrounded by a wild river, lush forest, rhododendron, and the occasional old growth oak.
I stopped in Connellsville for a warm cup of coffee and a reprise from the rain. Everyone was friendly and welcoming, having become accustom to the site of touring cyclists; from there it was on to Ohiopyle. Ohipyle is the most well-known trail town on the GAP, and if you have some time for a few zero days, this is where you should spend them. From world class rafting to two nearby Frank Lloyd Wright homes, this town has a history dating back to George Washington's exploits in the French & Indian War. For me, it was another ice cream cone and then back in the saddle towards camp in Confluence.
Confluence offered a cold beer, a warm shower and a slightly soggy campsite at a local rafting guide's lawn, but it was enough to recharge my batteries. The next morning saw the rain gone and plenty of beautiful scenery. The trail continued to wind along the valley and I could tell the black snakes, turkeys, grouse and deer were all happy the rain had subsided. I rode past Rockwood on my way to Meyersdale for the night.
After a good night's sleep and an ice cream cone, I was ready for my last day on the GAP. Leaving Meyersdale, I had some big landmarks in front of me: the Eastern Continental Divide, the Mason Dixon Line and The Big Savage Tunnel. The Big Savage Tunnel is an old rail tunnel that you actually get to ride through, so it helps to pack a light. After the Continental Divide, it's all downhill (aside from a climb on a side trail to get to Frostburg), and it's quite an enjoyable coast.
The trail finishes in Cumberland, MD and left me with a choice: call for my dad to pick me up, or hop onto the C&O Canal Trail and ride on to Washington, D.C. I stopped in downtown and bought some lunch; an hour later, I was back in the saddle and heading towards our nation's capital.