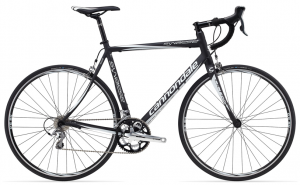 If a Cannondale road bike has been on your wish list for years, you should break open that piggy bank for the Synapse 6 compact bike.
The sleek and lightweight Synapse 6 Compact bike by Cannondale
will probably be the smoothest ride you've ever had on the road. However, it's best for intermediate riders, so you advanced guys and gals out there, should check out this list of touring bike reviews for something more appropriate.
If you're an Intermediate rider though, read on and learn why this drop bar road bike is the perfect blend for weekend warriors.
Review of the Cannondale Synapse 6
Like many other Cannondale bikes, the Synapse 6 is a masterpiece of engineering and design.
This bike is perfect for the avid cyclist, and it's versatile enough to be used for casual riding, commuting, exercising, racing and serious training all in the same week.
Advantages
The stability, handling and precision are unmatched, and the gearing is versatile for multiple levels of terrain. You'll feel totally in control from the moment you hop on to the moment you hop off. Especially on rougher terrain, this level of control will really come into play.
You'll also feel comfortable, as the seat's Synapse Active Vibration Elimination (S.AV.E.) system will dampen any road vibrations.
The bike is also lightweight, which is a major benefit for commuters that might need to throw it over their shoulder to head up a flight of stairs or hop on the subway.
Of course, the price is another major advantage. Any Cannondale bike under $1,000 is a steal (and this baby goes for around $800 at REI), and this bike tends to run for approximately $800 in some stores.
Disadvantages
While this bike is put together well and engineered masterfully, the actual components are not of the highest quality. It's not the most expensive Cannondale you can buy, and you might end up spending a little bit more on replacement parts.
More powerful riders might be especially disappointed with the flimsiness of the hardware. The gear cranks feel almost as though they'll bend and break when you really bear down on them, but they are easy enough to replace if you have this problem.
The gears are also clunkier than on the nicer Cannondale models, and it is not as easy to shift from one gear to another quickly or smoothly.
The Synapse 6 Compact bike has many advantages, but it's certainly not for everyone. To gauge whether or not this bike is right for you, check out what some other people who bought it have to say:
What owners like
What owners don't like
Component quality
Limited color choices
Summary
Overall, the Cannondale Synapse 6 Compact 2012 Road Bike is a great choice for anyone looking for a smoother, more comfortable ride. It's more affordable than the higher end models, and it just might be the Cannondale you've always been dreaming about.
The bottom line is that the Synapse 6 makes for an enjoyable ride. Heck, you might even want to get up for work in the morning knowing what an enjoyable commute lies ahead.
Where to Buy
You can buy the Cannondale Synapse 6 at REI.com for around 800 bucks.