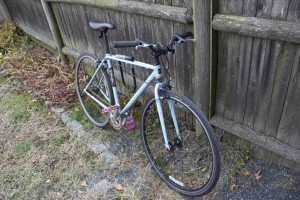 I live in a tiny, cramped, outrageously designed apartment in Cambridge, Massachusetts. It's essentially an attic-turned-studio, and the only way in is through a dark, claustrophobic staircase. Don't get me wrong; I love my apartment because it's the cheapest on the block.
However, bike storage is always an issue.
I certainly can't fit it up the stairs to my dwelling or down the stairs to the basement, so I'm forced to leave my bike outside. As if that isn't bad enough, there is no awning or covering outside for storage.
I even tried hanging a tarp, but my picky 96-year old landlord worried it would kill the daisies. I took the tarp down, and now my bike must stay outside and survive the elements.
As you can see from the pictures, rain and snow have taken their toll. The chain and bolts are rusted and even the beautiful baby blue paint is eroding. The bike has seen better days, but unfortunately I don't have another storage option for now.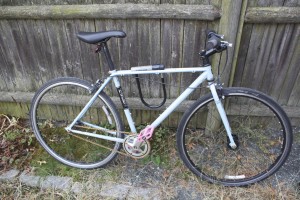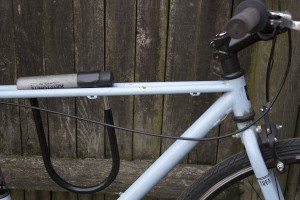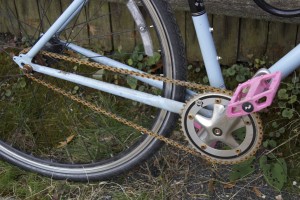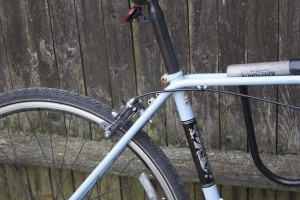 Boston weather is unforgiving. In the past month, we've been through a hurricane and two inches of snow. If you struggle with bike storage anywhere in the world, there might be some solutions you haven't thought of yet.
Whether you're storing your bike for long periods of time between tours or storing it overnight between work shifts, it's important that you find a good storage solution.
Bike Storage Options – In Order From Best to Worst 
Since I brainstormed my options for months when I moved in, I can offer some good tips depending on your situation. Let the pictures of my rusting bike serve as a lesson, and consider the following.
Indoors
This is definitely not an option for everyone. A lot of factors might keep you from storing your bike indoors. Whether you have pristine white carpets or a 10th-floor walkup, don't force yourself to take advantage of indoor storage. But, if you can swing it, it's the best.
Storing your bike inside doesn't mean it has to get in the way. First, look into using a bike rack on your wall. You can hang it so that it's off the floor. Some people even hang their bikes from the ceiling. This type of storage is perfect for apartments with multiple bikes, since they can all go on the same rack.
If you do happen to live in an apartment complex, you might be able to store your bike in the entryway as long as it doesn't block the door. Large hallways also serve as appropriate storage, as long as you check with your landlord.
Really, you can look for any nooks and crannies in your apartment complex and claim the space. In my last apartment, I stored my bike in the space under a shared stairwell with every other bike in the complex, and it was perfect. Basements are also an excellent option.
In a Garage 
If storing a bike in your home or building wont work, the garage is the next best thing. Of course, you're probably already doing this is you have a personal garage attached to your house. Though, city dwellers might also have this option and not even realize it.
Many apartment complexes have garages attached and you might be able to store your bike inside. Again, you'll have to check with the landlord, but there might be space off to the side where you can keep your bike locked.
Even if you find a parking garage not attached to your building, you could rent a space within. Contact the management company to find out, as this could be a great solution.
Under an Awning 
If my first two suggestions are not an option in your situation, your bike will need to stay outside. If you own a house with a sprawling backyard, consider building a shed for your bike, or even a small roof so that rain and snow aren't a problem.
In a cramped apartment complex, look for an awning over a stairwell and see if your bike will fit underneath.
If there is no structural protection available, it's time to hit the hardware store and buy a tarp. Hang it an angle over the area where you lock your bike to deflect rain and moisture. It won't be the most beautiful part of your backyard, but you'll be impressed by how much it helps
Outdoors 
Finally, the worst option of all. Between tours or even overnight, you'll just have to store your beloved bike outside sometimes. It will get worn down in the elements, but make sure you replace any rusty parts for safety when you're ready to ride again. Also, keep it locked up, even in safe areas.
So, no matter where you live, your bike storage options will probably come down to the following:
Indoors
In a garage
Outdoors with a covering
Outdoors unprotected
Some are clearly better than others, but sometimes you just have to work with what you've got. If you have any other ideas for bike storage, please let me know. I sure am tired of replacing my rusty chain every spring.
Help Support Bicycle Touring Guide
Do you like us? Then help support us! When shopping bike gear, visit us first and follow one of our links. We will get a small commission and you don't pay anything extra. It helps us make this site so awesome.
Here are some links to popular places to get bike gear online: