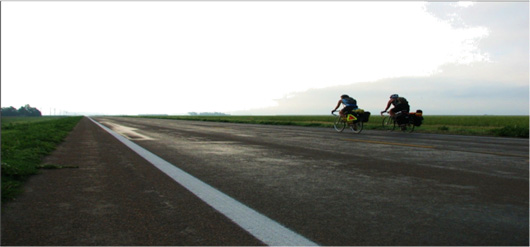 The flatlands aren't so flat. I never would have believed it had I not made the journey myself a few years ago.
Turns out, the hills don't stop after the Colorado Rockies fade into the distance and the Kansas countryside spreads out in front. The following description may surprise you, but more so, I hope it challenges you to re-think the Kansas landscape and take a journey for yourself one day.
With much of it still unexplored from atop a bicycle, my words can only provide a slice of the treat that awaits anyone who is willing to brave the desolate bread basket of America.
When to Go:
This section is better titled "When not to go" and that depends almost entirely on your climate preferences.  I took the journey in August, the hottest month of the year, and the heat was oppressive. However, leaving by 6am every morning would often get me to my daily destination by early afternoon and thus avoid any major risk of heatstroke.  If going in the summer, I recommend this method. If you must carry on further than the early morning hours will allow, wait until the sun has cooled down enough to carry on.
Fall and spring are certainly more ideal for daytime temperatures, but keep in mind that evening can be chilly and require more clothing. More clothing requires more weight and more bulk in your panniers, but with average temperatures of 54 in the spring and fall respectively, it's tempting to lug the extra pounds.
Lodging and Food:
The Adventure Cycling Association (ACA) has a TransAmerica map that traverses the country and highlights the towns popular for cyclist stopovers. Cleverly, we decided to purchase the Pueblo, CO to Alexander, KS section. Not so cleverly, we detoured from the map to head southeast about halfway to Alexander to instead rely on inconsistent GPS signal and a faded road atlas we found on the side of the road.
With that said, affordable lodging is minimal both before and after we went off-map, we did a lot of bike camping. We found that nearly all the towns were receptive of us pitching a tent in their local city park, but I recommend securing permission from a local sheriff or authority figure before doing so.
Once we carried on south-east beyond the bounds of our ACA map, we became quite the anomaly. Cyclists were not a common sight to these tiny farming communities, but they were receptive and hospitable just the same. In places like Spearville and Dighton in Kansas, they even let us shower in the public swimming pool for free. You never know what these hospitable areas will offer if you ask (or smell of several day's worth of sweat).
The food is a similar story. On the plus side, the endless chain restaurants common to urban areas do not yet plague the small communities in Kansas. On the other hand, it is sometimes difficult to locate calorie-dense food that will not put you to the grave prematurely.
In an effort to sidestep excessive grease, and because I prefer to avoid meat, I found that bean burritos were my best option. In the numerous Mexican and Tex-Mex style restaurants we found, and even in a few not-so-Tex-Mex places, bean burritos were in endless supply. Otherwise, there are enough grocery stores dotting the towns to keep an emergency stash of granola bars and peanut butter.
Bicycles:
I took my Bridgestone RB II frame with some newer handlebars and gears, and that worked excellently. One of my travel buddies had a Cannondale road bike and the other had a Cannondale touring bicycle. As long as you can attach a back rack, fit your panniers, and have solid hybrid tires, you should be able to avoid any major problems on the road.
Check out REI's selection of touring bikes
to get an idea of what you should take.
The Regional Breakdown


Southeast Colorado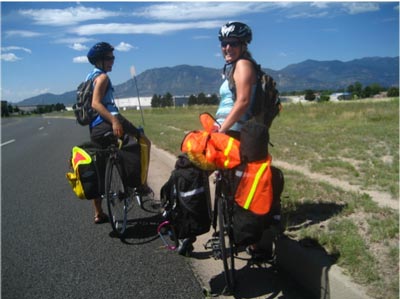 As both Ordway and Eads were included in the TransAmerica bike map, we went through those en route to our Kansan adventure. As we quickly learned, the good thing about small towns is, well, they are small. It was not hard to spot a fellow cyclist or the cyclist-friendly spots in town. The restaurant choices are easy; just flock to the first, and often only, "Welcome Cyclist" sign you see. In this case, "Bits N' Spurs" was a pleasant and memorable dining experience that evening.
This locally owned establishment, and many more after it spread throughout rural south-eastern Colorado and Kansas, was overflowing with country charm. Be prepared to be served butter with everything, as well as hefty side dishes of gossip, town history, and heaps of advice at no additional charge.
Moreover, in such a town as this, remember that the local cyclist's chapter is never far away. In the time it took to eat one meal, the head of the chapter paid two visits to the table…and each time, she was armed with pamphlets about historical sites along the trail. For the record, those are also great people to talk with in order to secure the okay to sleep in the local park or green space.
Carrying further east towards Colorado, you may also be fortunate enough to pass through Eads in early August. While the scenery is similar to the previous dozens of miles and no different from the upcoming dozens of miles, the town puts on an unforgettable Maine Street bash every year. It is not a thing to miss if you fancy an endless buffet of pork and beans and the ability to put anyone you choose in the community "prison" for the small price tag of two tickets. It goes without saying, of course, that there are also endless country line dancing opportunities at such an event.


Western Kansas
Now we continue in the region of surprises and unexpected sights- Western Kansas. The small town of Leoti was our first stop. As our first town off the TransAmerica route, we were unaccustomed to the townspeople being so unaccustomed to cyclists. Yet as it often does, everything worked out just fine. The sheriff department was very accommodating and the local lifeguards let us shower in the pool. There is also a plethora of bean and rice burritos on various menus scattered throughout the town.
Next comes Dighton. There is a trick to the trade of obtaining permission for camping in the local park there, we learned. The sheriff's office uses an intercom from the outside of the building, allowing you to relive the Wizard of Oz moments of the "man behind the curtain."


Central Kansas
After Dighton, if you are heading in a south-easterly fashion as we were, you come across Spearville. That really isn't a fair description. No one simply comes across Spearville. On the contrary, one has to pedal up a lot of steep inclines and play a lot of mind trivia to keep discouragement from sneaking in along the way. Allow me to illustrate it by the following: My father's name is Gary. When we turned off of route SOMETHING towards this seemingly innocent town, spray painted on the road before us were the words "GARY, HOW ARE YOUR LEGS, ARE YOU READY?"  These foreboding words were not only accurate, but they were a true test of this bike journey thus far.
The ten miles of hills are amplified by darkness and never knowing when the town might be seen cresting over the next hilltop. If you can ride this in the daytime, there are probably among the best views in the region, especially given that these are among the precious few hills in the region.
Minutes before ending this quad workout, be sure to look for the final spray painted words of truth, "QUITTING IS FOREVER."
Spearville the town is much more enjoyable than the road to get there. This town has two highlights- the Windmill Restaurant and the swimming pool showers. You can't miss the restaurant; it's one of only a handful to choose from and true to its name, there is a picture of a windmill. The swimming pool is just a hop and skip away from the local playground, where we slept.
Finally, we arrive at the famed town of Greensburg, Kansas. In 2007, a ravaging tornado left Greensburg completely destroyed. Since that time, outside agencies have invaded the area with a new agenda to rebuild it as a model "green" town. The aim was to one recreate this town as completely self-sustaining through cutting edge green infrastructures and methods. With all of this in mind, I had high hopes for the place. Suffice it to say, that day had no arrived by mid-August, 2009.
I recall that they had a catch-all cafe in a double-wide trailer. They served bean and cheese burritos, so as far as the cycling diet goes, I was content. The city park, along with nearly every other inch of the town, was undergoing construction and there were no public restrooms within walking distance. I continue to have high hopes for the place, as did the people we met there, so I welcome updated reports on the bicycle-friendliness of that area.
From here, Medicine Lodge was the next destination before we crossed in Oklahoma via Caldwell, Kansas. After consulting the map and using our fingers to guesstimate mileage, we thought it best to take the scenic bypass, 40 miles down the road.
Parting Wisdom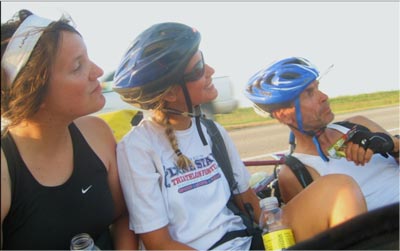 A word of advice: when you tell the locals of your proposed route and they raise their eyebrows and slowly wobble their head back and forth, there is reason to wonder. This bypass, it turns out, is scenic in no small part to its three dozen miles of ribbon-like hills. In many ways, it's the perfect way to end a journey through the lower heartland of Kansas. The crests of the hills provide incredible views to the rural land beyond and the descents could break speed limits in a school zone.
Cycling through Kansas is not for everyone, but for those who accept the challenge, they will not go home disappointed.