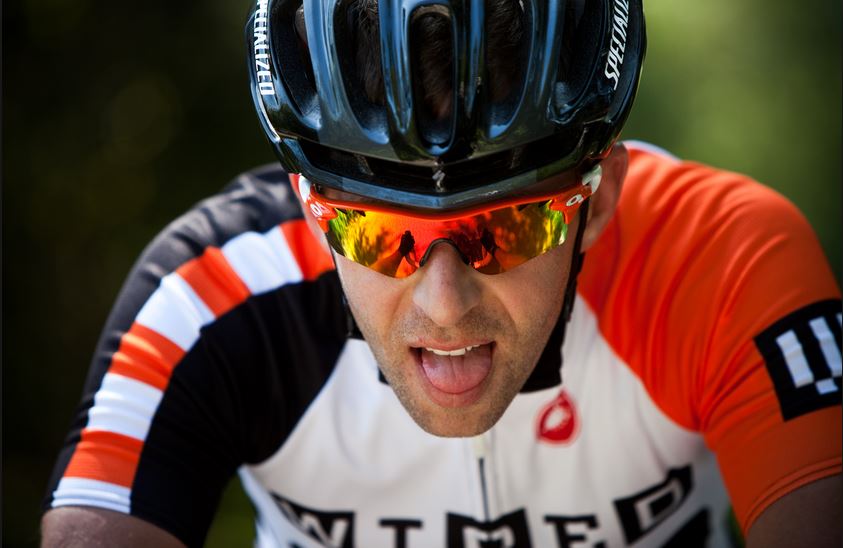 The Best Sunglasses for Cycling
One essential item you need every time out on the bike is a quality pair of sunglasses. A good pair of shades will make your experience on the bicycle much better, shielding your eyes not only from the sun, but from wind and even the occasional wayward insect that smashes into your face.
However, finding a pair of sunglasses for bicycling is a different game than finding a pair of sunglasses for hanging out at the beach. You will not want to use the same shades you use for lounging on a bicycle tour, or you will find yourself quickly regretting it.
You will need your cycling glasses to fit several specifications in order to have a pair that will take care of all of your needs while on the bike. You will want the glasses to be polarized for starters, as you will need the maximum level of protection from harmful rays while spending hours out in the sun. Cycling glasses also need to be streamlined, allowing the wind in your face to roll off without moving the glasses themselves. The arms need to fit snugly but comfortably to your head to ensure that they don't go anywhere when you're screaming down mountain passes.
There are a lot of options when it comes to buying sunglasses for your bike rides, but in my experience, these five pairs of sunglasses are amongst the best.
Smith Pivlock V2 Sunglasses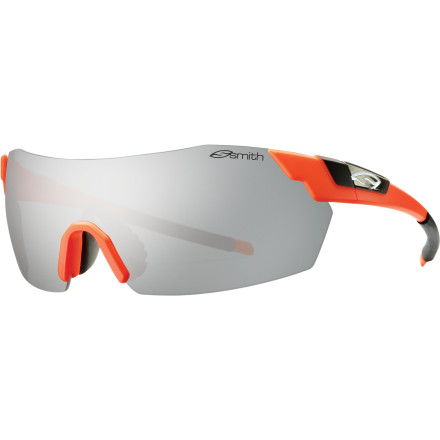 The Smith Pivlock V2 Sunglasses are an affordable option that are worn by many professional cyclists on tour. These sunglasses are incredibly lightweight and comfortable, ensuring that you feel unburdened and avoid headaches, while providing high-quality sun protection on your rides.
The lenses on the Pivlock V2 shades are interchangeable, so you can fit them with prescription lenses, or lenses of different colors if you wish. The sunglasses also come with a nose piece that is fully adjustable, allowing you to customize the fit of the glasses to your face.
In addition to these features, the Smith Pivlock V2 glasses are equipped with lenses that provide a horizontal sweep and tight pantoscopic angle, all with angular, aerodynamic features that allow the glasses to contour to your face, provide wind protection, and fit well with a helmet.
These excellent sunglasses are available on Competitive Cyclist right now for just $79.48, 50% off the normal price. So check them out here now!
Oakley M2 Sunglasses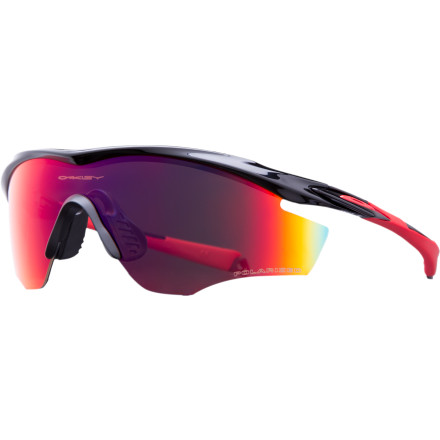 When you think of high performance sunglasses, there is a good chance that Oakley is the first brand name that comes to your mind. This is for good reason; Oakley is one of the premier sunglass manufacturers in the world, and their reputation for style and performance is unmatched.
The M2 Sunglasses from Oakley are one of their finest models for cyclists, as these sunglasses are designed for long hours on the bike, protecting against all of the elements which might negatively affect your eyes. The M2 Sunglasses feature polarized, iridium-coated lenses that protect against UV rays and reduce glare to almost nothing.
The frames of the M2 Sunglasses are incredibly lightweight, and  will contour to your head in an extremely comfortable manner. The lenses are also tempered and impact-resistant, ensuring they don't become scratched or damaged if you happen to get pebbles or insects flying into you during rides.
The Oakley M2 Sunglasses are one of the best models of shades any cyclist can have. You can learn more about them here!
Nike Ignition Sunglasses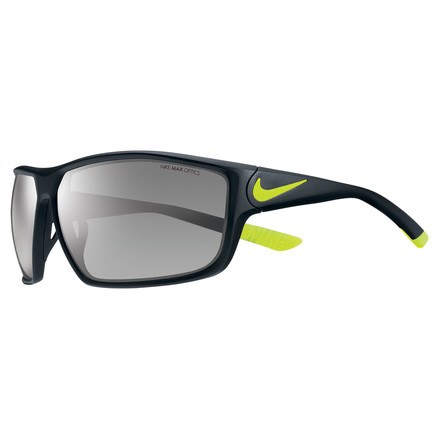 The Nike Ignition Sunglasses are not designed exclusively for cycling, but are versatile, multi-sport sunglasses that are adept at allowing athletes of all persuasions to stay unburdened while protecting their eyes.
With durable polycarbonate lenses and a lightweight nylon frame, the Ignition Sunglasses give you outstanding protection from the sun and debris, all while giving you the feeling that nothing is on your face at all. These shades provide excellent temple and nose padding to ensure that you feel as comfortable as possible.
Furthermore, the Ignition shades feature a ventilated nose bridge that prevents fogging, and the Nike Max Optics are amongst the best lenses, giving you outstanding vision on the road.
Learn more about these excellent sunglasses here!
Under Armour Igniter 2.0 Sunglasses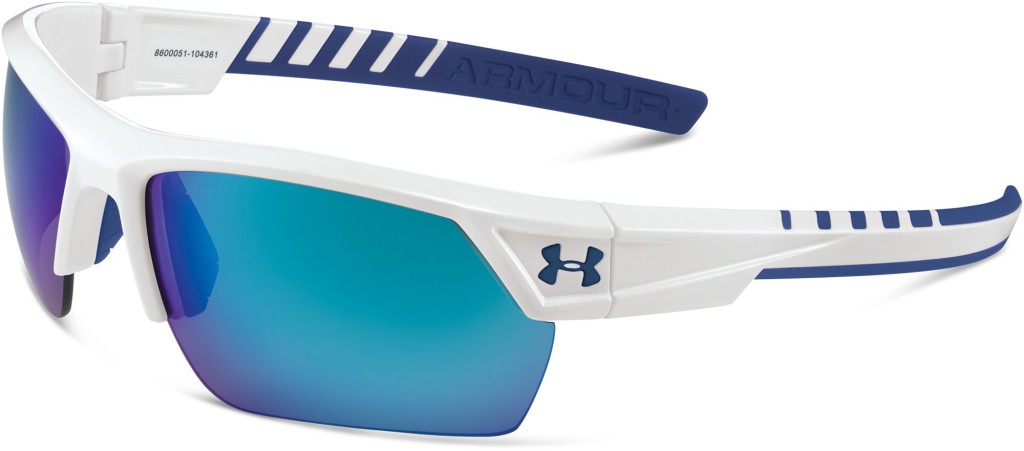 Another company that is synonymous with high-performance athletic apparel and accessories, Under Armour offers several quality options for cycling sunglasses. The Igniter 2.0 Sunglasses are one of the company's best models for long hours outside on a bike.
These sunglasses block 100% of harmful UV rays, and are durable, sleek, and comfortable. The Igniter 2.0 Sunglasses offer some of the best impact protection on the market, ensuring that your sunglasses last a good long time and in excellent, crack-free condition.
The Igniter 2.0 Sunglasses also use Under Armour's patented Armoursight lens technology, which increases your peripheral vision clarity, and score higher in durability when compared to traditional polycarbonate lenses. Of course, all of these durable features come along with lightweight, ergonomic construction that provides excellent comfort as well.
Check out the Under Armour Igniter 2.0 Sunglasses here!
Oakley Radarlock Path Sunglasses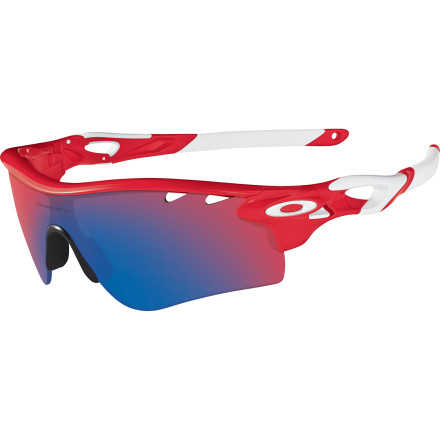 It should come as no surprise that more than one pair of Oakley shades would make this list. While the aforementioned Oakley M2 Sunglasses are a great choice for sunglasses as well, the company's Radar line of shades is their most famous name when it comes to cycling. Oakley Radar sunglasses have been favorites of pro cyclists since the line's inception in 2007.
The Radarlock Path Sunglasses from Oakley are the latest in the line of excellent Oakley cycling sunglasses. These shades have been called the "quintessential sport sunglasses" due to their excellent design, which is absolutely perfect for bike rides. The Radarlock Path Sunglasses are incredibly lightweight, durable, and flexible, providing unparalleled comfort and performance.
These sunglasses also feature O-matter polycarbonate lenses, which make them virtually indestructible. The frames on the Radarlock Path Sunglasses are ultralight and will feel like you don't even have anything there.
If you're looking for the best of the best for cycling sunglasses, you'd be hard-pressed to find anything better than the Oakley Radarlock Path Sunglasses.