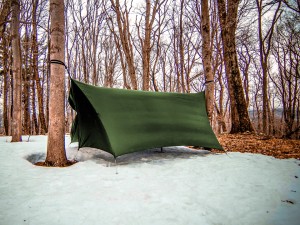 Hammock camping has found a sure foot in the bicycle touring world, and for good reason. The lightweight, easy set-up and durability all go a long way when cyclists are looking at their shelter options.
Longtime leader in the hammock camping world, Eagle Nest Outfitters have always set themselves apart, offering innovative, comfortable hammock options.
Their HouseFly tarp system is the next evolution of four season, nasty weather hammock camping solutions.
The Weather Outside Is Frightful, but the Eno HouseFly Hammock Is So Delightful
The best thing that Eagle Nest Outfitters has done with their HouseFly Hammock Tarp is allow for full year hammock camping.
That's right. This tarp allows you to camp in a hammock for all 4 seasons.
Hammocks have always been a great option for summer and warm weather spring and fall camping, but in windy situations on cold evenings, they can get incredibly cold, even with a toasty sleeping bag. This is because the air is pulling heat from all around you.
The HouseFly Tarp is a unique, full coverage tarp that is compatible with their Singlenest and Doublenest hammocks and can even house multiple hammocks.
The design starts with a giant, lightweight piece of durable, silicone impregnated riptstop nylon (a longtime mainstay of ultra-light backpackers). This amazingly waterproof material is then coated on the underside with polyurethane and features taped seams. The end result is a wind-resistant, water and snow proof shelter.
To further keep you warm inside and the elements at bay outside, Eagle Nest Outfitters have designed it so the sides are floor length, giving you the insulation of a tent without the weight. Plus, the unique buckling system gives you control over the inner climate of the fly: if the snow is driving, the doors will overlap to keep sideways moving moisture out; if it's a mild night, the doors can be fastened opened for a nice cross breeze.
Bicycle Touring & Hammocks: A Match Made Between Two Trees
There's a reason bicycle tourists have been gravitating towards hammock camping: it's awesome! It offers everything you need for reliable shelter (apart from the trees, of course) in a minimal package.
I've long been a supporter of hammock camping, and the Eagle Nest Outfitters HouseFly Hammock Tarp just completes the missing link. I could go on and on about why it's so great, but here are some of the highlights:
It weighs 27 ounces!
When you add in your hammock, stakes for the fly, and everything else, you're getting a comfortable, reliable, all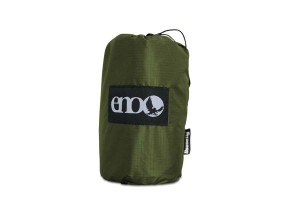 weather shelter for right around 3 pounds; pretty remarkable. Along with that, the space it takes up in your panniers is minimal.
The tarp has a 10' 6″ by 10' footprint (a mansion when you're talking bike camping), but packs down into its own stuff sack to just 9″ by 5″. This makes it an afterthought on the ride and a blessing at camp.
With a 10' 6″ by 10' footprint, you're carrying shelter for you and your bike. It's no secret that the elements are rough on our bikes when we're touring, especially in nasty weather.
The Eagle Nest Outfitters HouseFly isn't going to save your bike from rain and snow, but it will give you some peace of mind that you can cover it up at night during a storm. String up your hammock, put your bike and gear underneath it, put up your HouseFly tarp, and climb in; it's as simple as that.
Frankie says relax (in a hammock)! It's no secret that bicycle touring takes its toll on our bodies. Whether you're inching up a pass or racing your friend to the next town limit, you're using your body day in, day out on a tour. The best answer for this is a comfy rest and tons of relaxation.
Did someone say hammock? What we normally associate with Homer Simpson on a Saturday afternoon is now a viable, reliable form of shelter on a bike tour. You're going to sleep well and be ready for your next day of riding.
The HouseFly Hammock Tarp is at the crossroads of affordability and durability, two essential considerations for bicycle tourists. Coming in at $140 dollars, it's not the cheapest shelter you'll find, but it is inexpensive and will definitely last a while. One thing you can be assured, you'll get the quality of a brand like Eagle Nest Outfitters with every dollar you spend.
Swinging Back and Forth on the HouseFly Hammock Tarp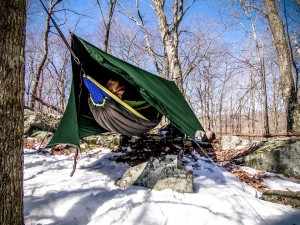 As fantastic as I think the HouseFly Hammock Tarp is, and as great as hammock camping is in general, it's important to note that it's not for everyone (and every place).
If you're a flopper when you sleep (i.e. you call mummy bags straitjackets) than hammock life might not suite you. By its nature, it can be fairly restrictive.
Also, keep in mind where you're riding. If you're touring the East Coast, then every foot is a possible campsite. If you're exploring Death Valley or soaking in the grasslands of the Great Plains, then maybe hammock camping (and the accompanying trees that are needed) are not as reasonable a shelter source.