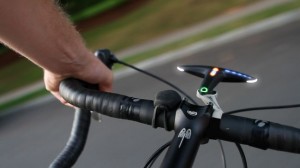 As a bicycle tourist, I'm fully aware of where we stand on the totem pole of cycling innovation.
We'll take the time tested, 4,000 year old technology of steel over the newest carbon frame; CO2 cartridges are for pellet guns, not inflating tubes; and when it comes to all the bells and whistles, I vote for all the bells and whistles.
Bicycle Touring in the 21st Century With Hammerhead Navigation
But one place where we do excel is navigation. We rely on it for everything from nightly data journals to figuring out which lonely gravel road we should turn down. That's why I was excited to learn about Hammerhead Turn-by-Turn Bike Navigation Tool. This nifty, sleek system lets you keep your eyes on the road and never miss a turn.
What's in a Name?
For this little thing, pretty much everything. First off, its "T" design makes it a dead ringer for its deep sea namesake. The design lets you line it up right with your stem and it signals you for every left and right turn you have programmed. This allows you to glance down at intersections and know quickly whether you're turning left or right. Plus, just like its marine name implies, this guy is waterproof!
How It Works
The simple design of this device makes for effortless navigation. It is specially designed so you're not spending your trip reading a small map or staying plugged in with your headphones. Instead, as you approach each turn, the Hammerhead will begin flashing, signaling you towards the direction you want to go.
The direction you're going is determined by the Hammerhead app (available in both iOS and Android). Based on your riding preferences, it will lead you up hills, through a scenic tour, or help you find your way through a city. It links up with your smartphone, letting you have accurate GPS location. This lets you plan your route nightly and then have it set for the next day. It's already going to be synched up, so all you'll have to do is start riding.
If you're more into bikepacking or traveling by bike off-road, the Hammerhead still has you covered. Along with the GPS, it will keep you on track (whether or not it's there) with its internal compass and red dot pursuit, which will keep your compass rose accurate and colorful.
Why You Need It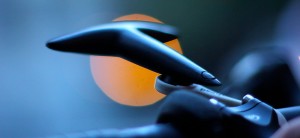 Alright, now I know that "need" is a relative term, but when it comes to accessories for my bike, I like to throw it around. If everything you know doesn't have you wanting one of these yet, there are still a couple facts to seal the deal. First, it lasts for five hours. This lets you get to your next bed and breakfast or campsite with plenty of time so you can charge it up for the next day.
Next, when it comes to a training tool, you can't really beat this. It synchs up with your Strava account and Map My Ride (I know these aren't bicycle tourer hot spots) so you can compare your rides with your friends. And if you are trying to crush their times, it gives you real time distance updates on your Garmin or other GPS device, so you know when to start pedaling faster.
Finally, it's a light and GPS in one (I love when things serve dual purpose), so if you're riding to a new bar or enjoying a full moon ride, you can know and see where you're going.
Share Your Route
Since the start of bicycle touring, we've been sharing our favorite routes. Whether it's a bulletin board at your favorite local bike shop or other riders on the road, we're always talking about where to go and how to get there. Hammerhead Turn-by-Turn Bike Navigation Tool takes this into the 21st century.
The Hammerhead app lets you share your favorite routes with fellow riders; whether it's a nice country road or an epic climb up a pass. This community function lets you share in real time so you can let your buddies follow your tour or offer up a new challenge.
You can learn more about the Hammerhead Navigation Tool and pre-order yours today by clicking here!