Holiday Shopping Tips For Cyclists
It's safe to say that cyclists can be some of the hardest people to shop for.
When you are riding, every gear item needs to work smoothly and uniformly and every biker has a different preference for how things fit or feel.
One cyclist needs cold water from an insulated bottle when another could care less about the temperature. Some cyclists need a messenger bag, others prefer a backpack.
To help you, here is a guide of go-to gear items that are guaranteed to please every rider on your list. Now you can spend less time shopping and more time riding with the friends and family members you've made so happy with your awesome gift.
Cycling Water Bottles
A high quality, reusable cycling water bottle is a great gear item for any cyclist. They are convenient, inexpensive and — most importantly — very useful gifts. Any cyclist will tell you, once you are out on a long ride you know how valuable a good bottle is.
There are two main categories for cycling bottles — insulated or non-insulated. There are good things about both types of bottles, it just depends on the rider's preference.
Best Non-Insulated Cycling Water Bottle
The primary appeal of non-insulated bottles is that they are lightweight and easy to squeeze. When you are dying of thirst on a ride, you sometimes just want a bottle that can get the water into your mouth as fast as possible.

Specialized makes some of the best non-insulated cycling bottles on the market.
They are easy to squeeze, BPA-Free, Made in the USA and have an inner plastic lining that prevents water from getting a funky taste after heavy use.
The 22oz Purist Bottle will fit in most standard bike cages. You might want to double check if you are buying for an especially short person.
Get this Backcountry customized Specialized Purist Water Bottle for only $8.95.
The Best Insulated Cycling Bottle
Insulated water bottles, in turn, are popular because they can do a phenomenal job of keeping water cold. The downside is that the extra layers of insulation make the bottles harder to squeeze. For some cyclists this is enough to turn them off from the bottle. Others prioritize cold water of a fast flow.

A few years ago, Camelbak released it's first insulated cycling bottle — the Podium Big Chill 25oz Bottle — that manages to insulate well while still being relatively easy to squeeze.
The double-wall design keeps water cold twice as long as regular sport bottles.
The bottle's cap has a self-sealing Jet Valve™ that delivers an even flow of water with each sip.
The Camelbak Podium Big Chill 25oz Bottle is available on Amazon for $21.99.
The Best Cycling Socks
Another easy, useful gift for the biker in your life is a pair of solid cycling socks.
You may think that all athletic socks provide the same level of protection but in reality, there is a big difference between cycling socks and other models designed for different sports.
A pair of cotton running socks, for example, will not wick moisture or pad the foot in the same way as a cycling sock.
Gender-specific socks are often the way to go as they have slight differences in their form and design that fits men and women differently. When it comes to cycling gear, even the slightest differences make a big impact.
Cycling Socks For Women
For women, try to DeFeet Speede D-Logo Bike Socks. Not only are they fabulously colorful, they have all the features you need to carry you on a long ride.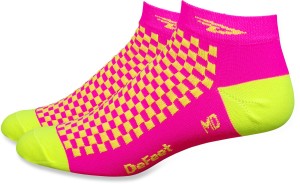 Product Highlights:
Men's Cycling Socks
For men, try the Pearl Izumi Elite Low Bike Socks that cover all the bases for a solid cycling sock.
Product Highlights: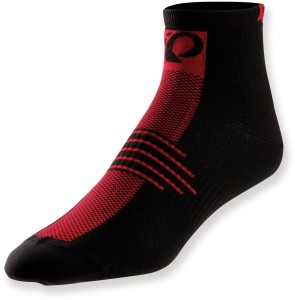 The Best Bike Helmets
If you are buying someone a thoughtful cycling gift then you probably care about their safety.
A helmet is, of course, the most important cycling safety item. The best way to guarantee your cyclist will wear one is to get it for them yourself!
The main difference between cycling helmets is whether they are designed for road biking or mountain biking.
Road bike helmets have an aerodynamic design are lighter weight and often have better ventilation.
Mountain bike helmets, in turn, are designed to ventilate at low speeds, often have longer visors, have enhanced rear-head coverage and fit more securely (for rough terrain).
You'll need to get the right size for a gift so snag an old helmet (or hat) from the person you are buying for reference.
Best Road Bike Helmets
For the road biker in your life, try the Giro Savant Bike Helmet.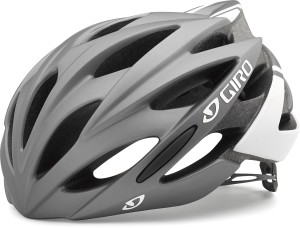 The helmet has everything road bikers look for. It is well ventilated, lightweight and can be adjusted for a comfortable fit.
The Giro Savant Bike helmet is available at REI for between $66 and $90.
Best Mountain Bike Helmets
For mountain bikers, try the Bern Morrison Bike Helmet.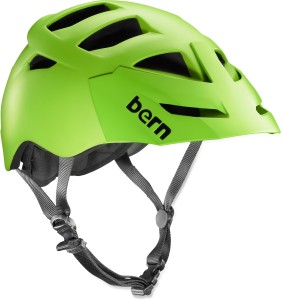 The 19oz Bern Morrison is relatively lightweight for a mountain bike helmet thanks to it's thin, tapered design that has a higher strength-to-weight ration than traditional foam helmets.
It is also well ventilated with air channels that pull air in through front vents and release stale air out of back vents.
The helmet is available in a range of colors so you can match it with your loved one's mountain bike.
The Ben Morrison Mountain Bike Helmet is available at REI for $75.
Check out our guide for Choosing the Best Touring Helmets for more tips on finding the right fit.
The Best Cycling Bags
Cycling-specific bags make great gifts for men and women.
A messenger bag or backpack designed specifically for cyclists often has thoughtful features, like pockets for tools or carrying straps for hold locks, that make all the difference on a long ride.
Like the helmet, the right cycling bag depends on the type of rider.
Road cyclists or commuters often prefer messenger bags while mountain bikers get more use out of a hydration backpack.
Best Cycling Messenger Bags
Timbuk2 is the leading brand for cycling messenger bags. And their popularity is well deserved.
The Timbuk2 Classic Messenger Bag, for example, is loaded with features clearly designed with cyclists in mind.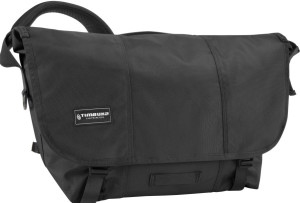 Product Highlights:
Best Cycling Hydration Bags
For mountain bikers, a high quality hydration backpacks is one of the best gifts you can give.
Because of the rugged terrain on mountain bike trails, these bikers rely on hydration packs more than road cyclists do. It is much easier to take a sip from a hose then risk reaching down to grab a bottle when you are mountain biking.
Unlike other hydration backpacks — for hikers or backpackers — packs for cyclists are typically small and lightweight. The bag should have just enough room to hold the water bladder, maybe some repair tools, some food and possibly an apparel item.
The Gregory Tempo 8 Hydration Backpack fits all these characteristics.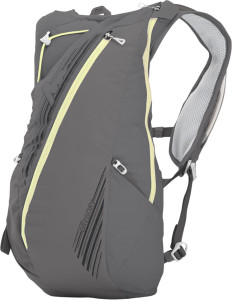 Product Highlights:
Happy Holidays! Hope your gifts help the cyclists you love ride stronger and better in 2015.