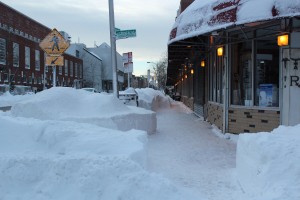 Brr! Biking through winter is cold! I know–I live in Boston. Here's my guide on how to stay warm while cycling through the winter months.
We just got pummeled by snow here on the east coast. That Nemo guy wasn't kidding around. I won't be biking any time soon.
When the snow banks are this high, the cars park farther from the sidewalk, which pushes the bike lane into the middle of the slippery street, which makes any commute extremely dangerous.
Don't get me wrong—there are plenty of bikers braving the streets out there right now. Since I can avoid biking by walking or taking public transportation, I have no reason to risk it.
If you're in a chilly environment and commute by bike, or if you plan on taking a bike tour somewhere cold, I have a few tips for how to dress properly.
How I Bundle Up & Stay Warm While Riding My Bike in Winter
There are thousands of opinions out there about what to wear for winter bike rides, but these are my own personal tricks. They're probably better suited for shorter commutes than long-term tours, but they might help you prepare either way.
Gloves
I have terrible circulation.
On one of my winter commutes home from work, I wore my usual pair of winter gloves. Unfortunately, the sun was down on the temperatures dropped below zero with the wind chill so I felt like I wasn't wearing any at all.
I actually stopped at a CVS halfway home to buy a second pair of gloves to wear under the ones I was already wearing. This worked surprisingly well, but I needed a longer-term solution.
Many people have their preferences for biking gloves, but as a person with eternally cold hands I actually wear insulated motorcycle gloves.
Yes, they're bulky, but they are specifically designed to create a barrier against the rushing winter wind that is hitting the handlebars. Since I can't possible reach the same speeds as a motorcycle, I know I'm protected no matter how cold it gets.
You can buy specially insulated biking gloves, like Pearl Izumi Thermal Gloves
but they tend to be expensive. Finding a pair that works for you might take time, because gloves that are fine during a winter walk are usually not good enough on a bike ride.
Hat
I hate wearing a hat under my helmet, and it's actually pretty unsafe. When you stuff a winter hat under your helmet you change how it fits, which makes it less protective in the event of an accident.
I like to wear small, fleece earmuffs that wrap around the back of my head. My ears are the only things on my head that get cold, so the lack of insulation on the top is fine with me.
You could get these earmuffs, a thin hat, or a head wrap that serves as a ear covering. Of course, for those really brutal days, you can also wear a ski mask to cover the exposed skin on your face.
I don't like doing that because it causes chapped skin as the spit and sweat dries around my mouth and nose, but many people prefer it. If my face gets cold, I usually pull my scarf or coat up over my nose until it gets too moist.
Layers
This is a no-brainer. If it's cold and you're about to bike, bring layers. But how warm is too warm?
There is a fine line between being warm enough and being to warm. When you start sweating on a cold ride, you'll get even colder as the sweat accumulates and causes dampness.
My rule of thumb is this – dress in enough layers so that when you step outside, you can feel that it's cold. Many people try getting so warm they're already sweating when they get on the bike.
Usually my winter biking outfit consists of a heavy, down jacket over a sweater or whatever outfit I'm already wearing.
Though, you should still be able to move around. I once started biking in a coat that I had zipped up to my chin. I couldn't turn to see behind me, and my range of motion was extremely limited. I never zipped the coat all the way again and got a scarf instead.
These three tricks are how I stay warm in the winter on my bike. Really, it comes down to protecting yourself against the wind and minimizing your exposure to the air.
I also tuck my pants into my socks and my sleeves into my gloves to make sure the whipping wind doesn't find it's way into my clothes.
Staying warm on your bike is actually really simple once you find gear that you like. You'll just need
Protective gloves
A hat (or something to keep your head and ears warm)
A warm coat that you can move around in
Did this article help you? Then help support us!
If you follow one of our links to REI, CompetitiveCyclist or other online bike shops and then buy something, we get a small cut. It doesn't impact your price at all but it helps pay the bills and keep this site awesome.
Here's where we buy our cycling gear online:
Do you have any extra tips for staying warm on your bike? I'd love to try a new way of bundling up!