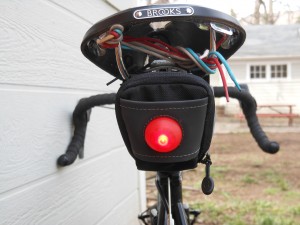 One thing every bicycle tourist can attest to is the importance of a twofer: getting two uses out of one thing. My chain breaker has a spoke wrench on the end of it, my sleeping pad folds into a comfortable seat, and my compression straps are the anchors for my hammock (I'm still working on the ultimate spork/tire lever threefer combination).
And it's this mother of invention that led Nite Ize to develop their SaddleLite L.E.D. It's a combination seat bag and red L.E.D. to offer two essentials in one place.
My Nite Ize SaddleLite Review
Disclaimer: Nite Ize
 graciously sent us a SaddleLite to review. In no way did their donation influence this review. Everything written below is my honest assessment of this saddle bag and the review would have been the same had I purchased it myself.
As any cyclist knows, the seat bag is as essential as what you carry in it: a spare tube, tire levers, a patch kit, and a multi-tool.  And having a well-fitting bag below your saddle is just as important; you don't even notice it when you riding, but you're happy it's there when you need it.
With that said, Nite Ize succeeded with their Saddlelite bag
.
The design is the same as any other seat bag I've used, with literally one added twist: their Gear Tie seat post attachment. Whereas most seat bags have a Velcro attachment to the seat post, Nite Ize Gear Ties are more like really durable twist ties. They let me cinch the bag closely to the post, and since I was able to get them tighter than Velcro, they cut down on the bounce, especially when riding gravel.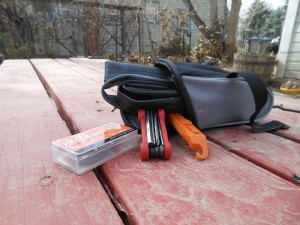 The capacity of the bag is a little more than I'm used to, but it wasn't a hindrance (I am a touring cyclist after all). It was enough for the essentials, including a spare tube, a patch kit, levers, and a multi-tool.
Plus, I threw in a Leatherman Micra and my chain breaker for good measure. It also has a little mesh pocket on the inside of the lid which is perfect for an ID, credit card, and anything else you might need for a day trip.
The bag has a stiff construction and holds its form even while empty. The fabric is tough and resistant to rain, plus it has a reflective trim that offers some extra visibility along with the light. And one of the coolest parts about the fabric is that it's made from recycled plastic.
The SaddleLite Light
The light on the SaddleLite is a red LED that sits on the lid of the bag. It's similar to most Nite Ize LEDs
and just takes a firm push to get it going. It has two modes: solid glow and flashing.
I really only use the flashing because it grabs motorists attention and you get a longer battery life. And for anyone who wants it in a flashier color, I'm sorry to say you're going to be seeing red, because that's the only color they offer.
The LED is weather resistant and held up to the drizzle and even the thunderstorm that I put it through. It runs on two lithium CR2016 batteries that are easily replaceable, although with a 20 hour glowing run time and 25 hour flashing run time, it'll be a while before they need to be switched out.
The best part about the light, however, is that you completely forget about it until you really need it. It's light weight and has no problem just hanging out waiting to be used.
The SaddleLite Test
To be honest, I really didn't notice the SaddleLite while I was riding, which is a good thing.
It didn't shake or bounce when I was on pavement and the little it did when I was on gravel wasn't any different from my old seat bag. I mostly used it for commuting and I was really happy to have it along for the ride.
I still leave my taillight on well into dawn, and with AAA battery powered lights, this can start to be a drain on the batteries. But with 25 hour battery life, I'm more than happy to leave it running and stay safe.
The bag fastens like every other seat bag on the market except for the Gear Ties (which are a nice addition). Its size did conflict with a trunk that I put on my rack for running errands, but the light was still visible, and that's the most important part. Since it first landed below my saddle it's become a constant fixture on my bike.
Final Thoughts on the Nite Ize SaddleLite
At the end of the day (literally), the Nite Ize SaddleLite
is a great product for bike commuters and tourists. You're going to need a seat bag anyway, and the added safety of a highly visible, integrated light makes this product that much better. Plus, its sleek design and reliable LED are going to keep you safe and not noticing it until you really need it.
Interested in learning more about Nite Ize? You can shop their selection of bike lights right here
. Or, you can head over to Amazon to buy the saddlebag.
The above links are affiliate links. If you click one and purchase something, we get a small commission. It helps keep the site humming along and doesn't cost you anything extra.