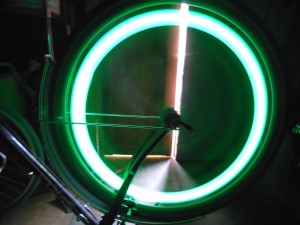 As someone who's been hit broadside by a truck, I can tell you with certainty that, outside of a good helmet, visibility is the most important part of staying safe on the roads. And I can also tell you as someone who's been hit broadside by a truck, that it's a terrible experience!
That's why I jumped (or should I say pedaled) at the opportunity to review the Spokelit by NiteIze
My Review of the SpokeLit LED Wheel Light
Disclosure: NiteIze sent us the SpokeLit to review. And we got to keep it. This did not influence my review whatsoever. If it sucked, I'm gonna tell you. If it rocks, I'll tell you.
The SpokeLit is an LED spoke wheel light that nestles in the spokes near the rim of your wheel and is compatible with most three spoke count patterns (sorry roadies, not that you would want the extra weight anyway).
It sits parallel with the rim and once it's in place, you won't even notice it; until you really need it, of course.
I tested the green color, but it's also available in red, blue and Disc-O (which floats through the color spectrum).
It has two settings: glow, which lasts for 20 hours, and flash, which blinks for up to 25 hours. And, if you happen to ride up to 20 nighttime hours on your bike (vampires need to ride too), you can easily replace the batteries; it runs on two 2016 3V lithium batteries, which are included.
Fitting the SpokeLit to Your Wheel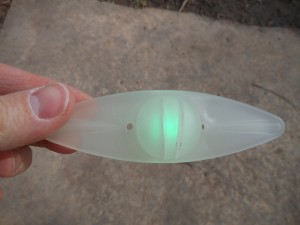 Before I put the SpokeLit onto my wheel, I tested that it works. It takes a little bit of a stiff push, but it's really simple to operate. One push will give you solid color and the second will start the flashing option.
Mounting it on your wheel couldn't be easier! It doesn't require any tools and the design is straight forward, so you don't need the instructions (which no one actually reads anyway).
Starting close to the hub where you have a little more room, you weave the wings through three spokes and line the channel on the light (I like to call it the globe) up with the middle spoke. From there you slide it down towards the rim and you'll feel it tighten into place.
And for all of you physics nerds out there (you know who you are), the properties of centrifugal force produced while you ride will continue to keep it in place; forever forcing it towards the rim.
Riding with the SpokeLit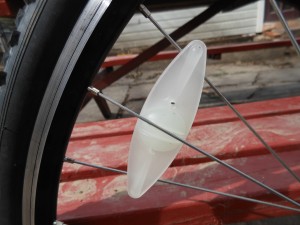 I don't usually ride in the dark, but the SpokeLit is so cool that I actually sneaked away for some late night rides. When you have is set to glow, the light spins on your wheel making a continuous loop of light as you cruise down the road. So not only are you going to be seen, but you're going to be turning heads as well.
The sleek fit of the SpokeLit makes it go without notice during the daytime and it's become as much of a fixture on my Surly Cross Check
as my bell and my bike computer.
It's come in handy a couple times too, bailing me out on my 12 mile commute after a few late nights at work. And since the battery lasts so long, I haven't been worried about it not working.
When it comes to durability, the SpokeLit is willing to be as tough as you are. Living on the Front Range of Colorado, I'm used to ridiculous weather (it's the middle of April as I write this and there's a foot of snow on the ground), and the SpokeLit has withstood everything I have: snow, thunderstorms, sleet, you name it.
I also took it on a couple gravel rides, just to make sure it could withstand; it's positioning stayed as true as the wheel.
Final Thoughts on the SpokeLit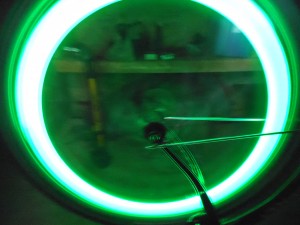 I have to admit, I'm a pretty big fan.
Safety is always a huge concern of mine when I'm riding; I'm never without my helmet, my gloves, a bright jersey, and now my SpokeLit. It's a little thing that goes a long way, especially when it comes to some much needed lateral visibility.
Plus, it's out of the way, so if an afternoon nap or an unwanted flat has you riding after sunset, you'll have a partner that you didn't even remember you had.
It costs right around ten bucks
, so it's a cheap, simple addition to your bike that will go a long way. It's cooler than a reflector, more useful in my opinion, and it's a nice addition to bring your bike into the 21st century (even if your Brooks saddle is dragging you back to the 19th).
Where to Buy
Have we helped you? Then help support us! If you click on one of these links and buy something (anything, doesn't have to be SpokeLit), then we get a small commission. And it costs you nothing extra.
This helps us keep this site alive and thriving. We appreciate your support!
You can buy the SpokeLit at one of the following locations: