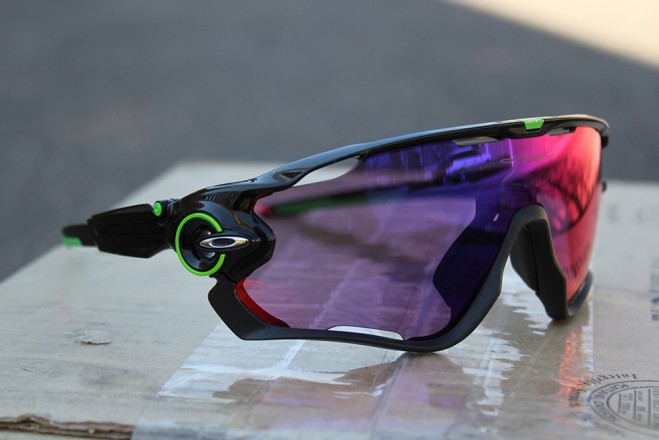 Oakley Jawbreaker Sunglasses
When we recently wrote about the best sunglasses for cycling, we discussed several of the best options that were available at the time. However, this week, a new pair of Oakley sunglasses were debuted, and they might just put the rest of the choices we discussed to shame.
Oakley worked with Tour de France points-winning cyclist Mark Cavendish in creating their brand new Jawbreaker Sunglasses, which are designed to be the perfect shades for road riders everywhere.
While the Jawbreaker Sunglasses aren't widely available for purchase yet, they should be for sale on sites like Competitive Cyclist in the relatively near future. The starting price tag for Oakley Jawbreakers is expected to be somewhere around $200, with different options for lenses and colors.
The Jawbreaker Sunglasses come with the same durable design as some of Oakley's notable cycling shades such as the RadarLock Path Sunglasses, but these glasses represent one of the biggest design changes in Oakley sunglasses since the company launched in 1980.
Features of the Jawbreaker Sunglasses include ultra-wide lenses that make the Jawbreaker more like a shield for your face than a pair of sunglasses. The Jawbreakers use durable frames and impact resistant lenses to ensure that your glasses don't get damaged, even in the case of a fall. The lenses are scratch resistant and polarized as well, providing every bit of protection your eyes need. The Switchlock feature on the lenses also makes it easy to swap new lenses in and out easily, allowing you to change your style any time you wish.
In addition to these features, the shades are hydrophilic, and cling to your face when you sweat, and the anti-fog technology makes certain that your field of vision stays clear and unclouded no matter how much you are sweating during a bike ride. The ergonomic frames will accommodate nearly any head size, and will fit comfortably during long rides. One of the only problems is that the shades do not fit all helmets when they need to be tucked away, what with the large lens size, but with helmets like the Giro Synthe, they fit nicely.
All in all, the Oakley Jawbreaker Sunglasses look to be a major innovation in the world of cycling sunglasses. Look for these sweet new shades to hit a store near you in the near future!