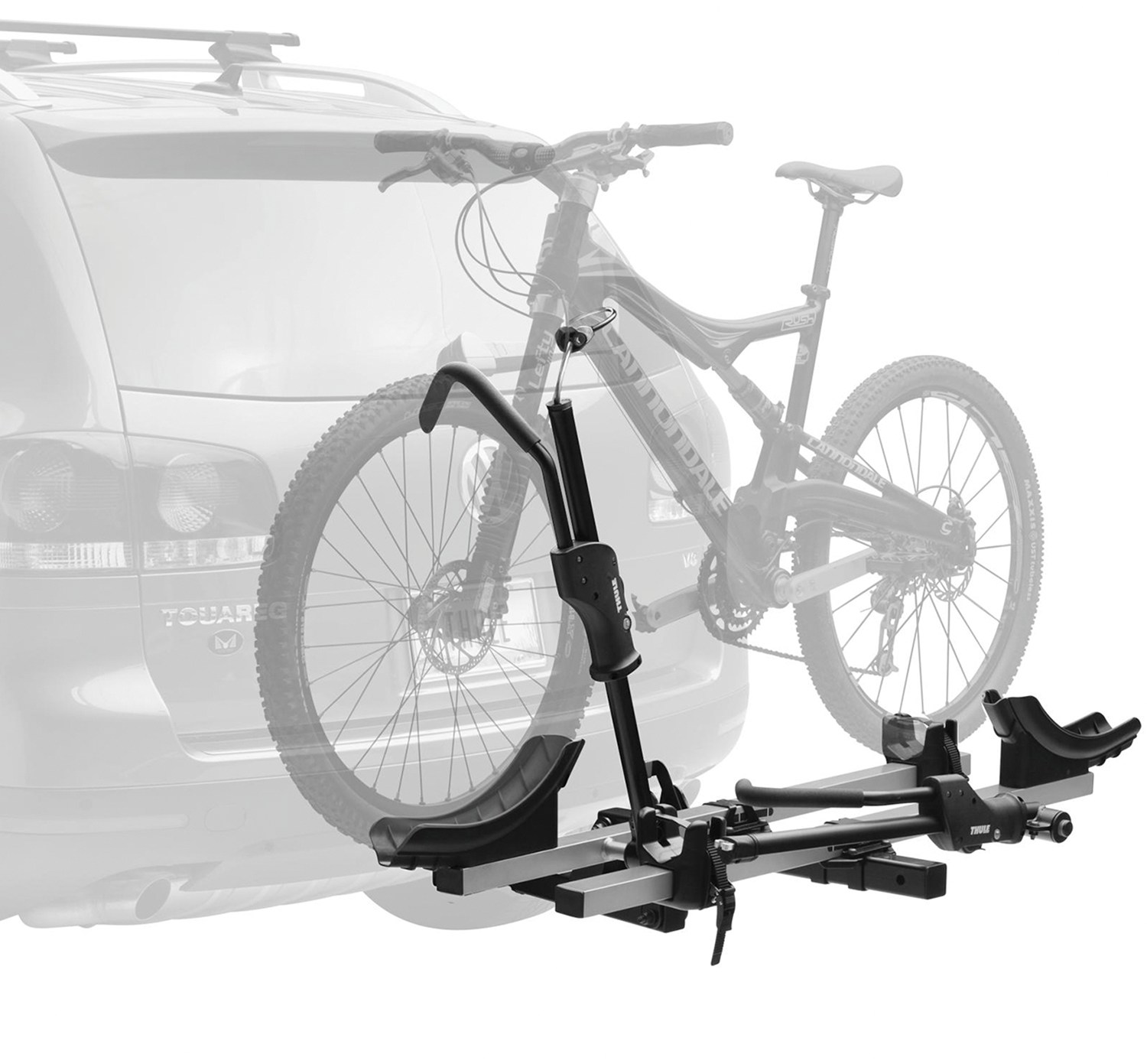 The Thule T2 XTR 2-Bike Hitch Rack
For years, the Thule T2 series of bike racks has been amongst the best selling models in America. Since the rack's inception in 2005, Thule claims that the T2 has been the most popular bike rack in America, and it's hard to argue with their assessment, as more than 3 million of the units have been sold in the last decade. However, Thule has decided to improve this massively popular item for 2015, and the sales are likely to keep on coming.
The new and improved Thule T2 XTR 2-Bike Hitch Rack is sure to suit the needs of almost any cyclist, regardless of riding style and persuasion. This bike rack can fit any 2 bikes, no matter what make and style you go with. Road bikes and mountain bikes alike can be secured in the T2 XTR, with Thule's innovative, patented SecureHook arm, which locks your bike's front wheel in place, without touching the frame, which prevents scratching.
These racks also include Thule's patented Snug-Tite locking system, which secures your bike to the receiver and locking cable, making sure that its movement is minimal while you're driving. Additional hardware features include Hitch-Switch release levers, which allow you to quickly fold the rack down when you need to quickly access the back of your car. The rack is also made of completely rust-free materials, and Thule is confident that their racks will last you through many years and many different bicycles.

Thule's revamped design this year includes many improvements over past models of this already-excellent bike rack, though. The new Thule T2 XTR 2-Bike Hitch Rack has added increased ground and vehicle clearance, tool-free installation, and longer platforms to fit longer wheelbase bikes. These features serve to make this rack even more universally-usable, while improving safety and security features as well.
By adding more ground and vehicle clearance – the new models increase vehicle clearance by 40% and ground clearance by 35% – Thule has given you an even easier time loading and unloading your vehicle. An extra inch of clearance space has also been added between the slots for the two bikes, which makes it getting both bicycles on the rack an even smoother process.
Thule's new AutoAttach system allows for you to install and remove the T2 XTR with ease, saving a ton of time when compared to those annoying bike racks that require extensive set up and removal. The installation process doesn't get much easier than it is with the Thule T2 XTR 2-Bike Hitch Rack, and the rack can be detached just as efficiently.
Finally, the lengthened platform ensures that bikes with longer wheelbases can now fit this excellent rack as well. The Thule T2 XTR 2-Bike Hitch Rack is truly a bike rack that is perfect for everyone, from bicycle touring enthusiasts, to mountain bikers, to casual road riders.
If you need a great, versatile bike rack, make sure to check out the Thule T2 XTR 2-Bike Hitch Rack here!