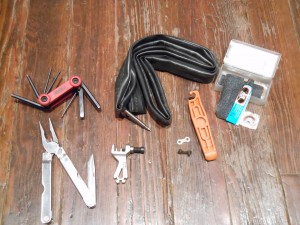 I've toured a lot, and as a bike mechanic novice, have been able to get myself out of a variety of sticky situations; from simple flats to busted spokes.
When I prepare for a tour, whether it's an overnighter or an expedition, my repair kit gets as scrutinized as anything else. What do I need? Am I prone to a particular type of breakdown? If and when something happens, am I close to a shop, or do I need a semi-permanent fix?
Over the years, as I've continually asked these questions, I've come to one very helpful conclusion: treat your bicycle repair kit like your first aid kit. You're not going to have to perform surgery in the field, but you might need to make a splint and limp your way to the nearest bike shop. When you think of your repair kit with this analogy, things become a lot more manageable. So here's my list of must haves for your bike's first aid kit.
The Top 8 Tools You Need for the Road
The Basics…
It's All Upstairs
Your brain is your most important piece of repair equipment you carry; that means have a working understanding of your bike! You don't have to carry Zen and the Art of Road Bike Maintenance in your pannier, but you should know what the pieces of your bike are called, what they do, and how they work together. It might seem daunting (and I'm not asking you to dismantle your new 2013 Salsa El Mariachi 3), but there are a lot of resources out there for you.
Volunteer at your local community bike organization (I've volunteered at both Boulder's Community Cycle & Pittsburgh's Freeride). You're not only giving back to your community in an awesome way, but you can also wrench on old bikes until your heart's content. It's fun, it's free, and gives you hands-on experience. If you don't have one of these resources, at least take a basic maintenance class at your LBS (local bike shop); it'll pay off before you know it.
Patch Kit
If your repair kit is your bike's first aid kit, these are the Band-Aids. You are going to get flats and you need to be comfortable patching a tube. Make sure you have the patches, glue, two levers, sandpaper and a little patience (trust me, it goes a long way). Beyond that, extra tubes always help (I usually carry two) and, of course, you'll need a pump.
I like the frame pumps, like Park's PMP-5
: they fit neatly under your top tube and require less pumping than little pumps. CO2 pumps are quick, but you need to carry extra cartridges.
Bike Multi-Tool
This is a must for adjusting, tightening and loosening anything you could possibly need on your bike. I like to carry a fairly modest one with about 9 features, including seven or so hex wrench options and two screwdriver types.
Anything bigger can be a bit much, especially if you have to get into tinier spaces.
I like the Wrench Force multi-tool because it's economical and has everything you need; the crankbrothers multi 10 is nice as well. If you are the type that likes to have it all right there, than you can't go wrong with Topeak Alien II: a whopping 26 tools in one!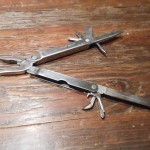 Standard Multi-Tool
Along with a bike specific multi-tool, I like to carry a plier based multi-tool; I've been a Leatherman fan for a long time (and personally recommend the Leatherman Sidekick).
The screwdriver heads will be redundancies, but the pliers, knife, and other tools are helpful for any MacGyvering you might need for your bike.
Not to mention they're super helpful for camping.
A Chain Breaker
The chain is the missing link for your bike (I just had to say it). If it breaks, you're going to be walking, plain and simple. S
ome of the big multi-tools have chain breakers included, but I like to carry mine separate. You won't need it often, but you'll be psyched to know you have one when you do need it.
I carry the Pedro Pro Chain Tool (similar to the Park Compact Chain Tool) with an extra master link in a little baggie. I have needed to use it before, and have helped more than one cyclist who's been stranded without one.
Chain Lube
Tri-flow is a staple in bike shops, and in my repair kit for good reason: it works! Treat your chain right, especially if you're riding through the rain, and you probably won't even need the chain breaker.
Advanced
Truing Wrench
Get one for the right nipple size on your wheel just in case; the end of my Pedro's chain tool actually has the right size wrench for my spokes.
It's tiny, it's light, and it'll come in handy, especially if you know how to use it. If you're riding rough terrain (or hit a wicked pothole) you'll be able to get your wheel straightened out again; at least enough until you can reach a proper truing stand.
I've actually busted a spoke before and needed to true my wheel on the spot to compensate. It wasn't pretty, but it was the difference between riding and walking. But I can't stress this enough with this tool: know what you are doing! Fixing a slight wobble can turn into a train wreck pretty quick.
And Most Importantly
A Good Attitude
Don't get mad at your bike! I've had days that have been extremely frustrating: a broken chain, multiple flats, and I hadn't even eaten lunch yet.
But getting upset will do nothing to improve your predicament. It helps to have a calm, patient mind when you're working on your bike, so if you're angry, step away for a minute.
Take some deep breaths, take your mind off the bike (it's not its fault) and remember you're on a tour… life can't get much better than that.
What about you? Did I miss out any essential tools that you can't live without when bike touring?