What Makes a Touring Bicycle Frame

When it comes to choosing a perfect touring bicycle frame, what is right for one person on a certain tour doesn't mean it is right for another person on their tour. So features can vary from one bicycle frame to another. Which features should dictate your choice?
Which Frame Material
Most modern bicycle frames are made from either hi-tensile, cromoly steel, aluminum, titanium, or carbon composite. In the past, almost all touring bicycles were constructed using hi-tensile or cromoly steel. Even today, small and medium manufacturers construct their serious touring bicycles from various alloys of hi-tensile or cromoly steel. However, an increasing number of aluminum frame manufacturers are producing very light, strong, and affordable touring frames. But is aluminum or even titanium the answer for an old material like steel for touring bicycles.
Steel Alloys
Basically, all the available steel alloys have the same stiffness and weights. But in the manufacture of bicycle tubing, chromium and molybendum is added to increase its strength. This addition allows the tubes to be thinned out in the middle and thicker at the ends, making a lighter frame. Consequently, steel frames tend to have slender tubes compared with aluminum frames.
The use of thinner tubes enables the frame to have a more flexible feel than aluminum. This flex makes for a more comfortable ride without adding a carbon fork, seat post, or frame tubes. And on a long ride, a little flexibility goes a long way.
In summary for steel alloy frames, they are strong, tough, comfortable, lightweight, affordable, and repairable. I believe that a high quality steel alloy frame should be your first choice for a touring bicycle frame.
Aluminum
Aluminum has become one of the most common material for high-quality, mass- produced bicycles. An aluminum frame is light, responsive, rust proof, and affordable. Its stiffness and lightness as a bicycle frame is superior to a comparable steel alloy frame.
Aluminum is less dense than steel. To get a stiff but light frame, the diameter of the tube is increase while maintaining the wall thickness. This oversized tube results in a lighter but stiffer frame than with steel. But the stiffness can feel a little too harsh for some bicycle tourist. Some cyclists add carbon fiber forks and seat post to dampen some of the harshness.
Titanium
Titanium is an excellent frame building material due to its strength and lightness. However, it is very expensive due to material and fabricating costs. The strength of titanium as a frame material is comparable to steel, but a stiff titanium tube will have a larger diameter than comparable steel tube. The two main advantages of titanium are due to its lightness and resistance to corrosion compared to alloy steels. But the excessive cost limits its availability as a touring bicycle.
The Best Frame Geometry
The frame geometry of a traditional touring bicycle is designed for long hours on the road. Basically, a touring frame differs from other bicycles (e.g., racing, sport, and hybrid frames) in a number of ways. These differences allow a more comfortable and stable ride while under heavy gear loads. Steering needs to be less sensitive, the center of gravity lower, and your body posture more upright. The factors that determine these benefits are shown on the figure below.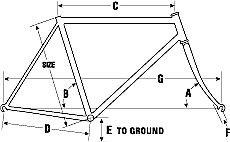 All dimensions given here are based on a 54cm seat tube frame size and can change significantly due to the frame design.
A more laid back head tube angle 'A' around 71° brings the handlebar closer toward you for a more upright posture with the correct sized stem.
Longer chainstays 'D' gives you more pannier clearance for your heel. It also moves your pannier further from your bottom bracket so that weight is distributed better between both wheels. A chainstay length greater than 450mm is a good rule of thumb.
A bottom bracket height above the ground 'E' around 270mm keeps the center of gravity low. This aids in the stability of the bicycle under heavy loads.
A long wheel base 'G' around 1055mm for better steering and stability under heavy loads.
Recommended Touring Frame Features
Braze-ons for fender mounts
Minimum of 2 water bottle mounts (3 bottle mounts is better)
Braze-ons for front and rear racks
Front and rear wheel clearance for mininum 38mm tires with fenders
700c or 26″ wheels
Brake bosses for cantilever or V-brakes
Recently, some high-end touring bike utilize disc brakes. The stopping power of dis brakes is definitely superior to other brakes (especially in wet and muddy conditions); however, they may be overkill for most touring. Yet for heavily loaded expedition and tandem bikes, dis brakes are definitely needed for the increased stopping power.