Panniers are like people: they come in all shapes & sizes. Learn the difference between touring & commuting panniers from someone who tours AND commutes by bike.
Unlike people, however, panniers can be differing degrees of waterproof, made from a variety of materials, and have purposes that range from short bike commuting to hardcore bike touring. Although there are countless incredible resources, overviews, and comparison charts out there for choosing the panniers, allow this article to give you an exploration of the basic must-knows for choosing the right pannier for your next adventure- whether it's going around the corner or around the globe.
I picked up a pannier for the first time approximately four minutes before I embarked on an 800-mile bicycle tour in 2009. I had no idea what to do with it, how to connect it, pack it, or balance it.
Turns out, the beauty of panniers lies in their simplicity. Using waterproof touring panniers attached to my back rack, I was easily able to maneuver traffic and find my snacks while on road. Perhaps my initial moments of naivety could have been avoided with just a bit of research. So, modeled after my own learning curve, we will begin with a simple fill-in-the-blank.
To better direct you throughout this article, please insert your appropriate answer into the blank:
"I am thinking about getting a pannier for my bicycle because ____."
Just for the record, if your answer was "to look cool and impress the girl across the street," perhaps you should look to other articles (HINT: They don't exist on this site). If, however, you responded in some way about commuting, having too much stuff to hold in a backpack, or planning for an upcoming bike tour, then by all means, keep reading.
Panniers, named after the word for "baskets" in French, can be located on the rear or front of your bicycle. Panniers are a great way to carry your gear safely and easily because they offer extra storage and, with unlike a backpack, you needn't worry about your change of clothes being just as sweaty as your current ones. Due to popularity and most common usage, this article will focus primarily on rear panniers over the other types.
For the sake of organization, this article will touch on four primary categories with important tips in each. These categories include:
Even if you plan to use your panniers exclusively for one activity, I recommend reading the each section as there are several informational tips that span across the categories. It is only since learning about the variety of panniers that I am now able to lug everything from my daily lunch to my load of laundry.

Buying Panniers for Bicycle Touring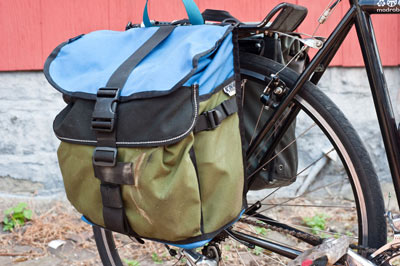 Since most panniers are made for touring, it seems like a natural place to start. The primary objective of this pannier type is to fit as much as possible into as small a space as possible. Most of these panniers are ruggedly designed and many are waterproof. You don't want to assume a pannier will be waterproof just because it's marketed for touring, however–and you don't want to wait until the next downpour to see which one you have.
Check Out Our Full Bicycle Touring Panniers Guidebook
Waterproof panniers made of some sort of treated or rubberized material, such as high-denier Cordura or PVC. As its aim is to keep your stuff as dry as possible, it might not necessarily be the most decked out with excess pockets and zippers. I used waterproof panniers that resembled a giant sack with a roll-top, and they did the trick when the weather went south.
Aside from waterproof, there is also a water-resistant variety. These are often made from Cordura fabric also, but unlike waterproof bags, they cannot guarantee to keep everything dry. As these often have smaller pockets for easily grabbing your important items, they are generally more user-friendly than the fully waterproof bags. A simple solution for the best of both worlds is to get a tight-fitting rain cover for your panniers to prepare you for any wet weather situation.
If you're planning to ride on roads less traveled, be sure to look for panniers that are built tough and can handle the long-term abuse from dirt, inclement weather, and rough-and-tumble use. Here's REI.com's selection of waterproof panniers.
Be careful when choosing panniers with multiple zippers as dirt can compromise their integrity over time. Moreover, they should attach tightly to the rack to prevent additional issues down the road (no pun intended).
High-quality bags in this category, and any of these categories, will cost a pretty penny but if you will use them to their full potential, it will be well worth it. An example of this would be Ortlieb panniers
. They're extremely popular among cyclists and are made to last for years to come. It is important to mention, however, that Ortlieb critics point out that a lack of pockets makes for difficult organization.

Buying Panniers for Bike Commuting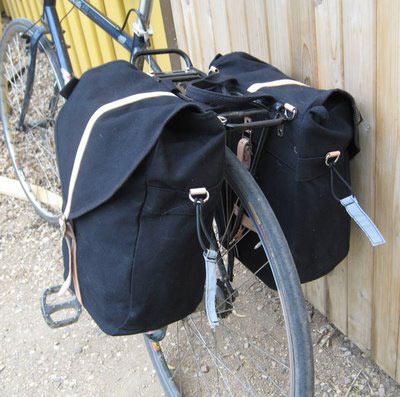 Bike commuting is a broad term. This could mean that you pedal across the street with just a laptop and lunch, or it could mean that you make the daily 20-mile trek- uphill both ways- with a shower caddy, spare clothes, and groceries in tow.
Thanks to the increasing popularity of these panniers, your options are endless. You may prefer a pannier that is more lightweight but offers organizational pockets to keep all of your work knickknacks or perhaps a larger, more open pannier design for carrying the week's fruits and vegetables to your family.
The most important considerations for commuting panniers include ease-of-use, organization, and- as explored in the touring section- protection from those rainy days.
This type of pannier should go in tune with your daily routine, not be an additional burden, so make sure you are comfortable with its size, shape, and loading features. Organization, like ease-of-use, should be to the level that you prefer without providing or under providing the pockets and compartments you need.
As previously mentioned, there are several options for water-proofing your pannier. If you don't generally carry a plethora of water-sensitive electronics or other items, perhaps all you need is a sturdy zip-lock back to stash your phone in the case of a cloudburst.
Many bike commuters are concerned about the safety of their laptops, and rightly so. Thankfully, several panniers now incorporate protective sleeves to guard your laptop from the inevitable bumps. A helpful tip, provided by biketrailershop.com, is to place your laptop in a bottom-down position in the rack-top mounted bag if you have to travel long-distances.

Balance & Safety
When everything is packed up and ready to go, you want to ensure that you will be able to safely maneuver your weighted bike through traffic and other road hazards without impairment. The weight and where you carry your load may also affect your bike-handling ability.
Using back panniers and will make your balance and overall handling much easier than if the weight was at the front of the bike. Also, carrying the weight lower is easier than higher up, which is why a pannier hangs down from the back rack rather than sitting on top of it.
Furthermore, make sure that your heel is not whacking the bag while you peda — this is a sign that you pannier is either too large or mounted incorrectly. This can quickly lead to an unsafe situation and compromised balance.
Generally speaking, the right and left side pannier should weigh roughly the same amount. However, if you're commuting to work and don't need to lug two panniers' worth of items, it is best to just use the right-side pannier to keep it away from the traffic side. If it is properly secured and mounted, you may not even notice the difference.
In The End…
Finally, a solid piece of advice is to always try them out. Don't just choose the pannier based on its fashionable look; make sure it will answer to your specific needs. In other words, I encourage you to use this resource and be better informed than I was for my first pannier experience! Happy riding!

Where to Buy…
Did we help you? Then help support us! If you're going to buy bike gear, follow one of our links before buying so that we get a small commission.
It costs you nothing more and helps support the writing team here at Bicycle Touring Guide!
Here's where you can buy bike panniers: