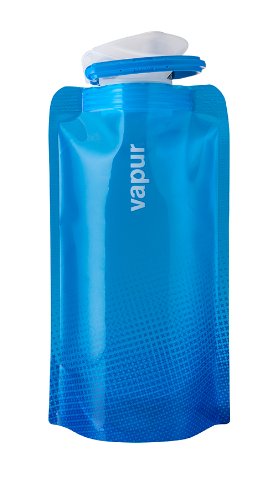 Vapur Shades Water Bottle
Here at Bicycle Touring Guide, we've already covered several great water bottles, most recently the excellent new Polar Bottle. However, we have yet to write about anything quite like the Vapur Shades Water Bottle
, which is easily one of the best portable options to bring along on any cycling trip.
The Vapur Shades uses BPA-free polyethylene and nylon to create an ultra-collapsible, portable "water bottle" that can be tucked into any pocket or attached to your clothing. Don't let the lightweight, plastic design fool you either, the Vapur Shades has durable, three-ply construction that ensure it will not tear or become damaged, even after extensive, repeated usage.
The Vapur Shades includes a patented SuperCap, which allows you to take a swig easily whether you are on the bike or off of it. The bottles makes taking a swig on or off the bike easy, and the many different color options will let you accessorize with any jersey, if you're into that sort of thing.
Despite the compact size – the Vapur Shades bottles can fold up into something so small they can fit in a pants pocket – the bottles stand up when full, and can hold half a liter (or 18 ounces) of fluid, which is enough to keep you hydrated for a good long time.  The bottle is also dishwasher safe, which makes it more appealing than many similar collapsible options you can get.
If you're looking for a super lightweight, collapsible water bottle to bring on your bike rides, the Vapur Shades is one of the best options you will be able to find.
Check out this great water bottle on Amazon
, and if you're feeling a little adventurous, maybe even get a few different colors so you can change it up.