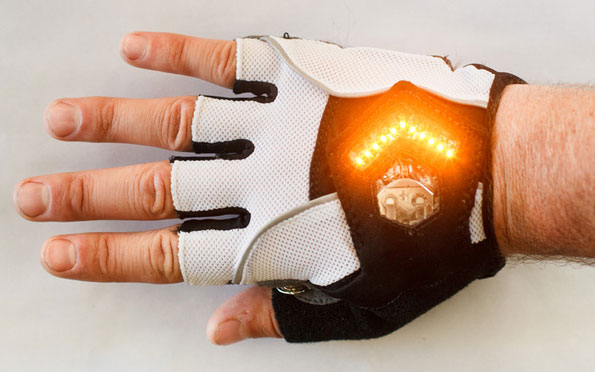 Electronically signal to motorists when you're going to make a left or right with Zackees, super bright, super comfy, super easy-to-use Turn Signal Gloves.
With a pair of Zackees Turn Signal Gloves, cyclists get an added layer of personal safety.
Cycling is a sport and way of life that improves energy, happiness and health, but it can also be a dangerous adventure, especially if you're cruising through populated areas.
Sharing the road with cars and trucks can be a risk, since drivers are often preoccupied with their own vehicle and not always paying attention to pedestrians or cyclists.
As far as improving your chances of survival while cycling down a city street, there are a lot of products out there you can buy–reflective vests, lights and protective head-wear.
And now Zackees has given us a brand new tool to help keep us safe: Turn Signal Gloves.
Read on to learn more about what they are, how they can help, and where you can go to get a pair for yourself.
What are Zackees Turn Signal Gloves?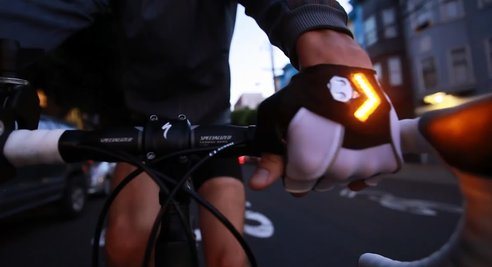 The Zackees Turn Signal Gloves feature built-in , super bright LED lights that you can easily activate to let drivers and other cyclists know when you plan on making a left or right turn.
The signal is built directly into the backs of both the right and left gloves and can be turned on activating the metal switch between the thumb and index fingers. They're easy to turn on, easy to turn off, bright enough for everyone to see (a light sensor boosts the output so they're even easily visible in the daytime), and might just save your life.
Beyond the actual turn signal part of the product, the gloves themselves are totally worthwhile, too. Zackees consulted with a number of top biking glove manufacturers to get an idea of how a real, durable pair should be made. So they feature:
Leathered palms
Thumb-wrapped absorbent towels
Reflective trimming
Very breathable spandex material
Also, the electronics are covered in a water-proof coat, making the Turn Signal Gloves machine washable. Which, as we all know, is a great thing if you like to bike during the warmer months…
And how long do the batteries last? They'll work to keep you safe for three to six months. And that's with daily use.
Who is Zackees?
Zackees Turn Signal Gloves are brand new products–in fact, they're not even available yet. The company was founded by Zach Vorhies and Murat Ozkan last summer and the Turn Signal Gloves are their first foray into product development as a team.
They created a Kickstarter page to help fund the gloves. They asked for $35,000 to get them going. What they got was more than $72,000, telling us just how necessary and exciting these new safety tools are.
Here's the video from their Kickstarter campaign:
The Turn Signal Gloves are available for pre-order right now, but they won't ship until May.
Still, it's never too early to put a down payment on your continued cycling safety.
The Bottom Line: Should You Buy Them?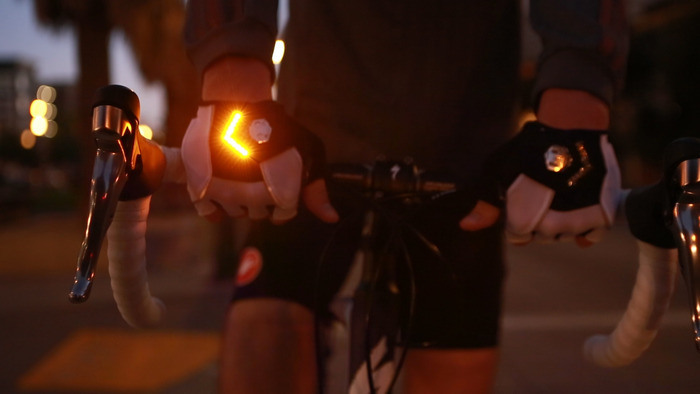 Do you frequently bike on streets or roadways that cars and trucks also use? If so, then YES, I absolutely recommend you pick yourself up a pair.
According to the United States Department of Transportation, 48,000 cyclists were injured in accidents with motor vehicles in 2011. Of those, 677 died. And if you're thinking, hey, that was just one year, let me tell you that those numbers really haven't shifted around a lot during the past ten years. So don't think time is necessarily on our side here.
The point is this: cycling on streets and roads isn't always safe. Bad things can happen. But there really isn't much alternative, especially in places that have yet to create bike paths (and even those don't always guarantee your safety…). So you need to do everything in your power to help yourself and your loved ones stay safe.
I'm sorry for being such a downer here, but I think you'll agree that this is pretty serious business.
I know Zackees agrees.
That's why they've been working so hard to bring you these fantastic Traffic Signal Gloves.
Are you going to get a pair?