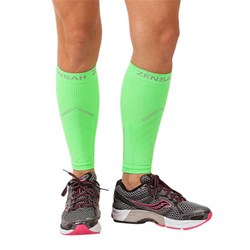 Compression sleeves are essential for bike touring. Read my Zensah Reflect Compression Leg Sleeve review & learn why I strongly endorse them for bike tours.
Why buy bike gear that has only one purpose when you can buy gear that serves two at once? By getting yourself a pair of Reflect Compression Leg Sleeves from Zensah you can improve your performance in more ways than one.
Whether you're recovering from a sports-related leg injury or you're simply trying to enhance your endurance on a tour, you can benefit from compression sleeves on your calves.
Unlike most compression sleeves, the reflective pair by Zensah will increase your visibility on the road in addition to providing the muscle support you need.
My Review of Zensah Reflect Compression Leg Sleeves
Zensah has hit the nail on the head with these leg sleeves. Compression is an important part of training and cycling performance for many athletes, and I have always been a fan of the technology for long workouts.
Safety is also important on the road of course, and the Reflect Compression Leg Sleeves
have successfully combined compression technology with enhanced visibility. Even if you're the safest biker in history, your forethought won't matter if the vehicles on the road don't see you there.
Before we get to the pros and cons, let's go over what compression technology is all about.
What is compression and how does it help?
I'm no sports medicine expert, but the science behind compression is actually quite simple, and I've experienced its benefits firsthand.
Compression clothing is very tight and can be worn on any muscle being used in a sport or activity. For example, a boxer might wear a compression sleeve on his arm whereas a runner would typically wear one on his shins.
The Zensah Reflect Compression Leg Sleeves are perfect for cyclists because they support the leg muscles used in pedaling.
Compression works in a few ways:
Enhances Blood Flow – Compression clothing is specifically designed to make the blood flow in a certain way. When you're cycling over a long distance, your blood might flow more heavily to your feet because of the position you're in. Compression on the calves can prevent this unwanted pooling.
Reduces Soreness – The reason we get sore after a tough workout is because our muscles create a buildup of lactic acid. When the blood flows more easily, lactic acid does not build up and you will recover faster after exercise.
Improves Muscle Endurance – When you work your muscles, there is bound to be a bit of oscillation. In other words, the motions will create vibrations beyond the normal movement of a flex, and that movement can make your muscles fatigue faster. With compression clothing, these oscillations are reduced and the decreased movement will give you the ability to workout longer without getting as tired.
Reduces Impact – The final way in which compression works to improve your workout doesn't necessarily apply to cycling. Compression clothing can reduce impact on the joints. For example, runners might wear compression clothing on their knees so that each step impacts the knees less.
Since cycling is low impact to begin with, compression to reduce impact on the joints would only be helpful to those already suffering from knee or wrist pain.
Are the Reflect Compression Leg Sleeves for you?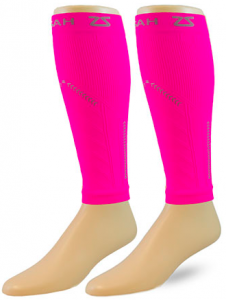 Now that you know how compression works, it's worth taking the time to decide whether or not compression is something you're interested in.
If you feel as though your endurance is consistently low when you're touring, these compression sleeves are a great option. They will lessen the fatigue you feel in your legs and give you the ability to ride longer.
Additionally, they are perfect for a long tour because they speed up recovery time. I've woken up during a tour feeling exhausted and sore, but the only option at that point is to get right back on the bike. Avoiding soreness on a bike tour is essential to staying on schedule.
Aside from the benefits of compression, these leg sleeves also improve your visibility, which should be a priority for any cyclist. Each leg sleeve is neon and reflective. They will catch the attention of any driver during the day or night.
The Pros and Cons
I'm sitting here brainstorming the cons of the Zensah Reflect Compression Leg Sleeves and can't think of a single one! Unlike most gear, these compression sleeves have no cons when compared to other brands.
In fact, they are better than most because they have the added benefit of increased visibility.
If you've never used any compression clothing the only con might be that you are dissatisfied with the results. However, I can say from personal experience that compression can help you in a myriad of ways.
The pros of this product include the usual benefits from compression, the increased visibility and your ability to use them for other purposes. If you're going for a jog to train for a tour, you can use these to protect yourself from shin splints.
I've even worn compression socks during long flights to prevent my feet from swelling. If you're a frequent flyer, you could slip these on under your pants for added in-flight comfort.
Overall, I highly recommend the Reflect Compression Leg Sleeves by Zensah for any serious cyclist. They won't necessarily make you bike faster or stronger, but they will make you feel better during and after your ride.
Have you tried another brand of compression clothing that you really liked? We'd love to hear about it!
Where to Buy
If you'd like to buy the Zensah Reflect Compression Leg Sleeves, the Bicycle Touring Guide team recommends one of these great stores: