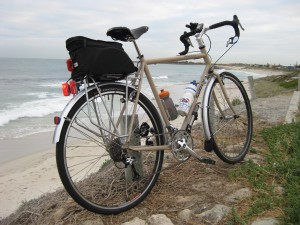 (NOTE: This list has been updated for 2015. Click here!)
Hey, dudes! Looking for a new road bike? Check out our picks on the top 3 men's road bikes. We review the best city, touring & racing bikes for men.
If you're on the market for a serious road bike, chances are you'll be riding it a lot. Maybe you're looking for a solid bicycle to get you to and from work every day, or maybe you're looking for a light and agile ride for long trips.
Either way, the number of options on the market is daunting. Every bike offers something different, and it can be difficult to rely on reviews because people have different preferences.
You should give any bike a good, long test drive before throwing down the cash, but I've compiled a list of the top three road bikes according to a combination of customer reviews, purchase popularity, price and quality to help start you off on your search.
The Top Three Men's Road Bikes
Every guy has different requirements and preferences for their road bike, but these three bikes are the best of the best for a few universally appealing reasons.
If you're a city dweller looking for a stable and comfortable ride, the Ramble is perfect. It dampens any broken pavement and is comfortable for longer commutes.
This is a no-fuss bike. If you're not a gear-head worrying about the nuts and bolts of your ride, you'll never have to second-guess this bike. It's versatile enough for any ride in any weather.
If the city you live in doesn't have many hills, this bike does have a flip flop rear hub, meaning you could switch it to a fixed gear manually for a more powerful ride. How freakin' cool is that?!
With a U-Lock slot and a front loader rack, this is simply a get-up-and-go bike. Run out the door and throw a leg over it for a smooth and trusty ride.
This bike even has a throwback, retro style, so you can bike well & look even better around town.
You can learn more about this bike at:
For the long-distance biker, the Long Haul Trucker Bike by Surly is outstanding. This bike might not be the best option for the urban commuter, as it's heavy and not a bike you can just throw over your shoulder when necessary.
This bike is dense and truly built for the long haul. It's perfect for touring and has 27-gears so you can take on hills with ease or flat roads with speed. Though, don't expect to win any serious road races, because this bike is a tank.
Its stability is perfect for heavy loads, too. You can pack up for camping trips, cross-state trips or even cross-country trips. When you buy this bike, get ready to rack up the mileage, because you might even find yourself replacing your car.
Learn more about the Surly Long Haul Trucker Bike at REI.com.
If you're looking for a comfy, easy ride, this isn't your bike. This drop down handlebar bike will put you in a low and aggressive racing stance.
If that stance is what you're after, then this bike is simply first-rate. The power transfer and weight give you serious control and speed.
This bike won't be great if you're looking to commute in treacherous weather. The tires are smooth, so the traction is not great. However, the tires can be replaced should you need the grip.
Essentially, this is a sleek racing machine that can easily translate to a quick commute if necessary.
Learn more about the GT Carbon Elite Bike at REI.com.
Best Men's Road Bikes by Category
To sum up, if you're looking for a new road bike, you should start by looking at these three.
They're the best in their categories, so they might give you a better idea of what you're looking for. It comes down to this:
Never buy any bike without trying it first, but there's a good chance you'll be pleased if you buy and of these top three men's road bikes. Once you pick your bike, you'll be faced with the decision to pick a color. Unfortunately, we can't help you with that one.