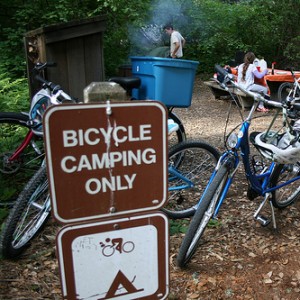 Bicyclist choose bicycle camping for many reasons. For me, traveling on a bicycle is an adventure and sometimes quite unpredictable.
So the ability to camp between hotel or hostel stays allows me to go where I want and when I want. I am not tied to a certain mileage or destination to reach the next available room.
And the economic benefits can be quite appealing.
Very seldom have I planned on bicycle camping every night that I was on the road; unless the trip was mainly a mountain biking adventure where camping was my only alternative. It is not that I prefer hotels (the quite opposite), but it is nice to have a comfortable bed, hot shower, and warm, dry roof over my head on occasion. It also allows me time to catch up on what is happening in the world.
A few years ago, I went on an extended trip where I didn't have contact with any media, radio, or television for about five weeks. It was a dream come true to not hear about stressful world events. During that trip, I learned that only three things matter to me when I was on the road, trail, or on an ocean crossing: What the weather is going to be like that day; where I am going for the day; and when, where, and what I am going to eat. Nothing else seemed to matter or it never crossed my mind. If it didn't affect me or my day, it wasn't important. It was wonderful. When the day came that I stayed in a hotel, I watched a little television and I felt completely disconnected from the world until I caught up on daily events.
Bicycle camping allows me to remember those weeks when world events didn't matter. All the virtues of escaping from a fast pace world that we all know too intimately can be experienced while camping. So instead of driving yourself to put in the miles just to make it to your next hotel, just relax, enjoy the scenery, and don't squander the opportunity to become truly self-sufficient.
How To Select Your Gear
Buy lightweight and quality gear and it will last for years. Lower quality tents and sleeping bags from discount stores may be alright for car camping and short trips. I don't recommend them for bicycle camping. A quality tent and rainfly should average about 2 to 3.5 lbs. per person. That means two people can share the load for a 2-person tent that weighs a total of 4 to 6 lbs. and still carry a reasonable weight each.
Expensive four-season expedition tents are definitely overkill for most bicycle camping.
Sometimes just a tarp, bug tent and groundcloth can suffice. For an in depth discussion for tent selection, please read this page.
Lightweight "mummy" style or tapered rectangular sleeping bags should be your choice for bicycling. A high-quality synthetic "mummy" bag for summer or three-seasons (25 or 35°F and above) should weigh between 2 to 3.5 lbs. A similar down bag should be about 1 lb. lighter for the same temperature range. Again, you should stay away from the discount store "sleepover" or "car camping" type of bags. They are heavy and won't last for more than a few long camping trips. To read more above sleeping bag selection, please read this page.
If you plan on cooking your own meals, I recommend you purchase a multi-fuel stove designed for ultra-lightweight backpacking. The same goes for cooking pots and pans: buy durable and lightweight items and try to share if you are not going to be alone. For more information about stoves suitable for bicycle camping, please read this page.
What to Wear
I divide my bicycle touring attire into three categories: cycling clothes, off-the-bike clothes, and cold/wet weather gear. For a discussion for clothing selection for touring, please go to this page.
Since I may be bicycle camping significantly during a tour, access to laundry facilities can be days apart. That is why I have carry a separate set of off-the-bike clothes and 3 to 4 pairs of cycling clothes. One clean and dry pair I will have on during the day, one dry pair in the pannier, and one dirty or just cleaned pair in the pannier. This keeps me from wearing dirty cycling shorts, which may cause chafing and infection. Normally I go 2 or 3 days between during my laundry. Always after I clean up in the evening, I will put on a clean and dry set of clothes.
I have a few rules of the road that I follow:
I prefer synthetic underwear, cycling shorts, socks and shirts due to quick drying.
I always keep a pair of shorts or pants quickly available to slip on if I go in a restaurant or somewhere that tight cycling shorts may be inappropriate.
I prefer brightly colored shirts and jackets for better visibility on the road.
My cleated cycling shoes are practical for long hours on the pedals and short walks without the cleats interfering.
I carry a pair of sandals and/or athletic shoes for long walks and after cycling hours.
What Gear To Take
The following is a list of gear that I take on an extended tour. I remove gear or add more depending on the weather conditions expected, length of tour, and destination. If I am only bicycle camping in an emergency and I don't plan on cooking, then the sleeping and cooking gear may be reduced drastically. But the following is a good place to start when planning a bicycle camping tour.
Bicycling Clothes
3 nylon or lycra short sleeve tops
3 pairs of padded lycra cycling shorts
4 pairs of synthetic (quick dry) socks
Cycling gloves
Sunglasses
Nylon wind vest
Arm warmers
Cycling shoes
Cold/Wet Weather Clothes
Fleece jacket
Face/ear warmer
Leg warmers
Waterproof or highly water-resistant rain jacket
Rain pants
Full finger gloves
Toe covers
After Biking Clothes
1 or 2 tee shirts
1 long sleeve shirt or pullover
Lightweight sandals and/or athletic shoes
Zip-off leg pants/shorts
Swimming suit
2 pairs of underpants
Sleeping Gear
Sleeping bag
Self-inflating 3/4 length mattress
Camp pillow
Tent, stakes, poles
Tarp
Tent groundcloth/footprint
50 feet lightweight 1/4″ rope
Cooking Gear
2 or 3 quart cooking pot
Frying pan/pot lid
Fork/spoon set
Sharp knife
Small spatula
Cup w/measurements on side
Can opener
Lightweight/foldable plate
Gas stove/fuel bottle
Water filter or tablets
Pot scrub pad
Small cleaning/drying cloth
Fire starter kit/candle
Camp soap
Tools
Small screwdrivers (flat/phillips)
Set of allen wrenches (7,8,9,10mm)
Small adjustable wrench
Set of cone wrenches
Pliers/Leatherman multi-tool
Chain tool
Spoke tool
Crank extractor
Bottom bracket tool
Rear cassette remover
3 tire irons
Inner tube patch kit
Tire pump
Spares
2 inner tubes
Folded tire
Lub for chain
Extra spokes (1 front, 2 cassette rear, 1 rear)
Brake cable
Derailleur cable
Necessary bolts and nuts
Personal Items
Small scissors/clippers
Small mirror
Hair comb/brush
Toothbrush/paste
Shampoo
Sun block
Safety razor
Needles/thread
Lip balm
Mid-size towel
Wash cloth
Small first aid kit
Toilet paper
Emergency change for phone
Money/credit cards/travel checks
Medical info/emergency contact/insurance
Driver license/ID/passport
Miscellaneous
3 water bottles
Bike lock/cable
Flash light/bike light
Rear red flashing light
Spare bulbs/batteries
GPS and batteries
Maps
Cell phone and charger
Bike computer and spare battery
Note pad/pencils
Laptop computer and charger
Camera/film
Weather Radio
Plastic bags (clothes/small items)
Weather radio
Foldable cloth bucket
Lock for locker
Where to Camp
An argument can be made for "credit card" touring. Your bicycle will be lighter and you can travel so much faster. And your bicycle doesn't have to be a dedicated touring bike. Most sport, road, and hybrid bicycles will handle moderate touring with minimum gear weight. This touring style works well in Eastern USA, West Coast USA, Europe, Great Britain, and Japan. The negative side of this argument, however, is spending the money, preselecting night stays, getting reservations in advance, and forcing yourself a mileage goal no matter the road problems. So for me, I prefer to camp as much as possible and stay in hotels or hostels occasionally.
If you are traveling in remote or rural areas, you may have no other choice but to camp. In many countries, including western North America, hotels and accommodations may be 100 miles or more apart. Hopefully, you can find a public or private campground. Unfortunately, most campgrounds are filled with mammoth RVs lined up like in a dealer's lot and with TVs blaring from satellite programing and DVDs recorders. Unless you find a campground in a national or state forest, you may feel like your are in a noisy road side motel.
It seems like in America, camping is bringing your home comforts with you. And I have to mention all the campground and waterpark combinations that you may see. I have stayed at private campgrounds that charge almost as much as some motels. Even in Great Britain and Europe, group or caravan camping is quite popular, and some campgrounds can seem like amusement parks where people and groups stay for weeks at a time. Here too the price can be expensive.
There are exceptions though, and I have stayed in some wonderful places. Some campgrounds will have a small area dedicated for tent campers or just allow tents. A primitive campground can be a small area with a grill and table in the woods or just a farmers field with no trees or anything else. The latter are numerous in Great Britain and Europe. Normally, simple accommodations will reflect an inexpensive price. I suggest that you get a camping guide for your location and research the options thoroughly before setting out.
Stealth Camping
Another bicycle camping option is "stealth" or "free" camping. You find yourself in a rural or wilderness area with no recognized campground. In this case you have no alternative but to find a place to camp. First, I suggest that you ask around at local businesses, houses, and churches for ideas. You will be surprised how many people will let you pitch a tent in a church yard, their property, behind a building, or just run you off. If someone offers you a place, be kind and don't start any fires, clean up completely, and leave without a trace. If you are told to get lost, again be very nice and just leave and get as far away as possible and quickly.
Sometimes you may find yourself with no other option but to "stealth" camp. Let me tell you that I am not advocating this style of bicycle camping, but many bicyclist have done it and still do it, including myself. I usually ride as late as possible, having eaten and collected water before stopping, and then look for a place out of sight. I prefer a a flat location, not too low in case of rain, that is well hidden from any houses, cars, people walking, or cars parking. I use the minimum camp set up: a small tent or a hammock with a tarp, no blaring stove, and a flashlight only in the tent and only when needed. I never camp off a side dirt road. Narrow, isolated roads can be popular for people parking and partying at night. You want to stay away. Be careful of private and national forest lands during hunting season.
How to Carry Everything
Bicycle camping requires a lot of gear that can add about 45 to 55 lbs. of weight to a 25 to 35 lb. touring or mountain bike. A quality bicycle made for that weight can handle the load with the proper rack and pannier system. Many bicyclist, however, prefer to pull a bicycle trailer and minimize the pannier capacity to just a handlebar bag. They would rather pull the weight instead of carry the weight. Both systems work. Which way should you go? For a discussion of bicycle trailers versus panniers, go to this page.
Since the additional equipment for bicycle camping adds a lot of weight to your bicycle. Consequently, for a safe and pleasant tour, you need to carefully consider the pannier configuration and rack capacity for your needs. I suggest that you read the pages for pannier configuration for bicycle camping and rack selection.