Bicycle camping is a wonderful experience. Your choice for a bicycling tent, however, can make or break your adventure.
You need to consider more than just keeping the weight as low a possible. Compromising too much comfort and safety for a few dollars or ounces may bring a lot of regrets while on the road. So before you buy, let's review some of the pros and cons of the variety of tents and features available to you.
Types of Tents
Normally, bicycling camping is a little different than backpacking or other lightweight camping. Sometimes, especially during mountain biking, you may stay at a central location and radiate your touring from there. But usually bicycle tours take you from one destination to the next and to the next and so on with minimal stay at each location. Consequently, I believe you should keep the weight and features to a manageable comfort level. So a minimalist tent will be the lightest, but it will offer almost no comfort level; ultralight and lightweight tents will be slightly heavier, but you will gain more livable space and additional storage area. A general rule of thumb is to allow about 1.5 to 3 pounds per person for tent, poles, fly, and stakes (minimalist to lightweight tent).
Let's look briefly at the available styles:
Three-season tents: This common tent can be very lightweight (around 2 to 4 pounds/person) and offer many features and additional living/storage space. Will have a rain fly for light to heavy rainfall and light snow loads. Good to excellent ventilation depending on the surface area of windows and bug mesh. Some have the additional benefit of being able to set up just the fly and ground cloth for a the ultimate ventilation in warm weather and no bugs.
Four-season tents: These tents are made for extreme storms and snow loads and have extra space for a lot of gear. Ventilation may be very poor for warm or humid weather. These tents can be heavy (3 to 6 pounds/person) and are usually used as a base camp tent. Some models allow sections to be removed to lighten the weight.
Single-walled tents: Depending on the type of single-walled tent, they can be designed for three or four seasons. Some people complain that the feeling of moisture can be felt when they brush up against the tent during a rain and/or heavy dew. Also ventilation can be a problem since there is no air barrier between the tent wall and a fly. My experience has been they can be quite stuffy in humid weather unless ventilation is allow in through door, vents, or windows.
Bivy sacks: These tents can be described as a weather-proof sack that fits over your sleeping bag. Some models have poles that keep the sack (with bug netting) above your head. They can be extremely light weight (1 to 2 pounds), but they can be a little stuffy in humid weather (unless it is a all netting sack) and some people feel confined. They are great for the 'stealth' camper who just needs to throw their sleeping bag out quickly, go to sleep, and leave early in the morning.
Tarps, floorless tents, and bug netting: These shelters offer minimal weight but minimal protection in bad weather. The bug netting offers no protection from the rain unless a tarp is used above. Like bivy sacks they can be great for 'slealth' camping, and the weight can be around 1 to 3 pounds per person.
Note: "Stealth or Free" camping is finding a spot that is not in a recognized camping area. These camping sites can be just right off the road in a wooded area, behind a hill or building, or about anywhere that is safe but not easily seen. If you plan on 'stealth' camping, I would recommend that you look for a tent that has a small footprint, low profile, uncomplicated setup, and is a natural color like green, brown, or tan.
Freestanding versus Non-freestanding tents: The majority of lightweight tents are freestanding, which means that they don't require stacks to set them up. Usually the rain fly will require stakes, but some models use the end of the poles to secure the rain fly. If you are going to camp on sand, rocky ground, or may need to move a tent once it is set up, then a freestanding tent should be your choice. A non-freestanding tent will normally be lighter compared to the same floor area, but must use stakes or attachment lines to a tree or something similar to secure the tent. Also, most non-freestanding tents have a lower profile and less vertical sidewalls than the freestanding tents, which reduce interior space.
For the Minimalist
Black Diamond Bivy Sacks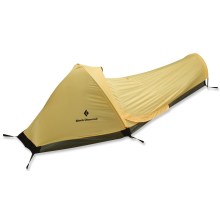 Black Diamond's Bivy sacks are a great setup for minimalist campers or for situations where you need a backup bivy. They are all made from lightweight fabric and two or three DAC Featherlite® poles. Bivy sacks can range from 1 lb. 10 oz. to 2.5 pounds. My thought is the lighter, the better.
Bug Bivy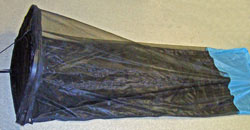 The Bug Bivy by Outdoor Research
is an extremely lightweight bivy. It weighs in around 1 pound and is perfect for warm weather camping, especially under a tarp.
Kelty Noah's Tarp
The Kelty Noah's Tarp
is an extremely lightweight tarp constructed using the waterproof silicone ripstop nylon. It weighs in 1 pound, 7 ounces. For two people using this tarp and two bivies, your weight per person would be around 2 pounds each, which is extremely lightweight. In addition, you would have a lot of floor space under the tarp for your activities during bad weather.
Solo Tents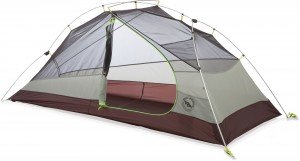 At about 2.5 pounds, this ultralight, free-standing tent is for gram-counting campers. This is simply a great adventuring tent. Light, easy to set up, and has enough room inside to accomodate 1 person and some gear. For an ultralight setup, consider using the footprint (sold separately) with the rainfly only; Trail weight: 2 lb. 6 oz.
AT 1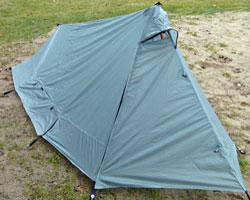 The AT 1 by Bear Paw Tents is an extremely lightweight single-walled solo tent. It weighs in around 1 lb. 9 oz, including rear pole and six stacks. It is made to be used with a hiking staff for the front pole, but you can buy a lighweight aluminum pole with the tent. It has plenty of room for one person with gear in the large vestibule. I use one of these tents when I expect cooler weather and it is extremely easy to set up, about 2 minutes maximum.
Two-Person Tents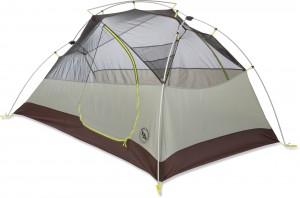 At about 3 pounds the Jack Rabbit 2 is a strong, comfortable tent for one or two. It is fast and easy to set up, light weight, and packs down nice and small. Even if one person uses it, the weight is manageable. However, if two people use it, the weight allocation will be only about 1.5 pounds per person, which is fantastic. This tent is a very good combination of interior space (length, width, and height), weight, and price. For an ultralight setup, consider using the footprint (sold separately) with the fly only. Trail weight: 2 lb. 14 oz.
AT 2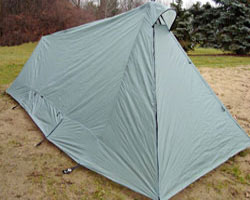 The AT 2 by Bear Paw Tents is an extremely lightweight single-walled solo tent. It weighs in around 2 lb, including and seven stacks. It is made to be used with a hiking staff for the front and rear poles. You can hang it from trees with lines or you can buy the lighweight aluminum poles with the tent. It has plenty of room for two people with gear in the very large vestibule.
Summit 2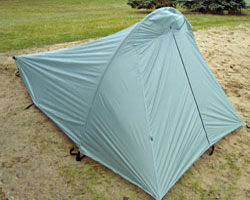 The AT 2 by Bear Paw Tents is an extremely lightweight single-walled solo tent. The complete tent, including 4 stakes and poles, is less than 2 lbs. That is less than 1 lb. per person. It is large for a extemely lightweight two person tent with its large vestibule.
Three-Person Tents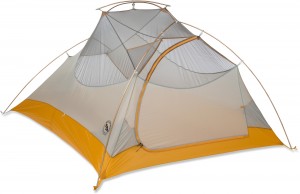 At 3 pounds, 3 ounces Fly Creek 3 is a strong, comfortable tent for three that sets up quickly and won't break your back or the bank. If only two people use it, the weight allocation will be only about 1.6 pounds per person. This tent is a very good combination of interior space (length, width, and height), weight, and price. The all bug mesh for the upper tent body makes for great ventilation. For an ultralight setup, consider using the footprint (sold separately) with the fly only.
Learn more about the Big Agnes Fly Creek 3 at REI.com
Sleeping Capacity
Lightweight tents are categorized by either being solo, 2-person, 3-person, and sometimes 4-person tents. Just because a tent is a 2-person tent doesn't mean that it will be comfortable sleeping for two people. If you are claustrophobic, a solo tent may not be for you and you may want to choose a small 2-person tent. The same for two people in a 2-person tent: you may want to choose a small 3-person tent for more rooominess.
As a rule of thumb, the minimum space for a person in a sleeping bag will cover a tent floor area of 20″ wide by 72″ long. The minimum space for two people will be 40″ wide by 72″ long. However, this floor area does not allow for extra gear like shoes and clothes and means that you will be very close to your partner. So if you want more space to move around, or don't feel that close to your partner, or maybe you are taller than 6 feet, you will need more floor space.
Most tents specifications will include a sample sleeping bag layout. Sometimes a pair of sleeping bags will be opposite each other in the diagram (head to foot and foot to head). Since a typical lightweight sleeping bag tapers at the foot, a narrow tent footprint will require the bags to be in this configuration to fit two people next to each other. This is typical for most of the small 2-person tents. A larger 2-person tent may have the sleeping bags with the heads along side each other. In addition, generally, the higher the peak height and more vertical the sidewalls, the roomier the tent may feel.
Tent Weight
The specifications of a tent will normally list a minimum weight and packaged weight. The packaged weight includes the tent and accessories as it is shipped to the retailer. The minimum weight (tent body, rainfly, and poles) will be closer to the weight of the tent in your panniers plus any stakes and ground cloth you need.
A typical solo tent will have a packed weight between 2 to 4 pounds. (A bivy sack will be about half the weight of a solo tent.) If you carry a 2-person or 3-person tent between two people to share, you will average about 2 to 3 pounds per person. So two people sharing a tent will be lighter than each person carrying a solo tent.
In addition to the weight, you will need to be concerned with the packed sized. The tent is normally not a problem, but the folded poles may not fit in your panniers. Most bicyclist lash the poles to the top of their panniers. Usually backpacking tent poles will fold up to between 18 to 23 inches and about 3 to 4 inches in diameter total. If this will be a problem for you, then look at some of the bivy sacks, tarps, bug net tents, or poles tents for your trip.
Tent Materials
When designing a lightweight tent, tent manufacturers must balance lightweight material with durability and waterproofness. The more durable a tent may be, then the heavier the weight. Many manufacturers use bug netting for the tent body to reduce weight and increase ventilation. It is a great idea for warm and humid weather. Unfortunately, bug netting is not as durable as nylon taffeta. So the trade off is up to you. Since most of my bicycling is done in warmer climates, I prefer a well ventilated tent. In fact, I prefer just using a rainfly or tarp and groundcloth and add a bug net tent if needed.
Tent floor: Waterproofness and abrasion resistance is the prime design factor for the floor. The lightest tents will use a 30-denier coated nylon material and a heavier 75-denier nylon will be used for heavier tents designed for extreme conditions.
Tent body:As with the floor material, the heavier the body material then the heavier the tent and more extreme conditions it can withstand. The lightest tents will use 40-denier nylon taffeta with bug netting for the roof and upper sides. Expedition tents will use a 70-denier nylon taffeta with covered window netting.
Tent rainfly: The rainfly will be coated nylon or polyester fabrics. Coated polyester resists stretching when wet better than coated nylon. I prefer the polyester fabrics for the rainfly since the tautness during a rain is more stable.
UV rays degrade tent fabric if they are left in direct sunlight for long periods of time. So it is always best to leave your tent up no longer than necessary in sunlight. Nevertheless, if you purchase a quality tent, take proper care of the it, let it dry out properly, and repair rips quickly, your tent should last for years.
One final note on tent material: No matter how waterproof the material may be, if the seams are not properly sealed, the tent will leak. Most tents come with factory sealed seams, but you need to verify this in the specifications and/or instructions. Otherwise, you need to buy some seam sealer and apply it yourself.
Ventilation
When I look for a tent, ventilation is my prime concern. Even the most expensive tent if not properly ventilated in hot and even cold weather will trap moisture inside and can make your night miserable. Your breath release signification amountof moisture that will condensate on your tent walls, your sleeping bag, and make your tent environment like a sauna, especially in humid and warm climates.
Depending on the weather, you have numerous choices to reduce the problem:
Many tent models use bug netting or mesh for windows, doors, roof panels and upper wall of the tent body. In order for the bug netting to work properly, you must insure that there is sufficient tent-to-rainfly separation to allow fresh air to circulate around your tent body. Weather permitting, you can leave off the rainfly and enjoy the cool night. Morning dew, however, can be a problem, especially after a clear or humid night, so you may have to rig the rainfly up as a tarp.
For warm and bugless nights, many models have the capability of setting up just the rainfly with the ground cloth for complete ventilation.
Vented rainflies have become properly on high-end tents.
You can choose to use just a rain tarp, groundcloth, and bug net tent. You may not have any privacy, but ventilation can be maximized while reducing the total tent weight.
Poles
The lightest material for tent poles will use some aluminum alloy. Fiberglass poles are heavy and can break much easier than aluminum. The most convenient aluminum poles are shock-corded together, making for quick assembly. There are some newer pole designs that are wonderful for keeping the weight down and strength high, but the price increases.
Most present day lightweight tents use exterior poles for support. The most common way for poles to be connected to the tent body will be by sleeves and/or clips. The sleeves distribute the force over a longer tent area, resulting in less stress on the tent fabric. You will see sleeves more often on expedition style tents designed for extreme weather conditions. Pole clips are easier to attach and allow good separation between rainfly and tent body. I prefer pole clips due to the ease of putting up the tent, especially under wet and windy conditions or during darkness.
Accessories
Groundcloth or footprint: I use a fitted groundcloth (footprint) that fits under the tent floor. You can cut one yourself or buy from the retailer. Just make sure the footprint is slightly smaller than the floor of your tent. This keeps water from pooling on top of the footprint. Either way, a groundcloth should be a crucial to keep rocks, twigs and dirt from damaging your tent floor. A footprint has significant advantages over just a groundcloth. If the groundcloth extends out beyond the tent edges, then water can be caught and channeled under the tent.
Vestibules: A vestibules extends beyond the rainfly and usually doesn't have a floor. It is great for shoes, packs, and other things you don't want to get wet and may need to get to quickly.
Gear lofts: Great for organizing things inside your tent.
Tarps: A tarp can take the place of a tent, but the biggest advantage is stretched over your camping area. You can sleep under it, cook under it, and live under it during a rain storm. It is well worth having one and most weigh under 1 pound.