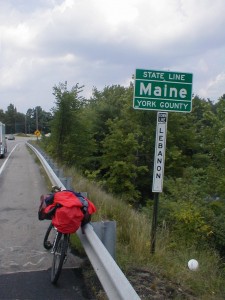 What camping gear is needed for bicycle touring? Find out with my run-down on the camping necessities for a bicycle tour, from tents to water filters.
One of the best parts about bicycle touring is being away from home. Seeing new landscapes, visiting new towns, and adventuring beyond your comfort zone is why we do what we do. But sometimes, those creature comforts your home provides are missed, and often needed, when you're out on the road. After a drenching summer downpour, there are few things as uplifting as a dry bed and a warm meal.
Most modern camping gear is light, effective, and ready to offer you your very own mobile home; unfortunately, there's a ton of it to sort through, and not all of it is ideal for bicycle touring. From my miles on the road and years of camping, I've dialed in a setup that's usable in everything from a campground to the backcountry.
Here's what I've learned.
Run-Down on the Camping Gear Needed for Your Tour
Shelter & Sleeping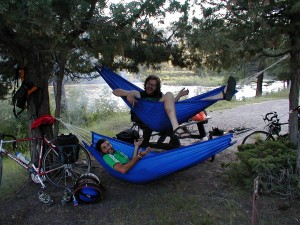 Your shelter and sleeping situation is the most important part of your camping gear (unless, of course, you're on a credit card tour).
It's going to weigh the most out of everything you carry, it protects you from the elements, and most days you're going to be exhausted, so it better be comfortable.
I'll start with the tent, as that's going to be your home away from home.
The first thing to consider is where you're going to be touring and, believe it or not, whether you really need a tent.
I've done plenty of weekend tours in Colorado and have never needed a tent, and on a cross country trip, I didn't even set it up until South Dakota.
On the flip side of that, I've ridden through a week straight of rain in Pennsylvania and Maryland and cherished my tent every night.
Here's my guide on bicycle touring the Great Allegheny Passage
If you're in a rainy place or on a long tour, definitely carry one; if you're on a short trip in the desert and comfortable without one (that is: fine with bugs and other critters), by all means, leave it at home.
When I go without a shelter, I carry a little hammock that stuffs into its own pocket. It's light, super comfy, and I've never had trouble finding a place to string it up. Plus, it's a great reading spot or chilling spot during a nice summer siesta.
When I carry a tent, I like to go with the Big Agnes Fly Creek UL2. It's marketed as a two person tent (it's pretty tight for two), so when I'm by myself it has plenty of room for me and my gear. And since it weighs in at less than three pounds, I never regret carrying it.
RELATED: John's Guide to Tents for Bicycle Touring
Sleeping bags are pretty much the same as tents: it matters where you're going and what you're doing. If you're touring the Southeast of the United States in the summer, you could get by on a simple sleeping bag liner (and save yourself a ton of weight).
As a standard, I carry my REI Radiant 20 degree bag. I'm usually touring in the mountains where the evenings get chilly.
RELATED: Check out John's Guide to Sleeping Bags for Bicycle Camping
To round out a good night's rest, invest in a good sleeping pad. The ground will suck the heat right out of you, so you need the sleeping pad to stay warm, not to mention it evens out the ground and gives you some extra comfort. I like the closed cell, egg crate kind over the inflatable ones.
The inflatable ones are comfortable, but they always pop at the most inopportune times. The egg crate pads are bulky to put on your bike, but I find space on the top of my rear rack.
Cooking & Food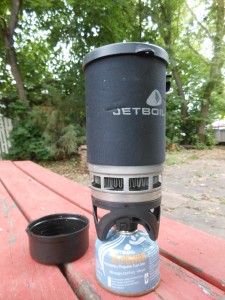 Carrying your kitchen can be tricky because you can end up with a lot of extra weight. To start, be honest with what your needs are. If you're mostly eating out, do you really need the full, stainless steel cook set? If you're touring on the cheap, do you have the equipment to cook enough calories to replenish what you're putting into your ride?
I fall in the middle of these two scenarios. I budget for eating out a fair amount (I just can't resist pizza on the road), but I also like to cook because it's cheaper, which means more time on the road!
Not to mention, I can't even begin to think about riding until I've had a coffee. The kitchen adds extra weight, but it's worth it.
I usually carry a Jetboil Zip Stove, which is a self-contained canister stove, for cooking. It's easy to find replacement canisters in bigger towns in the US.
If you're touring internationally, I would definitely recommend an MSR Whisperlite International; it runs on white gas, kerosene, and even gasoline in a pinch.
RELATED: All You Ever Need to Know About Bicycle Stoves
I've toured with a little "pop can" stove that runs on denatured alcohol and that has certainly done the job. On the plus side, it's light, cheap, and you can find fuel anywhere, but if you want your food fast, it's a bad choice.
Along with the stove I carry a plastic spork, a light weight coffee drip, and then just use the knife from my multi-tool. The most important thing to remember with your kitchen is to keep it simple (you'll save on both weight and space) and keep it clean.
Miscellaneous
I always carry a water filter with me when I tour (the MSR SweetWater).
Having seen a friend suffering from Giardia and knowing that there's a lot of dirty water out there, this piece of equipment is a must. I also carry a little Ziplock with a lighter, some waterproof matches, and some fire starter. If you're in an area where fires are allowed, it can be a nice way to wind down after a long ride.
I don't carry much other than that. Make sure you take some short tours with the gear you have and get comfortable with it.
Don't weigh yourself down too much (heavy touring can be miserable), but don't go without either. Embrace that your setup and your camping gear in particular, are always going to be changing to match your needs.
Once you realize that, getting everything dialed will be much easier.
How about you?
Did I miss any essential camping gear that you always take with you on a bicycle tour?