The BitLock key-less bike security tool is more than just a needlessly high-tech bicycle accessory. This is a seriously cool bike lock that has the potential (maybe! maybe!) to revolutionize the idea that peer-to-peer bicycle sharing can be a fully practical and cost-efficient alternative to driving a car.
All that to say: if you own a bike, you definitely ought to read on to find out more about BitLock and its huge list advantages.
The BitLock: The Bike Lock Has Become Digital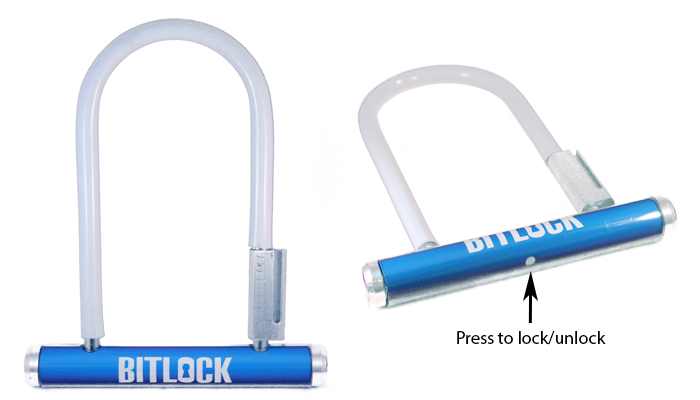 First and foremost, BitLock is just what it appears to be: a bicycle lock. It's U-bar design is manufactured with reinforced and heat-treated steel that is cut-resistant. It can't be sliced open with bolt-cutter or hacksaw. It will keep your bike totally secure (assuming the object your bike is attached to isn't easily moved!).
But what makes the BitLock stand out from the crowd (well, ONE of the reasons), is that you don't use a key to open it. You use your smartphone.
Utilizing bluetooth low energy (or BLE), the lock communicates with your phone and unlocks your bike for you.
It's a sweet fusion of digital technology and basic security systems that does way more than just keep your bike from being stolen by an itchy-fingered passer-by.
We'll get into all the benefits (and a few disadvantages…) in a second, but right now let's talk a bit about…
How the BitLock Works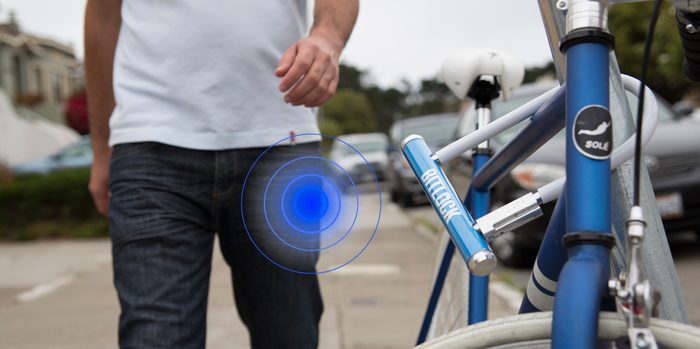 It's actually super user-friendly. The BitLock works with an app on your phone, so you don't really have to do much at all.
Let's say you're done hanging with friends or class is over and you're heading home. All you do is walk over to your locked-up bike, press a button on the BitLock's exterior and everything else is done for you.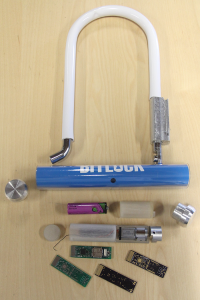 When the button is pressed, the BitLock's circuits fire up and send BLE to your phone. When a connection is made and "security clearance" authenticated, the lock opens for you.
But it also does so much more. For instance, the BitLock app will always document specific geographical locations whenever the lock is used, allowing you to find your ride in no time when/if you forget where you "parked."
So along with that, the BitLock app will track your riding, giving you precise statistical details and allow you to see how your carbon footprint is lightened by riding instead of driving.
Another great feature is that you can share "security clearance" with friends. Which definitely falls under…
BitLock's Many Advantages
Most of the benefits of using BitLock were kind of exposed in the previous section on how it works. You can track your progress on two wheels, you can see how your impacting the environment in positive ways, your bike stays super secure with this tough lock, you can easily unlock your ride, and you can share your clearance with fellow riders.
That last one is incredibly important. One of the things that certain European cities and countries (thinking specifically of Amsterdam right now) do so well is share bicycles. Sharing cuts costs and allows for more bicycle use, which depletes our need to drive on four wheels.
Many of us already share our bikes, but we also know that it can be a hassle. Coordinating locations for pick-up, lugging bikes from door to door, or sharing keys. The BitLock makes it super easy. You can share your app with a friend and then all they need to do is look up where your bike is located and they're good to go.
Easy-peasy.
Will this ramp up the number of bicyclists in the country overnight? Well, no. But it does give us a tool to use in converting friends towards the cause. It's also a sign that developers and manufacturers have their eyes on a future where a lot less people drive and lot more bike.
Oh, and the battery is good for FIVE YEARS.
What About Bicycle Touring? Is the BitLock Effective?
Could you imagine not ever having to worry about keys on a bike tour? So long as you have your phone… Oh, wait. Your phone… Right.
You need a working phone, a charged phone in order to lock and unlock your bike.
3 years ago this would have been impossible. But with Goal Zero's Nomad, the Switch 8, and even Eton's Boost Hand-Powered Charger, there are a plethora of options to keep your iPhone charged well enough while on a bike tour so that you can effectively use the BitLock (and don't forget about the best iPhone case for a bike tour).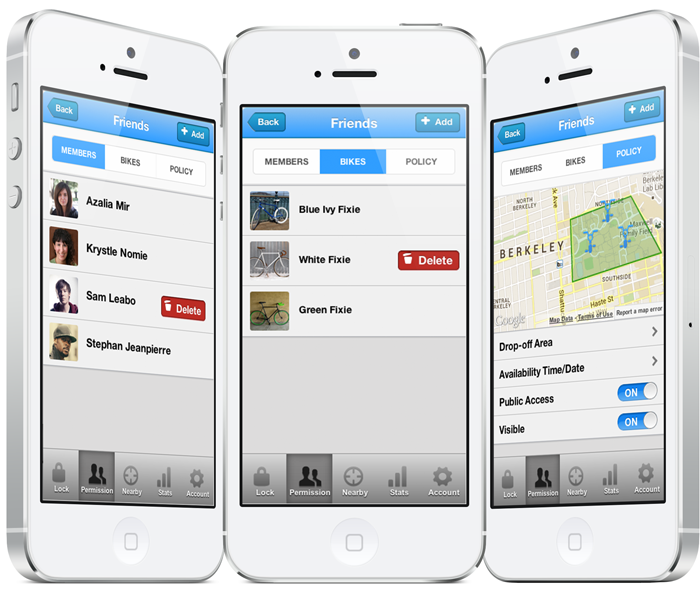 But what if your phone is stolen on your tour? What if it freezes? What if you didn't buy a waterproof iPhone case and the downpour caused your phone to fritz out?
Well, fortunately for us, the folks at BitLock heard these questions and answered them posthaste. The BitLock now comes with two buttons–a 0 and a 1–that allow you to enter a binary code to unlock the bike if your phone dies.
I still have my doubts about relying on the integrity of computer chips, especially in places like Seattle that feature more precipitation than others, but it seems like BitLock is open to the challenge of turning disadvantages into new benefits.
So maybe I should have titled this section: Obsolete Disadvantages of the Bitlock…
But I also want to give you the opportunity here to throw in your own concerns and questions. Let's build this section of the article together, that way we can see if the folks at BitLock are up for more challenges!
Leave your concerns and questions int he comments below.
Where You Can Get the BitLock

BitLock started as a Kickstarter project that was, surprise surprise, fully backed in a matter of no time at all.
Right now, you can pre-order your very own BitLock at  Shop Locket, which says the products will ship in August. The price is $119, which may be a bit high for some folks, but you sure do get a lot of perks for your bucks.
What do you think? Is the BitLock something you're interested in? Do you think it's just cool or do you think it might have the power to create new bicyclists?
While you think about it, here's the BitLock Kickstarter's intro video: