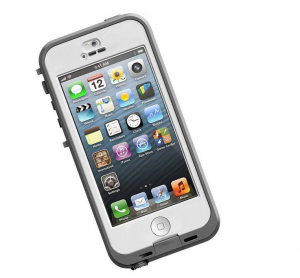 After testing the LifeProof Nüüd iPhone case, it's clear that this is a game changer. Period. Read my review below to learn why…
I can't imagine bike touring before cell phones. I've gotten lost, gotten separated from my group, and had to make emergency calls on tour. All of these issues were quickly solved with the smartphone in my knapsack.
Any biker also knows the risks of carrying an expensive phone on the road, though. If you're caught in a downpour, your device could be ruined in minutes. There's also the risk of dropping it.
I'm one of those people who can't hold on to a phone for more than a few months, whether or not I'm on a bike tour.
I dropped one phone down the tiny slot in an elevator shaft from the 11th floor in college. Another was thrown in the trash at the mall, never to be seen again. I once tossed a flip phone to my friend across the room once and it landed in her orange juice.
Of course, many of my mishaps have been bike-related as well. I tend to keep my phone in my back pocket, and when you mount a bike with any device in your pocket it tends to hit the pavement.
To avoid sacrificing yet another phone to a drop or to water damage, I've decided to try the LifeProof Nüüd case. The LifeProof team was kind enough to send me one to demo. I've somehow made it six months with the iPhone 5 I got in March, but I didn't want to push my luck. This case is going to be a game-changer for me.
The LifeProof Nüüd Case: Both Sleek and Solid 
The iPhone 5 LifeProof Nüüd case is certainly the best case I've ever owned. I can already say I highly recommend it, but here's my detailed review.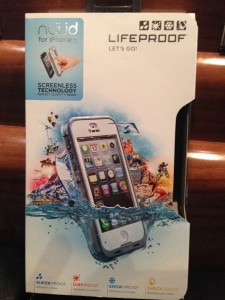 Why The LifeProof Nüüd Case is Superior 
Before I got this case I read an interesting customer review about it. The reviewer claimed that when she goes boating on the lake and her iPhone begins to overheat in the sun, she simply dunks it in the water.
Yes, you read that correctly. This case is so waterproof that users are confident enough to dip their $500 phone into a lake. It is submergible in more than six feet of water for an entire hour.
Not only can you drop this phone in the toilet (don't pretend you've never done that before), you can leave it there for an hour while you find tongs to pull it out with. If you don't believe that the case is waterproof, you can even try the water test that's included in the box.
With the water protection comes protection from melting snow and sleet if you're using your phone on a wintry day. Dirt and dust will also never make their way under your screen with this case.
Additionally, the case is shock proof. It can survive a six-foot drop, so you don't have to worry about a cracked screen when it slips out of your hands.
These "four proofs" (water, dirt, shock and snow protection) are enough to make any iPhone user drool, but LifeProof has gone one step further with the Nüüd case.
This case does not have a screen cover.
The lack of screen protection will not prevent scratches directly on your screen, but the case is designed with a sort of bumper around the front that will prevent those accidents. A scratch would really have to be made intentionally.
If you're worried about scratches, the phone does come with an optional film that you can stick to your screen.
The fact that this case is waterproof without a screen cover blows my mind, but it's true. I always choose cases without screen coverage so that the quality of the touchscreen technology is not compromised, but it's usually at the expense of the phone's protection.
Why You Need The LifeProof Nüüd For Bicycle Touring 
Bike touring can really do a number on your phone. The LifeProof Nüüd Case is tour proof. Many of the usual phone issues on tour can be avoided with this case.
I've been caught in the rain a few times on my bike. Unless I'm decked out for a lengthy tour, I usually just keep my phone in an exterior pocket of whatever bag I'm carrying.
When this happens, I either need to take cover to avoid letting the rain soak through to my phone, or I've even stopped into grocery stores to get a plastic bag for protection.
Obviously, neither of these options is convenient. With the Nüüd case, you'll never have to worry about rain damage again while you're in the saddle. The same goes for any snow, dirt and sand you might encounter.
It's also easy to drop your phone onto the pavement while biking. The shockproof technology of this phone case ensures that no drop will be the last drop.
As if the shock absorbency wasn't enough for a bike tour, LifeProof even offers a bike mount that clips into the case. I wasn't able to try the bike clip, but I did try the armband for jogging and my phone was completely secure.
The Pros and Cons 
I could go on and on about how great this case is, but there are a few drawbacks I'll address. Here are the pros and cons broken down.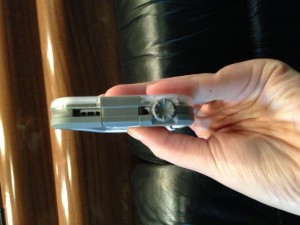 The Pros: 
Waterproof – Your phone can be submerged in six feet of water in this case.
Particle Protection – No dirt, sand or dust particles can find their way to your phone or under your screen.
Shockproof – You phone can be dropped from six feet in the air without a crack or a scratch.
Open Screen – A plastic cover does not compromise the touchscreen technology.
Accessories – Sturdy bike clips, belt clips and armbands are available
Sleek – This case is bulkier than many of the cases I've owned before, but considering the amount of protection it offers it's relatively sleek. It is much thinner than the OtterBox cases, for example.
The Cons: 
Annoying for Headphones – Because the case is even waterproof when you have headphones plugged in, you need to use an adaptor that screws into the headphone jack. Normal headphones will not work without the adaptor.
Difficult to Mute – Unlike cases that have open access to the volume and mute buttons on the side of the phone, the Nüüd case covers them for water protection. I find the mute button difficult to switch on and off.
Interestingly enough, the each con is a side effect of the fact that the case is so protective. In my opinion, these issues are a small price to pay (literally and figuratively) for superior protection.
Not only will a broken phone require a pricey replacement, but also it is dangerous to be caught without one when you're on a bike tour. For that reason, I cannot recommend the LifeProof Nüüd case highly enough.
This is the ideal case for anyone who finds themselves spending too much money on broken phones. With this case, you can increase the longevity of your phone without sacrificing the look and feel of the sleek iPhone.
I hope my review helps you make a decision on your next case purchase. I know I won't ever buy another iPhone case again.
I'm a LifeProof customer for LIFE!
Have you toured with this case on your phone? I'd love to hear about it!
Where to Buy
If you're here, that means you own an iPhone and you bike. A lot.
In that case, head over to LifeProof and buy the Nuud. They have free shipping on orders over $50, so why buy it elsewhere?