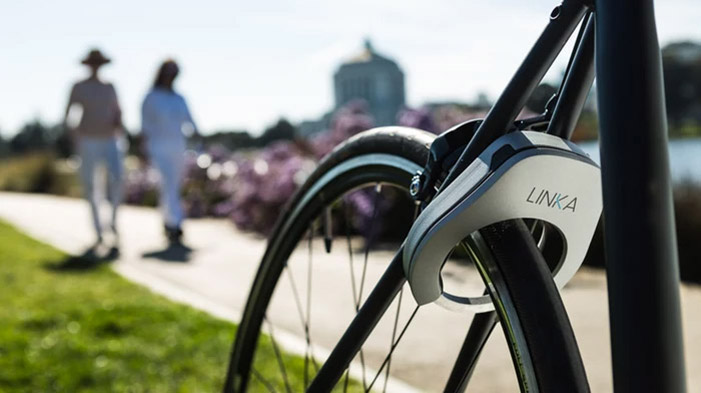 LINKA Smart Bike Lock
You love your bike like a child. The bond between cyclist and bicycle is a strong one, and the last thing any of us want is our baby to be kidnapped. That's why, here at Bicycle Touring Guide, we like to keep you up-to-date on the best bike locks from time to time. A quality bike lock ensures that your beloved bicycle never falls into the hands of an undeserving thief.
Especially when you are on a bicycle tour and have to lock your bike up in public locations, you need to make sure that your bike lock is as thief-proof as possible. After all, nothing would be worse than finding yourself far from home on a bicycle tour…without a bicycle.
Fortunately, bicycle security continues to improve all the time. Sometimes, those improvements come by leaps and bounds, as is the case with the new LINKA Smart Bike Lock, which is currently being funded on Kickstarter.
This bike lock represents the most high-tech innovation we've seen from a bike lock yet, and the LINKA is an awesome, game-changing product. The LINKA works to keep your bike safe through a bluetooth connection to your phone.
The lock is affixed to your bike frame, eliminating the need to carry around a lock. When your phone is in range, the LINKA will automatically unlock, allowing you to get on and ride away. Of course, if a would-be thief does not have your phone as well, his efforts to steal your bicycle will be deterred by the LINKA's 9mm steel ring locking your wheel to the frame, making the bike impossible to ride.
See the LINKA in action in the video below:
While the LINKA will automatically unlock when you approach your bike with your phone on you, locking the LINKA requires a minor, convenient step. You simply create a unique code on your phone and pressing one button when you wish to set the lock. The LINKA will not auto lock, and does not lock unless you have your phone AND the lock ready to go.
In addition to the convenience of this lock, the LINKA offers several other features to combat bike theft. The device uses an accelerometer much like your iPhone that notices your bike's movement when locked. If the motion detected is similar to that of a thief intentionally meddling with your bike, a loud, screeching alarm sounds, alerting everyone in the area that an attempted theft is taking place – a surefire theft-deterrent. The sounding of this alarm will also send a notification to your phone, so you're aware of the attempted theft. Furthermore, LINKA's app also comes with a bike theft map that will alert you of safe and unsafe areas to park your bicycle, using data of bike theft frequency. All of these factors serve to make the LINKA secure in a way that no other bike lock can claim.
For the ultimate in bike lock security, check out the LINKA (and help fund it) here!