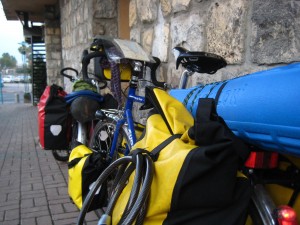 Everyone packs too much on their first lengthy bike tour. I felt like I was carrying at least ten pounds too much on mine. After a few days, I looked in my bag only to realize I probably could have eliminated more than half of what I brought.
You never know what might happen, which makes packing and planning difficult. Depending on where you're touring, you should try minimizing your load to include only the absolute essentials.
Every person will have different needs on their tour, so pack carefully and think ahead as much as possible. However, it's as important to decide what to bring as it is to decide what leave behind.
Now that I've had a few more successful touring experiences since my first, I can plan my packing more efficiently. Some things I've learned are only insights you can gain through experience, so I'd like to share my ideas with those of you who will be touring for the first time
Tips for Minimizing the Essentials on a Bike Tour
Touring with an outrageously heavy load is not fun, so start with these essentials. Not only will the come in handy, but they'll also help you keep your load as light as possible.
Layers of Clothing
On my first bicycling tour, I didn't have the greatest gear. Instead of spending money on lightweight, insulated shirts and jackets, like this Pearl Izumi Barrier
, I tried saving money and packing the sweatshirts and jackets I was used to wearing.
As you can imagine, a single sweatshirt practically took up an entire pannier. Before your tour, consider investing in lightweight layers. You'll only need a few, and you can bulk up or strip down depending on the day.
I'd recommend going through REI for that. They consistently have great sales and deals on cycling clothing.
You'll also need to consider the days when you're off your bike. Whether you're hiking up the slopes or hitting up the local town for a few hours, your bike gear might not be appropriate. So, you should buy clothing that functions as both.
Instead of wearing intense spandex racing shorts and shirts, buy clothing that you feel comfortable wearing off your bike for tours that are longer than one day. That way, you won't need to pack extra clothing in addition to your layers. Something like these prAna Monarch pants are ideal.
Of course, you'll need to plan accordingly if you'll be stopping at any hotels or other accommodating areas where you can do laundry and sleep without layers. You'll need to plan your layers based on the type of tour you'll take, but layers are the best place to start.
Water Bladders and Containers 
For long tours, Camelbak or similar brands of water bladders that you can sip while you ride are ideal. However, these sometimes don't have a very large capacity, and it's important that you carry approximately one gallon at all times.
You should supplement your water bladder with another water container as an extra supply. You should only refill your containers with water from faucets, because you could get very ill from drinking out or lakes or ponds.
If you're picky about the water that you drink and wish you could bring bottled water for the whole journey, consider getting a single bottle that filters water so that it tastes better. EcoVessel makes one of these.
Filtration water bottles will make all water taste clean, from the water fountain at a fast food joint to the sink water at a truck stop. However, these filter bottles should not be used on fresh water from lakes or ponds. If you're going to more rugged areas, pick up a SteriPen before your trip to filter your water.
Camping Gear
If you're going on a self-supported tour, you'll probably need to top and camp every night. On my first tour, this part of packing was mind-boggling. I couldn't figure out how to physically pack enough to be comfortable every night. So I wasn't.
There are a few tricks for packing the minimal amount of camping gear while still sufficiently preparing yourself. First, invest in a down sleeping bag. Down is extremely warm, and it is the most lightweight and compressible material. A great sleeping bag for bicycle touring is the Marmot Hydrogen 30 Degree Down. It's made with very stretchable fabric and allows you to move around in your bag when camping. You can sit up in it, cook while enveloped in it — it really rocks!
Next, think of your tent as a bug net. Don't invest in a heavy Kevlar tent for protection. If a bear attacks, he's going to find his way through either way. Your tent should just be enough to keep bugs and rain out, so go lightweight.
Also consider packing a sleeping bag liner. This will act as a sheet so that you don't have to wash your entire sleeping bag. Instead, you can even just soak the liner at a campsite and let it air dry. It will also serve as a light blanket for nights when the sleeping bag is too heavy.
Read up on additional bicycle camping gear that we recommend here.
Tools
Unfortunately, there is no way around packing tools for your tour. On my tour, one of my pedals broke and I needed to replace it on the road. I borrowed a fellow cyclist's extra pedal, but I was grateful that I lugged along my toolkit for the repair.
Tools can be heavy, but your tour could be stopped short without them. To lighten the load, consider splitting up the tools between all of the cyclists. As long as you're sticking together, you'll only need one of each item.
Some tools and gear you should consider bringing include:
Spare tube
Spoke wrench
Small pump
Allen wrench
Brake cable
Extra nuts and bolts
Brake pads
Duct tape
Screwdriver
Of course, these aren't the only things you'll need on your bicycle tour. You need to consider toiletries, food and outdoor gear such as sunblock depending on your route. However, listed are the items I struggled with most on my first ride, and only after more experience did I learn ways around the problems they presented.
Touring is a fun, rewarding and exciting experience, but a heavy load can put a damper on it. Use these tips for your first ride, and you'll slowly get the hang of things after you learn what you need and what you don't.