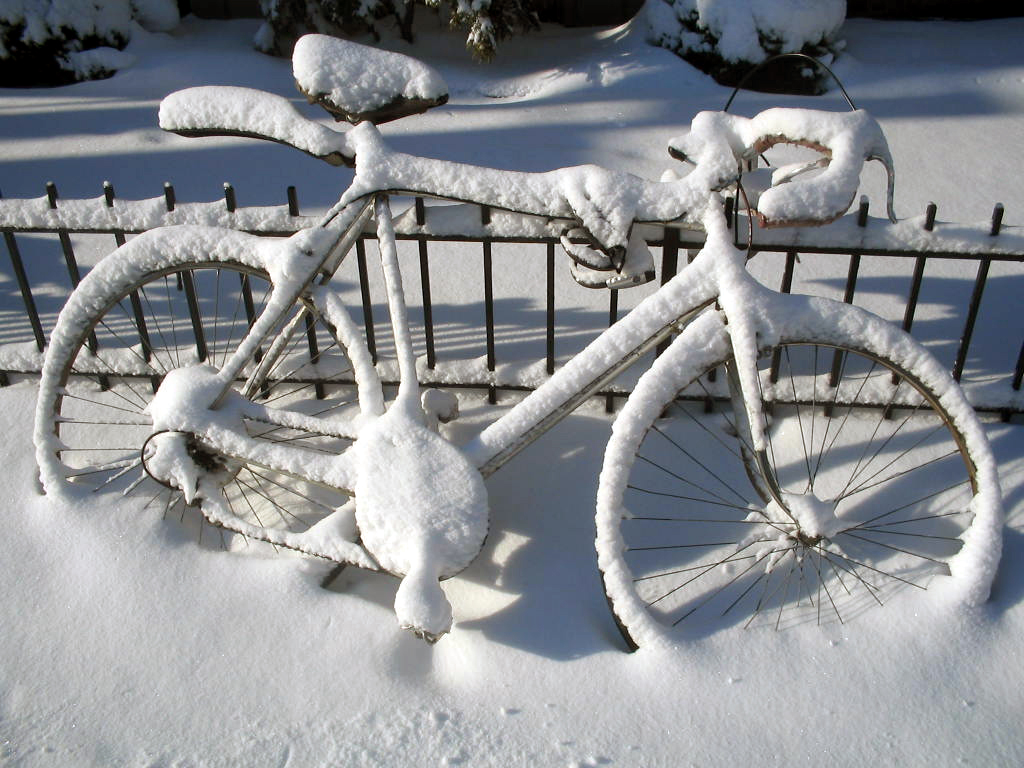 Temperatures are dropping, precipitation is falling and the days are getting shorter. All of these add up to one thing for cyclists — more challenging riding conditions.
As drivers flood their tire companies for new snow tires, so too should cyclists make the necessary revisions to their ride to prepare for the long winter months ahead.
Prepare Your Bike Chain and Wheel For Winter Cycling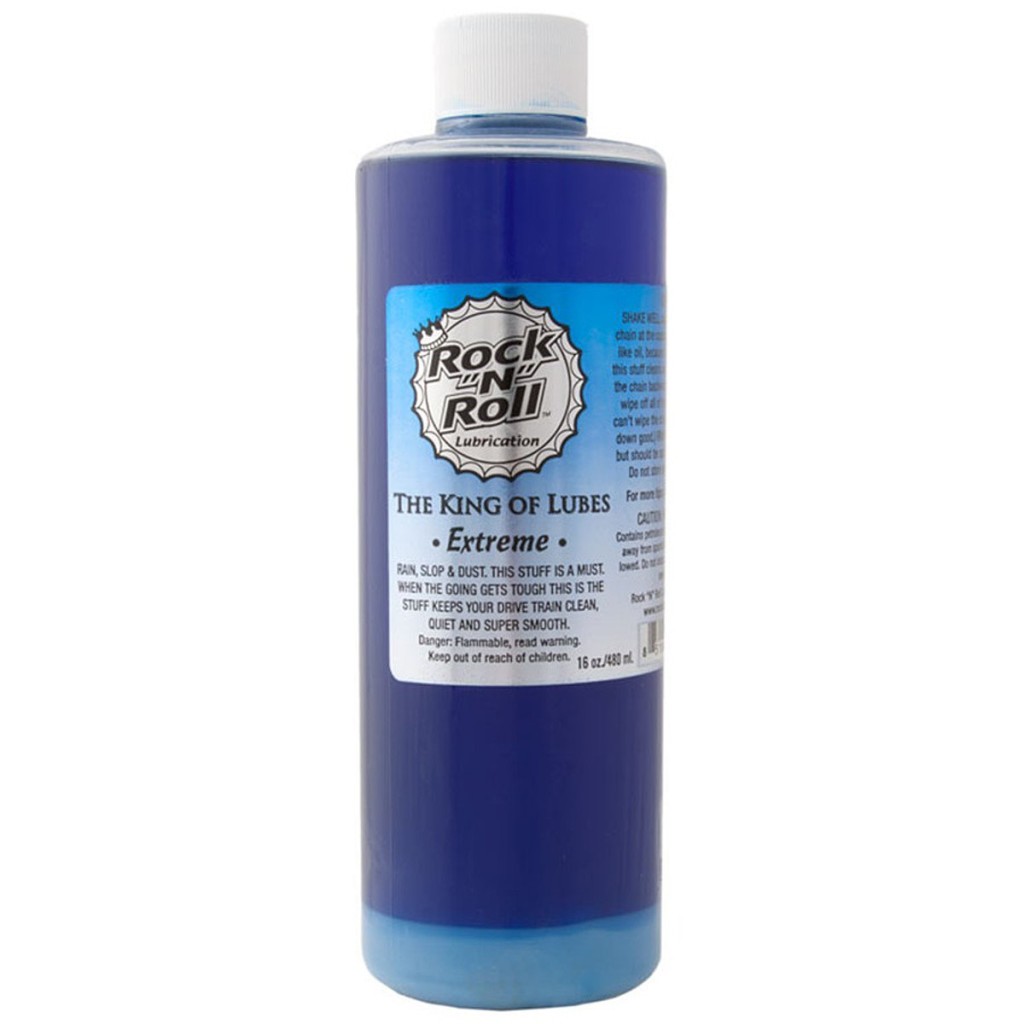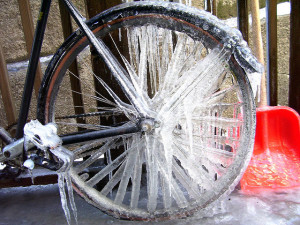 One of you first steps in protecting your bike against harsh winter weather is to protect the chain, bears, cranks, etc. from getting rusty. Using plenty of waterproof bike lube is an easy way to keep them protected.
One of the best waterproof lubrication for winter cycling is Rock N Roll Extreme Lube, which is waterproof and features a detergent that helps keep magnesium used on snow roads off your bike chain.
Keep in mind that in the winter, your bike chain is particularly vulnerable so be sure to wipe it down regularly and keep it especially well lubricated in extreme cold.
The Best Bike Tires For Winter Biking
If you are ready to commit to a new winter specific bike, check out our tips on the Best Fives Bikes For Winter.
If you are not quite ready to invest in a new bike, however, changing out the wheels on your existing model is a quick and easy way to make it more winter friendly.
There are several options for winter bike tires, depending on what type of conditions you plan to ride in.
If you are anticipating deep snow, for example, you might consider some studded tires — which grip especially well in snow.
Nokian Tires, available at REI for $60-$120, are a good option.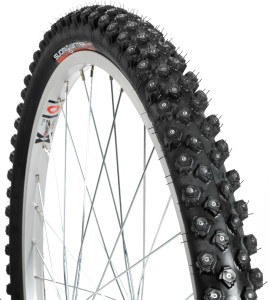 Features:
If the majority of your riding won't be in snowy conditions, then studded tires might be overkill.
Instead, consider trying out a solid pair of all-terrain mountain bike tires.
Panaracer Fire XC Pro Mountain Tires from REI are an affordable and reliable option.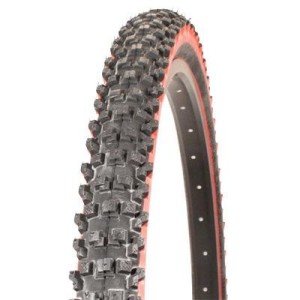 Features:
All-terrain tire
Square profile variable height Torch Tread gives the tire exceptional gripping abilities.
Wheel size: 26 inches
Tire width: 2.1 inches
Weight: 700 grams
* Tip: consider reducing the tire pressure in your tires for better traction
Best Winter Cycling Bike Fenders
If you have ever rode in snow or slush, you know how easy it is to spray slush, snow or rain up at when riding through wet conditions.
A simple and effective way of reducing the splash is to attach front and back fenders that reach a few inches in front of an behind your fork. The rear fender is particularly important and should be full-length.
Get a set of front and back fenders from REI for $25-$100.
A solid option is a set of Planet Bike Hardcore Mountain Bike Fenders.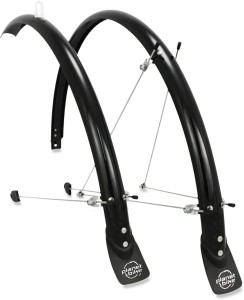 Features:
Size: 60 mm
All-weather polycarbonate provides durable protection
Mud flaps provide additional coverage
Weight: 599 grams
Get the Planet Hardcore Mountain Bike Fenders from REI for $29.99.
If you want to invest in just a front or back fender, they are also sold as separate units.
The SKS X-Blade II Rear Fender, available on Backcountry for $26.95 is a sturdy rear fender option. Simple to install and remove and curved to fit a 26 or 27.5 inch wheel, it is a simple way to provide some added protection to your bike.
The Topeak DeFender M1 Front Fender, available at REI for $24.95, provides front wheel protection. Mounts easily to the fork's steerer tube, with a quick-release attachment.
Best Bike Lights For Winter Riding
The winter months, when daytime is sparse and snow and clouds decrease visibility, a high performing bike light is particularly important.
You should at least have a front and back light, maybe even a headlamp or additional handlebar light.
A set of front and rear lights, like the CatEye HL-EL 135 Front/Omni 3 Rear Bike Light Set, is a good place to start.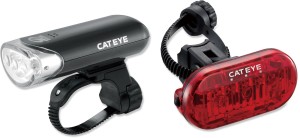 Features:
Both lights use 3 bright LEDs
Front light: 320 hrs run time flashing, 80 hrs constant. Rear light: 150 hrs run time flashing, 200 rapid, 100 constant
CatEye HL-EL135 Bike Light Set available at REI for $30.
From there, consider investing in an additional front light, like the CygoLite Metro 400 USB Front Bike Light. Available for $59.95 at REI, this bike will give you the additional visibility you'll need for winter conditions.
A helmet light might be worth including in your winter cycling gear as well, especially if you plan to ride in snowy conditions in low light.
The Light & Motion Vis 360 Front and Rear Helmet Bike Light System delivers 360 degree protection.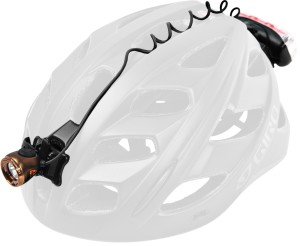 Features:
Easily snaps on and off helmet
Front light: 110 lumens of brightness
Back light: 4 lumens of red
Rechargeable lithium battery provides 4.5 hrs. of luminescence.
Get the Vis 360 Helmet Bike Light at REI for $100.
Invest in the Best Waterproof Cycling Saddlebag or Panniers
The final gear item to add to your bike to prep it for winter are waterproof saddle bags or pannier.
Chrome makes some of the most waterproof panniers thanks to their line of innovative Roll Top cycling bags.
The Chrome EX Roll Top Waterproof Cycling Pannier (available on Backcountry for $120)  is one of the best all-weather panniers in the accessory line. Taking advantage of the same roll top style of ultra waterproof rafting and kayaking bags, the bag provides top-of-the-line waterproof protection.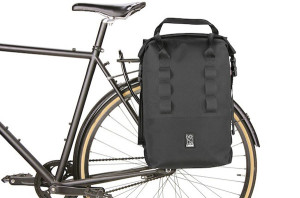 Check out our feature on the whole Chrome Watertight Roll Top Cycling line for more information on the accessories.
If you prefer a saddle bag, then anticipate that it needs to be as reliably waterproof as the pannier. A good option is the Ibera Bicycle Waterproof Reflective Saddle Bag, available on Amazon for $31.49. The clip-on, waterproof bag has an internal mesh sleeve and reflective trim.
Feel ready to prep your bike for colder weather? Keep us posted on how it goes!