Stay Fit This Winter
Winter can be a challenging time of year for the avid cyclist.
Snow and ice can prevent us from riding all the miles we want to, forcing us to use our cars for everyday trips that we would normal take by bike. As a result, our calves start to lose definition, our thighs can lose power and our general commitment to biking our hearts out can start to give way to big holiday meals and the warmth and comfort of lounging all day by the fire.
Once spring hits, however, you will kick yourself for losing the momentum and strength you spent so many hours gaining before the weather went south.
So, rather than spend your winter moping around the house softening both your drive and your gut, spend the next few months staying fit — or even getting fitter — so you pick your cycling up right where you left off.
Here are five ways to stay bike fit all winter long, even when biking is out of the question.
Indoor resistance trainer bike workouts for winter
The first and simplest way to stay bike fit is to invest in an indoor bike trainer.
A resistance trainer is a simple device that clamps onto the rear axle of your bike and presses a resistance roller against the rear tire so that you can ride in place.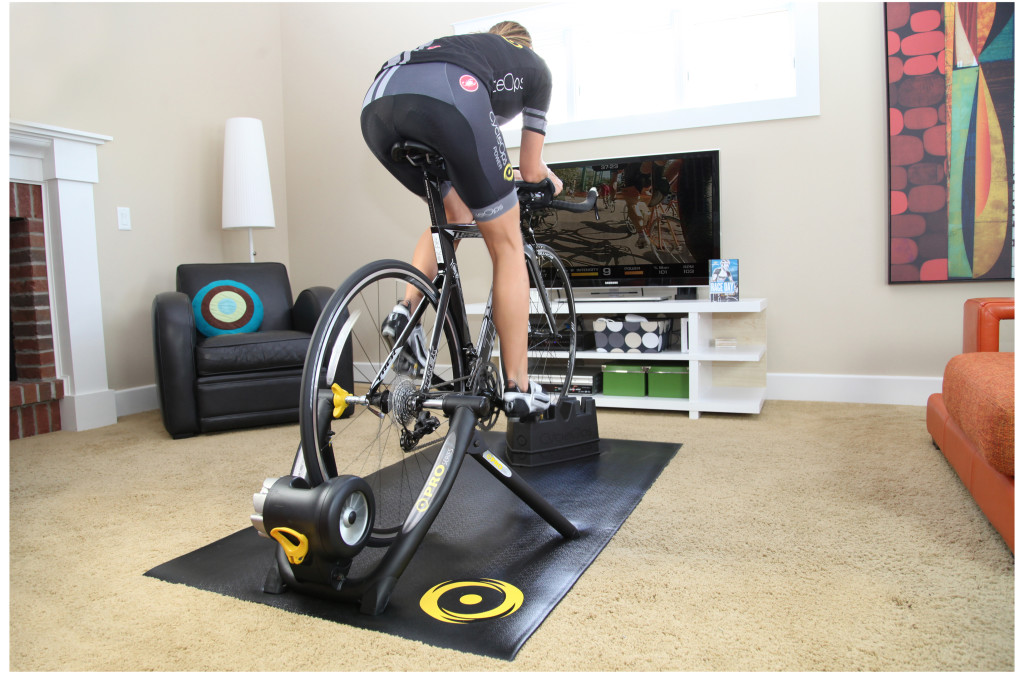 Most pro riders prefer a trainer over a stationary bike for a few reasons.
First of all, they are far more affordable. A high quality trainer retails for about $100 to $150, while a stationary bike will set you back $500 to $1,000.
Secondly, a trainer allows you to keep training on your own bike. Training on your own bike during the winter will help prepare you for longer, tougher rides on the same two wheels come spring.
One of the best trainers on the market is the CycleOps Mag Bike Trainer — available at REI for $180.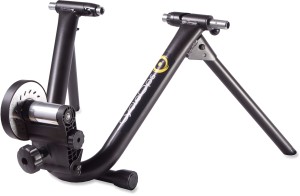 Product Highlights:
Features adjustable foot pads, quick release handle and folding legs for storage
Updated frame works with all standard wheels and 29er mountain bike wheels
A more affordable option is the Conquer Indoor Bike Trainer, which is available from Amazon for $64.95.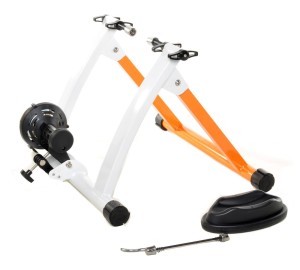 Product Highlights:
Front wheel riser block included
Sturdy mounting cups help reduce slipping
Compatible with 26 in., 27 in. and 700c bikes
If you look online, you can find dozens of training tips and regiments for trainer riding.
Here is an example video with tips for using your resistance trainer to prep for big climbs —  all from the comfort of your living room.

Spinning classes for cyclists
The hardest part of staying fit during the winter is motivating yourself to keep exercising when you are cooped up inside.
One of the most appealing aspects of biking is that it takes you alongside beautiful landscapes and carries you miles away from home. While you certainly cannot recreate this from an indoor workout, there are substitutes to keep you entertained, motivated and fit.
Take, for instance, a heart-pumping spinning classes.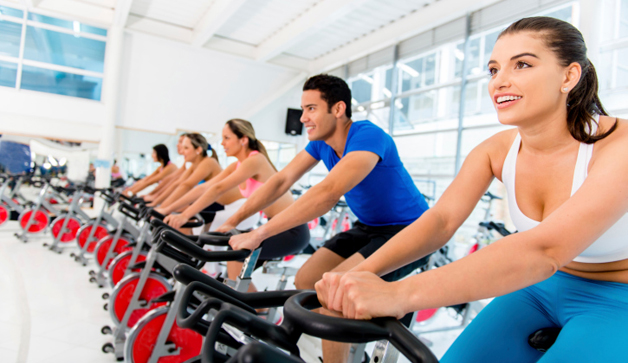 "Riding" alongside dozens of other sweaty bikers with music pumping in your ears is definitely motivating and entertaining. The mixed climbing and sprinting intervals throughout the class, in turn, will keep your legs burning for the entire 90-minute class.
Spinning has taken off across the entire country so it shouldn't be hard to find a class near you.
In terms of gear, most of your spring and summer cycling apparel translates well to a spin class, which get hot fast. Most stationary bikes even accommodate cycling shoes.
Hands down, the most important apparel item is a solid pair of bike shorts. Normal gym shorts quickly cause chaffing and literally, a pain in the butt.
For women, the Terry Breakaway Bike Shorts are some of the best available on the market. Recognized as experts in women's cycling apparel, Terry has honed in on the exact design needed to fit a woman's anatomy.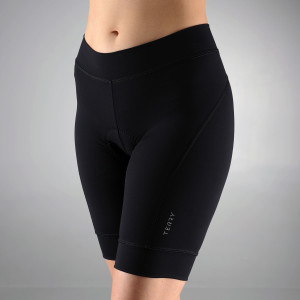 Product highlights:
Sculpted 6-panel construction
Wide waistband and elastic-free 1/5″ leg cutoffs maximize comfort and performance
Italian Comfort Chamois designed for seamless protection and moisture wicking
The Terry Breakaway Women's Bike Shorts are available from Bike Nashbar for $68.99
For men, the Pearl Izumi Attack Bike Shorts are a favorite among the cycling community.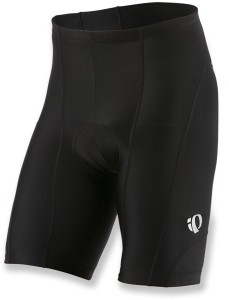 The $80 shorts fit and perform like a $200 competitor, meaning you will stay comfortable and ride strong all spin class long.
Product highlights:
Anatomical 8-panel design eliminates uncomfortable inseams and pressure points
3D race chamois features 13mm contoured padding to prevent friction and provide protection in key areas.
UPF 50+ rating fabric protects against harmful ultraviolet rays
 Pearl Izumi Attack Shorts available from REI for $80.
Another important tip to prepare for a spin class — bring a towel.
Yoga for Cyclists
Yogis and cyclists alike suggest yoga should be an integral part of any bikers workout routine.
Some studios even offer cycling-specific classes, designed to stretch out the muscles that get particularly tight with consistent riding.
Winter is a great time to invest some time on the mat. Come spring and summer it will be hard to find the time off the saddle to invest the time in getting through those first few tight classes so you can really devote yourself to your practice.
If you can't find a cycling specific yoga class in your community, try one of the dozens of yoga routines available online.
Obviously, the most important piece of gear for a yoga class is the mat.
Jade makes some of the best yoga mats around.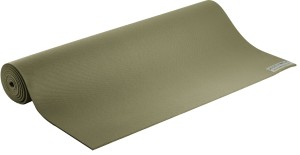 Priced at $69.95, they are on the more expensive side. However, that price tag comes with a commitment to sustainability — the mats are made of rubber trees, not plastic. The mats are also made in the USA.
The Jade Harmony Professional Yoga Mat is available at REI for $69.95.
A more affordable option is the Hugger Mugger Fall Oak Yoga Mat — available at REI $24.95.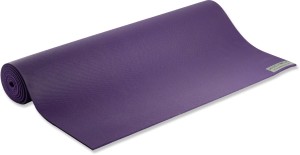 Winter Cardio Workouts
Even if you can't be out riding, it would be a shame to stay cooped up inside all winter. So take advantage of an awesome winter workout, like snowshoeing to stay in shape for the bike season.
Snowshoeing is a great cardio workout to burn calories and keep your legs and heart strong all winter. And unlike some winter sports, which can be unreasonably expensive, it requires very little gear and can be done anywhere with 6+ inches of snow.
Along with being an exceptional cardio workout, you also use many of the same muscles snowshoeing as you do cycling. This makes it one of the best workouts off the bike that you can do to train for the upcoming bike season.

For men and women, the Tubbs Xpedition Snowshoe is a great option to carry you this winter.
The show is designed to provide increased flotation on top of deep snow.
It also features serrated edges for navigating through hardpack and steep slopes.
The Tubbs Xpedition Women's Snowshoe and Tubbs Xpedition Men's Snowshoe are available from Backcountry for $239.95.
Tips for cycling all winter long
Our final tip for staying fit this winter is to bike as much as possible. Granted, many days will be too cold, snowy, icy, etc. to ride. However, do not let this discourage you from taking advantage of the days that are not.
Too often bikers throw in the saddle for the entire winter, missing out on awesome riding opportunities on the many bikeable days out of the season.
If you have the right gear, you may find that there are more days that you can bike than not.
Arguably the most important winter cycling gear item is a good pair of winter bike gloves.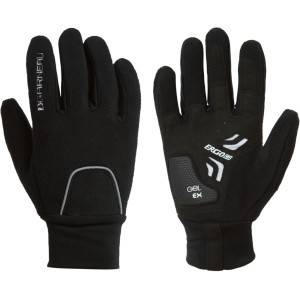 Some of our favorites are the Louis Garneu Gel Ex Gloves, which feature a wind and water resistant fleece upper to insulate from the cold.
In addition, a synthetic, suede-like material wraps the gel padding on the gloves to provide incredible grip at the handlebar.
The Louis Garneau Gel Ex Gloves are available from Backcountry for $29.95.
For a full guide to riding this winter, check out our article on the Best Winter Cycling Gear.
Keep us posted about your fitness success this winter! Train hard when it's cold for your best rides once the temperatures heat up.