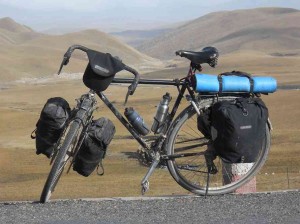 (NOTE: You can see the best road bikes for 2015 here)
I have been riding bicycles seriously for over thirty years.
I have ridden all out touring bicycles, mountain bikes, racing and sport bicycles, and tried out a few folding bicycles.
Each bicycle has had it own purpose, but one attribute stands out for a touring bicycle: reliability.
So what type of bicycle do you choose for your touring adventure? If your plans include a few days to a week on the road with a sag wagon carrying all your gear, then a sport or hybrid bicycle may be a good choice. Maybe you are planning on taking numerous trains and ferry rides during your trip; you might want to consider a folding bicycle designed for touring. And for rough roads or trails, an expedition or mountain bike may be needed. Let's look at each type individually.
If you visit a bicycle store, you will see mainly sport and hybrid bicycles for road riding. These bikes are designed and equipped for lightly or no loaded riding over good pavement. If you limit your touring aspirations to supported tours, multiple day organized riding events, and 'credit card' touring with hotels and eating stops planned, then a high quality sport or hybrid bicycle may suit your needs. Some of the characteristics of these bicycles include:
Mainly aluminum frame (some steel frames) with an upright posture for hybrid bicycles and low posture for sport bicycles
Mid range components with medium reliability
Double or triple crank set for moderate hills with lightly loaded gear capacity
Straight, raised, or down turned handlebars
700c wheels with 28 to 36mm width
Some or no braze-on attachment points for racks and fenders
One or two bottle cages
On hybrid bikes, front suspension forks that are heavy and not needed for most road riding
Price range of $400 to $1,000 price range
Where to Learn More
Since the mid 1990s, mountain bikes have been one of the best selling bicycles in North America. With the flat handlebars and easy to use shifters and upright view of the road, many people have chosen them for their everyday bicycle rides. And if you are going to ride on dirt or gravel roads, narrow trails, or in the snow, a mountain is an ideal choice. However, most people who buy these bikes don't take them off the pavement.
So why would anyone ever choose a mountain bike for touring? A lot of bicyclist are looking for a more upright posture and do not want a medium quality hybrid bicycle. Also, a mountain bike allows a rider to tour on rough, dirt roads and smooth pavement if certain modifications are made. Some of the characteristics of a high quality mountain bike include:
Sturdy and stiff frames usually made out of aluminum
Mid-range components to high quality components with high reliability
Straight or slightly raised handlebars. For a discussion of handlebars, then click here.
Triple crank set with very low gearing for steep hills, but low high gears that limit speed on flat terrain. For a discussion of gearing selection, then click here.
26″ wheels with clearance for wide tires with fenders
Suspension forks that smooth out rough roads but are too heavy for riding on pavement
Some of the older mountain bikes and a limited number of the newer ones will have a rigid fork which will save a lot of weight for road riding
Multiple bottle cages
Rear rack braze-on attachment points for and fenders. The suspension forks limit the possible attachment of front racks and panniers, which makes a loaded mountain bike difficult to handle. Pulling a trailer is normally the preferred method of loaded touring on a mountain bike.
Price range of $400 to $2,000
Where to Learn More
Cyclo-Cross bicycles are a cross between fast road bikes and mountain bikes. These bikes are designed and equipped for off road racing on dirt and rough roads. They make excellent everyday bicycles, commuting, and light touring. They are very fast, but can be not as comfortable as a touring bicycle. Some of the characteristics of these bicycles include:
Mainly aluminum frame (some steel frames) with a fairly upright posture compared to sport and racing bicycles
Mid range to high range components with corresponding reliability
Mainly compact double crank set for moderate hills, but some have triple crank sets
Straight or down turned handlebars
700c wheels with 28 to 36mm width
Some or no braze-on attachment points for racks and fenders
One or two bottle cages
Price range of $600 to $1,500 price range
Where to Learn More
A serious touring bicycle is reliable, comfortable, efficient, and designed to carry heavy loads over long distances. It will be capable of handling wider tires than sport bicycles and will be lighter than mountain bikes and hybrid bicycles. It is not unusual to see a serious touring bicycle with ten thousand miles on it and still going strong. The components may have been replaced due wear and tear, but the heart of the bicycle will still take you on the next adventure.
Touring bicycles are designed for a specific purpose, which varies for different brands and models. Some designs will carry moderate loads at high speeds. Others may be capable of taking all you camping gear, food, and gear over the steepest mountains and the roughest roads. These overland bicycles are usually called expedition bikes and can be seen in the remotest countries. For a review of some serious touring bicycles, then click here.
So what makes up a serious touring bicycle?
Where to Learn More
A fairly recent addition to the touring bicycle market is the folding bicycle. Most people don't start their tours from their doorstep, so travel with a bicycle can be a problem in some cases. In addition to getting to your tour starting point, a lot of destinations may require you to take trains, buses, subways, or ferries to get from one starting point to the other. Most folding models will fold up quickly and can be stored in an overhead compartment or in a normal luggage hold.
Where to Learn More
Recumbent Bicycles
Recumbents have become popular in the past 15 or so years. The riding posture for these bicycles allows a slightly normal seating position (varies between different designs) for less concentrated pressure on a riders groin area and greater visibility to see the road and the scenery. It seems that a lot older riders may favor the recumbent bicycle riding position. A couple of disadvantages with these touring bicycles may be noticeable when climbing hills, balance the bike a low speeds, and the availability of some of the specialized components. However, a recumbent bicycle has numerous advantages and the ride on most models is very comfortable.
If you ride with one particular partner most of the time and both of you have different levels of speed or abilities, a tandem bicycle may be an excellent choice. These touring bicycles allow two people to work together and combine your efforts instead of competing against each other.
One of the first things you will notice when riding a tandem is the extremely fast ride, especially going downhill. Some people like this speed and some people do not. You need to make sure that your partner will appreciate this extra speed or you may test your relationship severely. From my experience, most people seem to create a special 'tandem' bond and will not even think of touring on a single bike again.
One disadvantage that most people initially overlook is the load carrying capability of a tandem bicycle. You only have room for four panniers on the bike, a handlebar bag, and maybe some attachment capabilities. This storage space may not be enough for you and your partner. Many tourers solve this dilemma by towing a trailer. For a discussion of bicycle trailers, then click here.
Where to Learn More