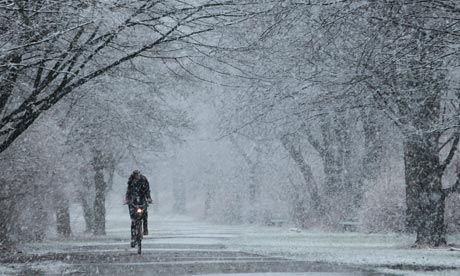 Just because snow has hit doesn't mean you have to stop touring. Want to learn how to do a winter bike tour? Here are my 5 secret weapons that you'll need.
Yes, there is a lot to worry about when you bike in the colder months. You'll be shivering, it will get dark earlier, your bike might require more tuning and road conditions could be dangerous.
However, that doesn't mean you need to forgo cycling altogether when the final leaves have fallen from the trees.
The Top 5 Pieces of Gear You'll Need for Winter Bike Touring
Here I've compiled a list of the five most important types of gear you'll need to bike comfortably in the cold.
Even if you're just biking around town or commuting, these items will help you make it through without feeling too frigid or uncomfortable. For those brave souls willing to actually tour in the cold, these items are invaluable.
Wicking Clothing
Sweat is a funny thing in the winter. You bundle up and layer to the best of your best ability indoors, and you feel okay when you hop on the saddle. Then, as you pedal more and more, you begin to sweat under your clothes.
The sweat creates an all-over dampness around your torso, and suddenly you're wet and freezing only minutes into your ride.
Before I invested in moisture wicking clothing, I constantly struggled with wintertime sweat on my commutes. Now I make sure I have a wicking shirt as my bottom layer and it's much easier to stay warm.
Wicking clothing is specially designed to pull moisture away from your body as soon as it's created. Once it's on the fabric, it evaporates quickly. Fabrics such as cotton, on the other hand, would stay damp.
When I started taking Spin classes a few years ago I invested in a few wicking cycling jerseys. They are lightweight and comfortable so these are the shirts I now layer on top of on my winter rides.
Yes you can layer with regular clothing and have a decent ride, but using wicking clothing to prevent dampness will greatly improve your comfort on longer distances in the cold.
Helmet Insulation
Your bike helmet is designed to let the cool air in and let your body heat out. Clearly, that's the exact opposite of what you want in the winter.
If you'd rather not invest in a new helmet for the cold weather, I recommend a helmet cover. They are designed to keep moisture out, but they will simultaneously keep your body heat in.
In other words, you can wear whatever warm headgear you need under your existing helmet without letting your body heat escape.
On the other hand, if you're willing to purchase a helmet with insulation, I highly recommend the Bern Brentwood helmet. Because the insulated liner is removable, you'll have a great helmet year-round.
Quality Thin Socks 
By understanding the science behind insulation, you'll understand why those old chunky wool socks won't keep your feet very warm on your bike ride.
For an item of clothing to keep you warm, it needs to hold body heat in. Keeping that heat in will require air pockets for heat storage within the clothing. If you are stuffing your chunky socks into your cycling shoes, you are not allowing your body heat to accumulate.
Not only are chunky socks uncomfortable, they're also ineffective. It's a great idea to find quality socks that provide insulation without taking up all of the real estate in your shoes.
REI and other sports gear retailers offer a range of socks made of synthetic fabric that is both warm and lightweight.
So, wear your chunky socks around the house on a cozy Sunday, but don't pack them for warmth on your bike tour. You'll need a better solution.
Down Alternatives
You'd be correct if you argued that down-filled fabric is the most insulated on the market. Depending on the type of down jacket or sleeping bag, you can be at the top of Mount Everest while your body feels as though it's a mild spring day.
However, down—especially cheap down— is not ideal for a bike tour. Because the weather is unpredictable on a long tour, it's a good idea to find a synthetic fabric instead to keep you warm.
When down gets soaked, it becomes heavy and less warm. There's no telling when a shower might happen on the road, and you don't want to be stuck seeking shelter to protect your only warm coat. Down takes a long time to dry.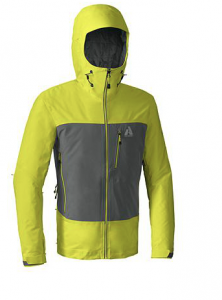 The same goes for sleeping bags. Down fabric has a lot of pros, but the cons could ruin your trip.
Changing the routing or the schedule of your trip because your down jacket can't hold up would be—well—a downer.
Strategic Tire Pressure
Especially if you're unexpectedly caught in slick conditions this winter, adjusting your tire pressure could mean the difference between a safe ride and an accident.
When the temperature drops and you're concerned you might hit a patch of ice or snow, decrease your tire pressure by 10psi and see how it feels. Depending on your specific tires, keep adjusting until you see that the tire lay flatter on the ground without pinching your tube.
By allowing the tire to flatten against the ground more, you're increasing your traction. Your bike will handle better. Road bikes with skinny wheels will not be as good in the snow as a hefty mountain bike, so try mimicking the thickness of the mountain bike wheels by adjusting your pressure.
Of course, it doesn't matter how good you feel on a snowy ride if you're not biking safely, so always stay alert and visible.
You don't need to buy a whole new wardrobe or update all of your gear to have a successful winter bike tour. In summary, your five secret weapons will be:
A moisture wicking bottom layer
Insulation on the outside of your helmet
Thin, insulated socks
Alternatives to down
Decreased tire pressure for more traction
What tricks do you have for fun and comfortable biking in the winter?